Landscape Hunting at 18,000 Feet: Photos of North Sikkim, India
Landscape photography is as much about photography as it is about travel. I believe it would not be very outlandish of me to assume that for most of us, our hunt for stunning landscape images began at some moment of epiphany, in some corner of the planet, when some awe-inspiring vista was rude enough to make us realize how underprepared we were to photograph such a scene in all of its glory.

In the spirit of the first love of any landscape photographer, travel, this piece will be more of a travel guide than an instruction set of focus-stacking or HDR.
Grab a cup of tea, sit back, and relax.
---
The Indian Subcontinent is guarded by the mighty Himalayas in the Northern and North Eastern boundaries, starting from Jammu and Kashmir in the extreme North, and ending somewhere near West Bengal. Somewhere in the middle, the Himalayas arch into Nepal, China, and beyond. In the northeastern edge of India, from where the mountains cross into Nepal, lies the state of Sikkim.
You the traveler, starting from West Bengal, must take a flight or a train to Jalpaiguri station, from where you can hire a cab which will take you to Sikkim. Your journey starts from this busy railway station: your head aches from all the chaos and the people, you try to peek beyond the tree line hoping to catch a glimpse of the mountains you have heard so much about. But alas, you see nothing. Your cab speeds off into the busy town of Siliguri, and before you realize it, you have nothing but endless forest on either side of the road.
Goodbye, civilization!
You keep following the turquoise Teesta River upstream as it swerves and turns below, and all of a sudden you see the mountains up ahead!
From here, begins the long but soothing journey through Sevoke town, and into Sikkim.
The capital of Sikkim, Gangtok, is where you would want to begin your arduous 120Km car ride to North Sikkim. It is advised you stay a night here to acclimatize yourself to the cold and the altitude. Gangtok is at an altitude of 5,500 feet. The city center of Mg Marg might surprise you with its bustling market and sprawling restaurants.
Your morning should start early, and after a quick breakfast, you get a car and be on your way. The North Sikkim Highway sweeps across plenty of waterfalls and thousand-foot drops a few inches from your car's tires: trust me, this is as exciting a seven-hour car ride as it gets.
A quick shout out to the cab drivers who will be responsible for your safety: their driving skills are really nothing short of Schumacher taking the third turn of Circuit Paul Ricard in the French Grand Prix.
If you are like me and you make multiple stops on the way for tea, you will enter North Sikkim at some point in the evening as the tiny Town of Lachen swims into view. The moment you open the door, you realize the sudden drop in temperature. Lachen is at an altitude of 8500 feet and is surrounded by huge Himalayan peaks at all sides. The tiny town ends just as it begins, home to a few hundred people and a few shops. It is advised you don't go meandering into the dark, as Himalayan black bears are quite common, and they don't take any nonsense from puny humans loitering around with f/2.8 lenses and PhotoPills.
As your 3 AM alarm wakes you up from your deep slumber, you will find your car and driver ready and waiting for you. As the morning slowly dawns, that's when you realize the beauty of this place. Snow white peaks and thousands of feet high waterfalls all around. It really is nirvana.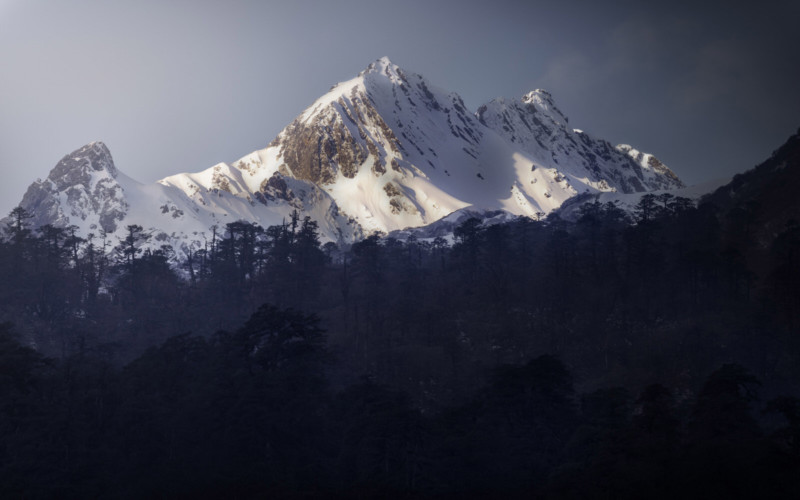 Your car lumbers over rough roads for hours at a stretch, when slowly you start seeing snow on the ground. Every few minutes you gain elevation until at one point, wherever you look, you see snow. The car rumbles on still, and when it finally stops for you to get down, your head spins a little.
Turns out you are at Kalapatthar, at an altitude of 17,000 feet. Breathing feels like a chore, and every step has become strenuous. But you don't take a breather, not when you have a camera with you: because this is probably one of the most incredible vistas you will ever lay your eyes upon. The frozen river has reduced to a stream, and from thousands of feet above it looks like a silver snake, swimming into oblivion. As the sun peeks behind the clouds, it feels like heaven.
A quick detour from here will take you to the sacred Gurudongmar Lake at 18000 feet, which is surrounded by huge peaks at three sides. The moment you leave your car here, you are hit with ice-cold winds and dust. But you bear it, a little cold blister won't hurt, but not taking a photograph surely will.
The descent feels quick, and before you know it you are back at Lachen gulping down food like you've never eaten before: it really is quite a tiresome journey. But wait, you aren't done yet!
Your car takes you through another three hours of rocky roads and freezing cold winds to the town of Lachung, your last stop. You call the night early, and your paining knees get some rest as you sleep and it rains cats and dogs outside.
The morning brings a fresh feeling, as you see you are once again in a tiny mountain town, surrounded by enormous peaks in all directions. It turns out the sound of rain wasn't rain at all, it was a huge waterfall coming down from a mountain peak close by!
Nonetheless, a quick breakfast and you are off once again, this time to the origin of the Teesta River, Yumthang Valley. All of your fatigue is washed away in half an hour as you sit by the riverside, gently touching the ice-cold water, and trying to spot unknown birds chirping all around. You are rejuvenated.
The next morning you are back at Gangtok, sorting through your clothes and trying to cram everything in before you leave.
Of course, it was tiresome, and surely it was more traveling than photography.
But travel is what got you in this game in the first place! So, like a weary soldier, you head back to catch your train with blistered nose and fingers, all the while with a smirk on your face, cracking your knuckles, yearning to come back as soon as you can.
The thrill of the chase.
---
About the author: Ranit Dholey is a landscape/street photographer and IT professional based in India. The opinions expressed in this article are solely those of the author. You can find more of Dholey's work on his website, Facebook, and Instagram. This article was also published here.