Nikon Unveils a New Boxed Set of… Candies
While Nikon may be a camera company, its museum in Tokyo is known for selling some unusual and limited non-photography Nikon-themed products. Announced today, a set of 10 different flavored yokan candies packaged in a collectible box are available for 1,200 yen (about $11).
Yokan candies are a type of Japanese confection that is made of a mix of red bean paste, agar, and sugar. Yokan are typically sold as larger blocks and eaten as slices, but they can also be found as individually wrapped servings such as what Nikon has done with its set. The candies can vary in flavor and may contain any number of other ingredients like nuts or fruit.
According to DC Watch, Nikon already offers a set of five flavors at its museum — ogura jam, salt, yuzu, sesame, and neri (a traditional flavor of yokan which could also probably be defined as "plain") and this new box of 10 adds chocolate, blueberry, chili, matcha, and brown sugar flavors. The original box of five flavors is based on a set that was originally only available to purchase at the employee store since the early 1970s. DC Watch writes that the company has supposedly sold more than 10,000 boxes of the original set of five flavors since it introduced them to the museum store in October of 2015.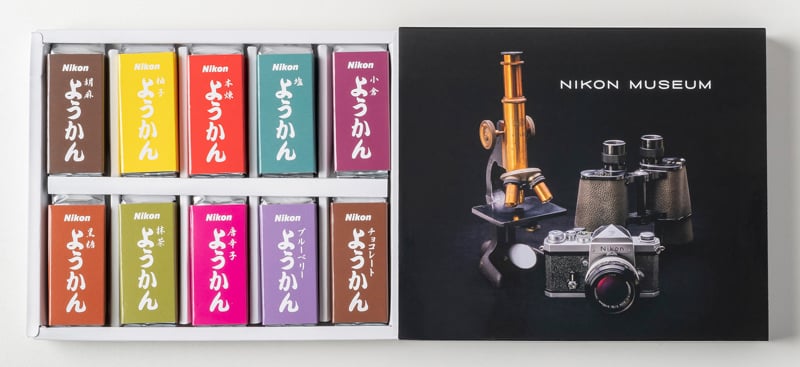 The box itself may be more desirable than the candies within, as the design is original to the Nikon Museum and depicts the Nikon F SLR film camera, the JOICO microscope, and the NOVAR 7×50 binoculars.
The Nikon F was originally introduced in 1959 and was one of the most advanced film cameras of its period. Specially modified Nikon F cameras were used in the early 1970s aboard the Skylab space station. The Nikon JOICO microscope was introduced in 1925 and was the first of its kind designed by Nikon. The "JOICO" name is derived from the initials of the Japan Optical Industry Company and is a translation of Nippon Kogaku K. K., which was the company's name at the time. Finally, the NOVAR binocular line was originally introduced in 1923 and the 7×50 model was introduced sometime in the mid to late 1940s.
While some items from the Nikon Museum store can be purchased online, this box of candies does not appear to be one such item. In order to pick them up, a trip to Tokyo is in order as they are considered a "museum original good" and will not be sold anywhere else.