Nikon Unveils Pricing and More Items for 100th Anniversary Lineup
With Nikon's 100-year anniversary fast approaching — it's on July 25th this year — the camera giant has just announced pricing for its collectible cameras and lenses as well as even more products in its celebratory lineup.

From today, the collectible cameras and lenses will be available to order from authorized Nikon retailers. They'll be available until the 31st August 2017, so any super Nikon fans should move fast to secure a piece of camera history.
The special edition Nikon D5 is available for $8,000, and the Nikon D500 for $2,800.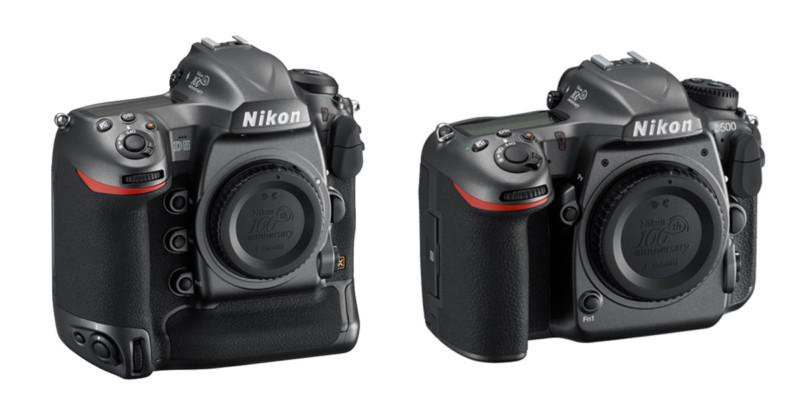 The Nikon zoom lens set comes has a triple helping of these maximum f/2.8 aperture lenses. It includes the Nikkor 14-24mm, 24-70mm, and 70-200mm lenses – all of course in attractive gun-metal styling for the anniversary. This special edition set will set you back $8,000.
The commemorative edition of the Nikkor 70-200mm f/2.8E FL ED VR lens will also be available on its own, coming with a display of the individual glass elements that make up the internal workings of the lens, as well as a special stand and case. This will be available for $4,000.
But what else is on offer? It's not just cameras and lenses anymore – the newest additions include a leather camera bag, vintage t-shirts, and limited edition posters, all available from the 25th July on the Nikon USA website.
Nikon Camera Bag
This snazzy camera bag might not fit an entire professional gear line-up, but it definitely looks the part for the fashionable photographer. Suitable for carrying a body and a couple of lenses, this genuine leather brown bag will scream 'style', rather than 'expensive camera kit contained within'.
The camera bag comes with a suggested retail price of $400, not dissimilar to the price of other premium camera bags (albeit with less space).
Vintage T-Shirts
Now you can represent Nikon in style with these vintage t-shirts. Usually when a non-clothing related brand makes its own t-shirts, they look average at best. But these Nikon t-shirts are definitely not too bad on the eye, with the stylish geometric pattern sure to be welcome in many wardrobes.
The 'NIPPON KOGAKU' logo is one of Nikon's old logos, now brought back into existence for the 100-year anniversary.
The T-shirts will be available at $25, for both men and women, on the Nikon USA website.
Limited Edition Posters
Perhaps most attractive of all to collectors, a selection of 10 limited edition posters have been printed. These posters feature some of the most iconic Nikon cameras from the manufacturer's history, but only 100 have been printed of each design.
This will make them highly collectible as Nikon-fanatics around the world rush to grab one for themselves. Available at $150 each, these posters measure at 19.5" x 19.5" inches, and are matted and framed to a size of 23.5" x 23.5".
Binoculars
Those who prefer just to watch in the present, rather than capture still images, have not been forgotten. Nikon's commemorative designs have expanded into their range of binoculars, too.
The WX 7×50 IF and WX 10×50 IF binoculars are the ones lucky enough to have the special logo stamped onto the bottom of the central shaft. There will also be an exclusive serial number printed onto the top, and a leather strap pressed with the commemorative logo.
The special editions will be sold for $6,000 (for the WX 7×50 IF) and $6,400 (for the WX 10×50 IF).
Full details for all the new products are available on the Nikon 100-year commemorative website.