Adobe Launches Native Apple M1 Support for Lightroom Classic
Hot on the heels of Capture One, Adobe has finally brought native Apple silicon support for Lightroom Classic. In addition to promising straight performance improvements, Adobe is also adding several new features — like Super Resolution — to the popular photo editor.
Adobe's June Release for Creative Cloud has a ton of improvements across its entire suite of applications, but photographers will want to pay the closest attention to changes and optimizations that have come to Lightroom Classic.
Native M1 Lightroom Classic Sees Huge Performance Gains
Lightroom can now run natively on Macs that are armed with Apple's new M1 chip and Adobe promises that the improvements are notable. The company says that the combination of the M1 processor along with Adobe's optimization for it has led to serious improvements. When compared to "an equivalent Intel Mac," Adobe says that most operations are at least twice as fast while others are even faster.
Launch, import, export, and browsing photos in loupe view is about twice as fast, and Super Resolution — which is new to this June release as well — is more than three times as fast on M1 than it is on an Intel machine. Batch editing photos is reportedly more than four times as fast.
Adobe commissioned a third party to test new versions of its M1-optimized software against an Intel equivalent and which goes into detail just how much better the M1 version is than Intel.
For these tests, the 13-inch Apple M1 MacBook Pro with 16GB of RAM and a 2TB SSD was compared against the 13-inch Intel Core i5 MacBook Pro with 16GB of RAM and a 2TB SSD. Both systems were connected to an Apple Pro Display XDR during benchmarks.
---
Editor's Note: The Pfeiffer Report that Adobe commissioned has a lot of great data that compares M1 performance to Intel, however, the percentages included in the table on Page 3 have been calculated incorrectly. Several percentages mentioned throughout the rest of the report are also wrong.
In our coverage below, we've re-calculated the "percent faster" claims so that they are accurate, and we would caution readers to approach any percentages in the original report skeptically (and with a calculator). We've also run our own benchmarks, which you can find here.
---
In the first test, 1,000 12.4-megapixel RAW photos were imported into both systems. The M1 version completed the benchmark in 28.9 seconds, while it took the Intel system 52.8 seconds which makes the M1 version 45 percent faster at this task.
The second test asked each system to export 1000 RAW photos as JPEGs at 100 percent quality to the local SSD. The M1 version of Lightroom was able to do the task in six minutes and 13 seconds, while the Intel system took 13 minutes and 33 seconds. That makes the M1 54 percent faster at this task.
The third benchmark asked both systems to synchronize color adjustments across 1000 images. The M1-optimized software was able to complete this task in 14.6 seconds, while the Intel system took one minute and five seconds. The M1-optimized machine was a whopping 78 percent faster at this particular task.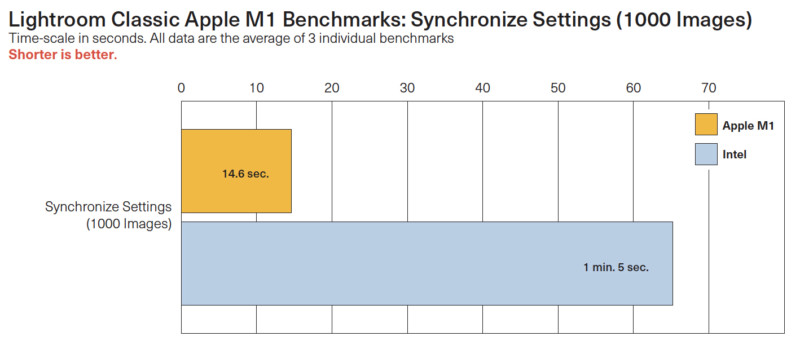 Finally, the fourth benchmark asked each machine to increase the resolution of a 12-megapixel image with the newly-added Super Resolution feature. The M1-optimized version was able to complete the task in 9.6 seconds, while the Intel machine took 36.4 seconds. The M1-optimized machine was therefore 74 percent faster at this task.
If you're curious how the M1 version of Lightroom Classic compares to a more high-end Intel MacBook, make sure to check out PetaPixel's benchmarking of the new software here.
Super Resolution
As has been noted above, Adobe is adding its new Super Resolution feature to Lightroom Classic and Lightroom CC. Previously, this option was only available in Adobe Camera Raw (ACR). The image-enhancer should work identically to the previous ACR-only version.
The merits of Super Resolution have already been covered at length, but for more information on the feature, make sure to see it compared to Topaz Gigapixel AI here and its pure capability here, and how it affects smartphone photos here.
Tethered Live View for Nikon
Adobe has announced that a real-time feed of a connected and supported Nikon camera will now display in Lightroom Classic. The full list of supported Nikon cameras can be found here, and it is extensive.
Premium Presets
Adobe has announced that all of its photography applications (ACR, Lightroom Classic, Lightroom Mac/Win, iOS, Android, Web) now include a set of what it is calling "Premium Presets," which are "high-quality edit presets created by a diverse and talented set of contemporary photographers."
This initial set of Premium Presets includes presets in seven different categories: Portraits-Deep Skin, Portraits-Medium Skin, Portraits-Light Skin, Cinematic, Futuristic, Vintage, and Travel. Adobe will be adding to this Premium preset collection with additional releases in the future.