LuminarAI Can't Correctly Read EOS R5 RAWs, Fix Coming This Summer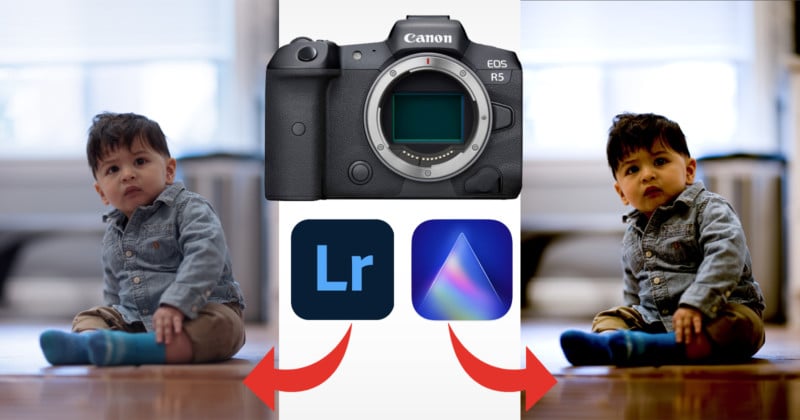 Photographers who rely on Skylum LuminarAI to edit photos taken with Canon's EOS R5 have been struggling with the application as of its most recent update. According to multiple reports, the program cannot properly import R5 RAWs despite the company stating official support for the camera.
According to photographer Wilber To — whom PetaPixel spoke with directly — as well as a report on Skylum's official forum, the application has been malfunctioning with EOS R5 files since support for the camera was released two months ago as part of update 4.3.3.
"Luminar 4.3.3 now supports new cameras as well as lossy compressed CR3 files and lossy compressed RAF files. Try Luminar 4 with your latest cameras, including the Canon EOS R5, EOS R6, EOS 850D, and EOS-1D X Mark III (lossy compressed files), Fujifilm X-S10, Leica M10-R, S3, and SL2-S, and even more," the company writes in the official release notes.
Unfortunately, some photographers who attempt to import Canon R5 RAW files are met with a very incorrect rendering of photos, as Wilber To explains to PetaPixel. The photos arrive in what can only be described as "overly contrasty," as illustrated by the screenshot below from To:
Below is a screenshot of the same file, but uploaded to Lightroom, which To says is indicative of the actual capture:
According to another report on Skylum's forum, the issue with photos happens if the photographer is even successful in getting the photo editing application to successfully open R5 CR3 files.
"I have bought Luminar 2.0 two days ago as it was updated for CR3 raw files, but unfortunately the software crashes continuously in all types of tasks, editing, exporting," Isidro Jose Gonzalez Garcia writes. "Also when opening CR3 RAW files, after some seconds the software modifies the view of the file to a very contrasted pic [sic]."
The description of the issue matches up with the example image above. Garcia says that he has uninstalled and reinstalled the application multiple times, but this does not solve the issue.
"There is no way to even use Luminar to bring the photo back to normal," Wilber To tells PetaPixel. "In the meantime… the Canon R5 is still listed as a supported camera with no disclaimer."
Part of the frustration with the issue has been Skylum's silence: no official response was published to that forum thread. In a later comment, Garcia says that he spoke with someone at Skylum on the phone who told him the issue would be resolved in the next update but did not provide a timeline. Until now, that hearsay was the only indication that the software company knew about the issue and was addressing it.
When asked about the problem, a Skylum representative admitted to PetaPixel that the issue was known.
"We are aware that for Canon R5 images, there are specific cases with options like 'double pixel' and/or HDR settings," Skylum said. "In these few cases, the user may experience issues when opening these images. The issues do not apply to most Canon R5 photos; that is why we consider the camera to be supported."
The company says its developers are currently working on a fix that will be deployed "this summer," but stopped short of providing a specific timeline.
"We're addressing this issue specifically in the upcoming Update 4, which is expected to be released this summer. In the meantime, we're also planning to update our camera library, which may resolve the issue. We're committed to giving every user the quality and results they desire."
As far as a potential fix, Skylum recommends two possible methods.
"If the user experiences any problems, they may want to use a DNG converter first or run Luminar AI as a plug-in. Our team, though, is working on the issue actively and improving all camera support," the company says. "We also want every user to enjoy the results they get when using Luminar AI. For our customers who choose to directly edit their raw files in Luminar AI, we offer the ability to apply numerous adjustments to the raw image data. In almost all cases, this allows for superior results."