Photographer Discovers Undeveloped Film Inside 1920s Kodak Camera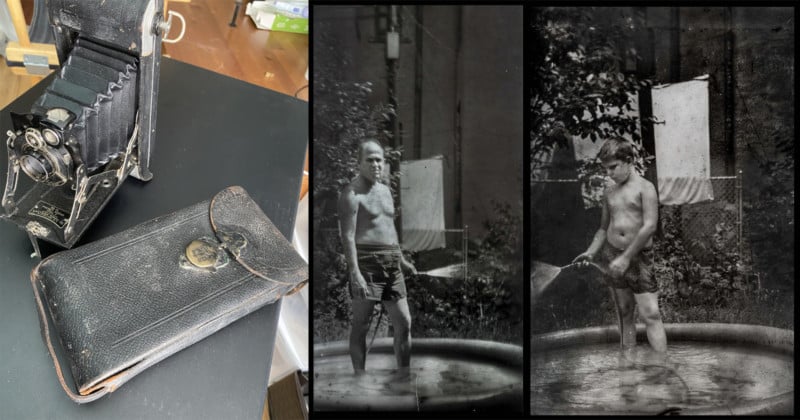 Photographer Mychal Watts recently stumbled across an old 1920s-era Kodak Series II camera in a small shop in New York. Enamored with the piece of history, he bought it after he found that it still held an undeveloped roll of 120 format film inside.
Watts, who is a professional photographer based in New York City, tells PetaPixel that he was on his way home after photographing a protest when he stumbled on a small shop near Bryant Park.
"Walking past this one shop, on display were these classic bellows cameras," he says. Unable to contain his curiosity, he went inside to check them out. "I picked up this one camera to examine it. It was a 1923 Kodak Pocket camera series ll with a bellows."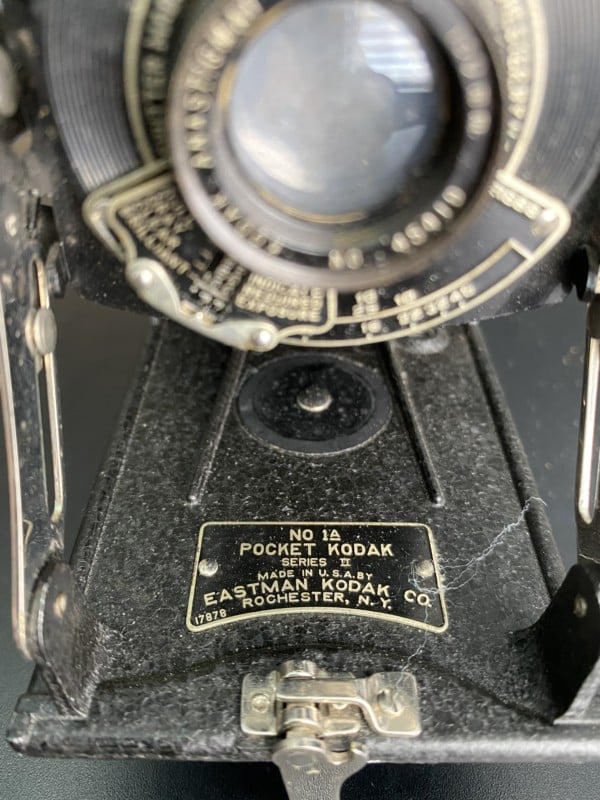 Upon close examination, Watts noticed that the back was stuck closed due to age and he had to work it with a bit of effort to open it up. When it did finally relent, it popped open to reveal a roll of 120 format film, which immediately fogged because he inadvertently exposed it to light. He shut it as soon as he noticed the film and quickly purchased the camera for $99.
He then took it home, excited to take a look at the old exposures.
"Being a master photo lab tech from my days making a living working in the darkroom, I realized the development had to compensate for the age of the film and the fog from opening the back," he says. "It would have to be push processed to compensate for a serious loss in contrast from aging and fog."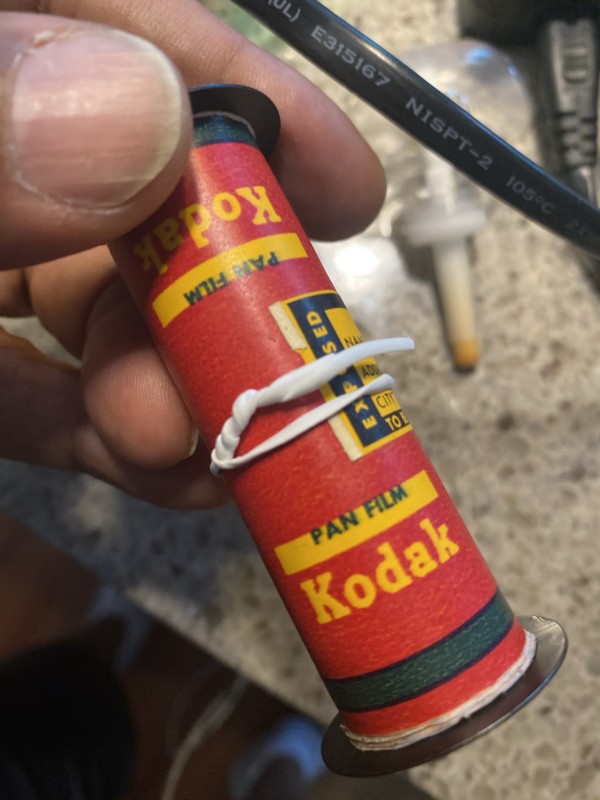 Watts provided this information to his chosen film lab and had it process the film accordingly. He says that his instincts were correct.
"I hit it right on the head and I got a nice negative despite some slight fog," he says.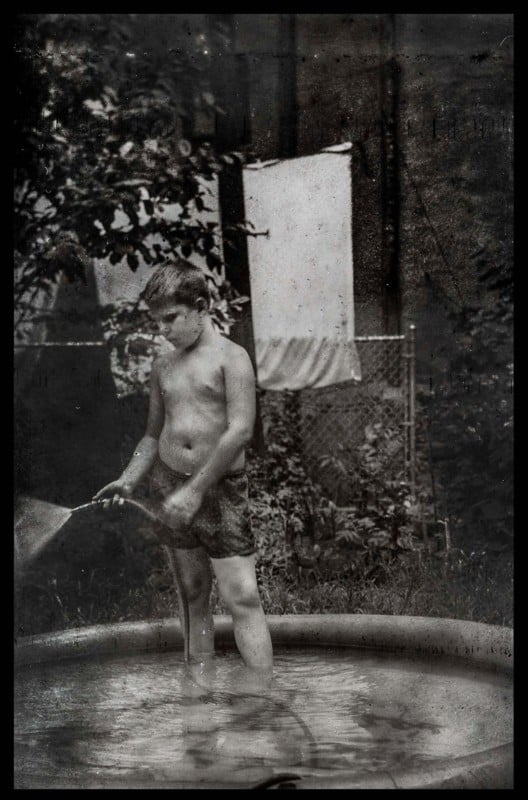 Watts found that there were only two images on the roll, which he was ecstatic to see were not affected too greatly by the inadvertent exposure to light at the shop. The images depict a man and a boy in what appears to be a hot day, as the two are standing in an inflatable pool in a backyard.
Watts believes that the film could date back as far as 70 or 80 years, though there is no way to tell for sure. While the camera — which is a Pocket Kodak No. 1 Series II — was produced between 1922 through 1931 according to Camerapedia, the age of the film is much harder to determine. One other indication of age is the existence of the inflatable pool in the images. While portable wading pools date back thousands of years, the inflatable kind first rolled out in the United States sometime in the 1940s. With that in mind, these images could date back as far as 80 years as Watts estimates.
"I am hoping someone will see these images and be able to recognize the people," Watts says.
---
Image credits: Photos by Mychal Watts and used with permission.