13 of the Guinness World Records' Most Iconic Records, in Photos
Guinness World Records is celebrating National Photography Month by sharing some of what it is calling its most "highly sought after" photos from its archive. The 13 images illustrate some of the brand's most historic and noteworthy records.
"The original Guinness Book of World Records was first published in 1965 with black and white photography, and over the decades, our annual edition has evolved to reflect the times and the current titles in the world we live in," Kristen Stephenson writes on the company's blog.
"Since that first publication, one of the most iconic elements of the Guinness World Records books has become the marvelous, shocking, and striking images of our very own record holders," she continues. "Check out the moments that showcase some of the world's most extraordinary."
The Tallest Man Don Kohler (1925 – 1981)
Don Koehler from the Untied States held the title of tallest man living throughout the 1970s at eight feet, two inches tall and had a twin sister who was five feet, nine inches tall. Koehler is pictured above with the McWhirter brothers in 1974 on a trip to New York to film with David Frost for the Guinness World Records TV show. He died in 1981 in Chicago.
Robert Pershing Wadlow was the tallest man in medical history who was found to be eight feet, 11 inches tall when measured on June 27, 1940. Wadlow also has the largest feet ever measured and the largest hands ever.
Editor's note: An early version of this story reported that the photo above was Robert Wadlow, but it is instead Donald Koehler. Guinness has updated its blog to note this and we have adjusted the text accordingly. We apologize for the error.
Heaviest Right-Hand Deadlift – Bar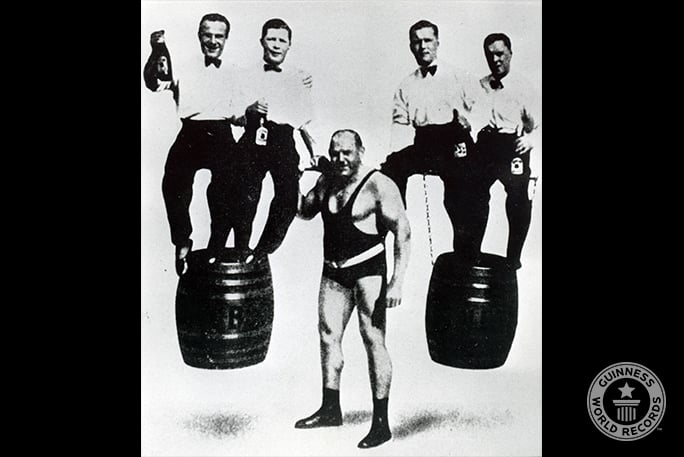 Hermann Goerner lived from 1891 until 1965 and unofficially lifted a 727-pound bar in Leipzig, Germany on October 8, 1920. Later that month, he officially performed what is recorded as the most for any right-hand deadlift: 663.5 pounds using a Berg Olympic revolving bar.
Longest Place Name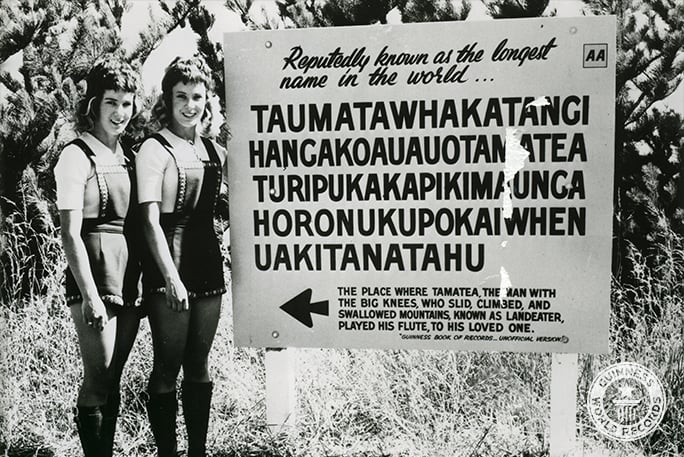 The longest place name in use is Taumatawhakatangihangakoauauotarnateaturipukakapikimaunghoronukupokaiwhenuakit, which is comprised of 85 letters and is located at Southern Hawke's Bay, New Zealand. The Maori translation means "The place where Tarnatea, the man with big knees who slid, climbed and swallowed mountains, known as landeater, played with his loved one."
Fastest Time to Ignite Five Targets by Squirting Milk From the Eye
The Guinness World Records is full of some obscure references, and Brandon "Youngblood" Kee's record for fastest time to ignite five targets by shooting milk from the eye at 34.9 seconds is absolutely one such. He performed the feat on June 13, 2013.
Stretchiest Skin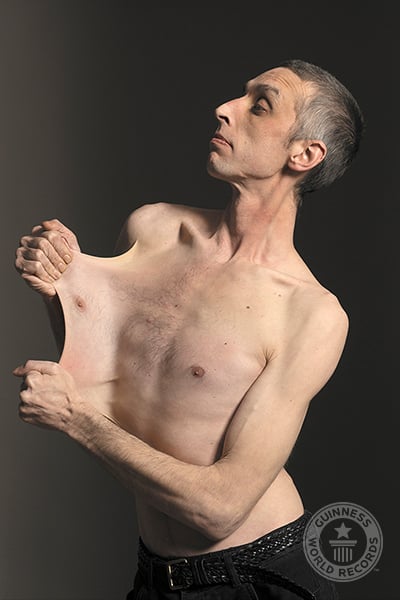 United Kingdom native Garry Turner is able to stretch the skin of his stomach to 6.25 inches due to a rare medical condition called Ehlers-Danlos Syndrome, a disorder of the connective tissues affecting the skin, ligaments, and internal organs. Because of it, the collagen that strengthens skin and determines its elasticity can be pulled to the extreme.
Heaviest Spider
A goliath bird-eater named Rosi is the heaviest spider specimen that Guinness World Records has measured. In 2007, she weighed 175 grams (6.1 ounces), which is seven times the weight of the average mouse.
Most Ice Cream Scoops Balanced on a Cone
At the annual Gelatimo ice-cream festival in Forno di Zoldo, Italy, Dimitri Panciera achieved the Guinness World Records title for the most ice-cream scoops balanced on a cone at 125 scoops.
Farthest Eyeball Pop
Kim Goodman from the united states can pop her eyeballs to a protrusion of 0.47 inches beyond her eye sockets. According to Guinness World Records, Goodman discovered her talent when she was hit on the head by a hockey mask, but can now pop out her eyes on cue.
Tallest Dog Ever (Male)
The tallest dog ever was a Great Dane named Zeus who measured 44 inches tall on October 4, 2011. Zeus weighed 155 pounds and reportedly ate around 30 pounds of food every two weeks. When standing on his hind legs, Zeus reached a height of seven feet, four inches tall.
Most Oscar Wins – Makeup
Rick Baker has won seven Academy Awards for Best Makeup over the course of his career. The first was for An American Werewolf in London (1981) at the 1981 (54th) Academy Awards on March 29, 1982, and the most recent at the 2010 (83rd) Academy Awards for The Wolfman (2010) on February 27, 2011. He still holds the record.
Most Tattooed Senior Citizens
Couple Charlotte Guttenburg and Chuck Helmke currently have 97.5% of their bodies covered in tattoos and became interested in them after they were both well over 50 years old. Helmke also has the record for most skulls tattooed on the body at 376.
Tallest Horse and Smallest Horse
Big Jake is a Belgian Gelding horse that stands at 82.75 inches tall and became the tallest living horse on January 19, 2010. He is pictured above next to the smallest living horse named Thumbelina, who is a miniature sorrel brown mare. She measures just 17.5 inches tall.
Tallest Rideable Motorcycle
This giant motorcycle measures 16 feet 8.78 inches tall from the ground to the handlebars and was constructed by Fabio Reggiani from Italy. The motorcycle was ridden over a 100-meter course at Montecchio Emilia, Italy, on March 24, 2012. The bike measures 10.03 meters long and is powered by a 5.7L V8 motor which has 280 horsepower and three forward gears plus reverse. It is 2.5 meters wide and weighs over 11,000 pounds.
---
Image Credits: All photos owned by Guinness World Records and used with permission.