Vazen Launches 50mm T2.1 Anamorphic Lens for Full-Frame EF and PL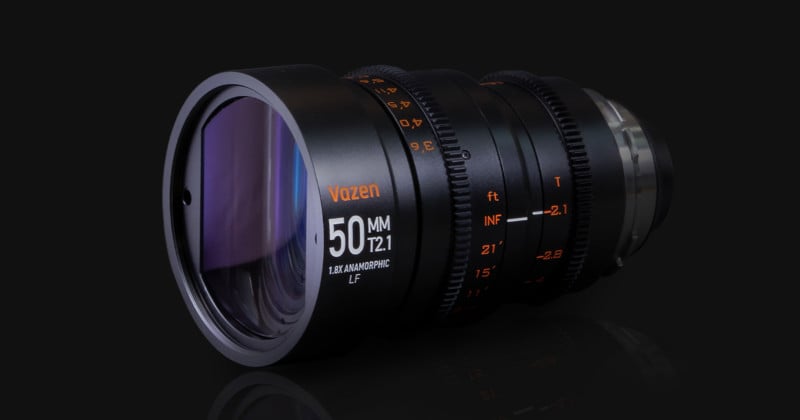 Vazen has announced its latest anamorphic lens in the 50mm T2.1 1.8x, which adds what the company calls an "ultra-wide-angle option." It is available in either Canon EF or PL mounts.
Vazen is a Chinese-based lens manufacturer that exclusively makes anamorphic lenses for Canon EF, Canon RF, PL, and Micro Four Thirds. At the time of publication, the company had only eight lenses in its full product library as it is a relatively young brand. It comes ahead of a 135mm anamorphic lens that the company expects to ship in the next one to two months that will complete a three-lens set in this mount configuration. This latest lens is designed to cover the full-frame format of cameras like the Red Monstro, Alexa LF, Kinefinity Mavo LF, and Z-Cam E2-F8 fully.
It also is compatible with Panasonic full-frame cameras, like the S1H shown in the video below.
The 50mm T2.1 1.8x anamorphic lens is what the company calls "super-compact" and "lightweight" at 3.42 pounds (1.55kg) and 5.24 inches long (13.3cm). As such, Vazen is able to claim that it is one of the smallest 1.8x anamorphic lenses for full-frame cameras currently available which means it is easier to mount and balance on rigs and gimbal setups.
The lens has a minimum focusing distance of 3.6 feet (1.1 meters), a front diameter of 95mm, and a front filter thread of 86mm. The mount is interchangeable by the user to either EF or PL and ships with the ability to customize it to either.
Revisiting the "wide-angle" claim, 50mm might not seem like a particularly wide focal length, but in this case, the lens feels significantly wider to use than that number implies. "Open gate" anamorphic lenses, like this Vazen, use an entire full-frame sensor and stretches it to a full 16:9 cinema aspect ratio. The result is a pretty wide field of view, as seen in the video above, that can actually be challenging to properly focus. If used correctly though, the footage does look particularly good after being de-squeezed.
Vazen's 50mm T2.1 1.8x anamorphic lens is a "budget" option at its $8,000 price because it comes in significantly cheaper than competitor products, like the Cooke 50mm 1.8x anamorphic for full-frame cameras that retails for nearly $35,000. Vazen will drop the price even further if both the 50mm and 85mm are purchased together with a $2,000 discount. Combined with the relatively affordable and high-quality video capability of Panasonic cameras, Vazen's offerings make open-gate anamorphic far more approachable than it normally is. For shooting high-quality anamorphic video without breaking the bank, Vazen might be the best option around.