Sirui's 35mm Anamorphic Lens is World's Smallest for Full-Frame
Sirui has announced the Saturn 35mm anamorphic lens for full-frame cameras. The $1,300 lens offers 2.4:1 and 2.8:1 de-squeezed aspect ratios (1.6x constant squeeze ratio) and is built using a lightweight carbon fiber barrel. Per Sirui, it's the world's smallest carbon fiber full-frame anamorphic lens.
Sirui has been busy. Just last week, the company announced a self-inflating light. Its new lens represents a change of pace compared to the new inflating light, but is far from an unusual product category for Sirui. In 2021, Sirui launched a groundbreaking 75mm f/1.8 1.33x anamorphic lens, joining existing 24mm f/2.8, 35mm f/1.8, and 50mm f/1.8 1.33x anamorphic lenses.
The new Saturn lens differs from that 75mm anamorphic lens in numerous ways, not the least of which is that the Saturn lens has a much shorter 35mm focal length. The Sirui Saturn 35mm is also slower, with a max t-stop of 2.9, compared to the relatively fast f/1.8 aperture of the 75mm prime. The most significant difference is that the Saturn 35mm anamorphic lens covers full-frame image sensors, while the 75mm f/1.8, and Sirui's other 1.33x anamorphic lenses, cover APS-C sensors.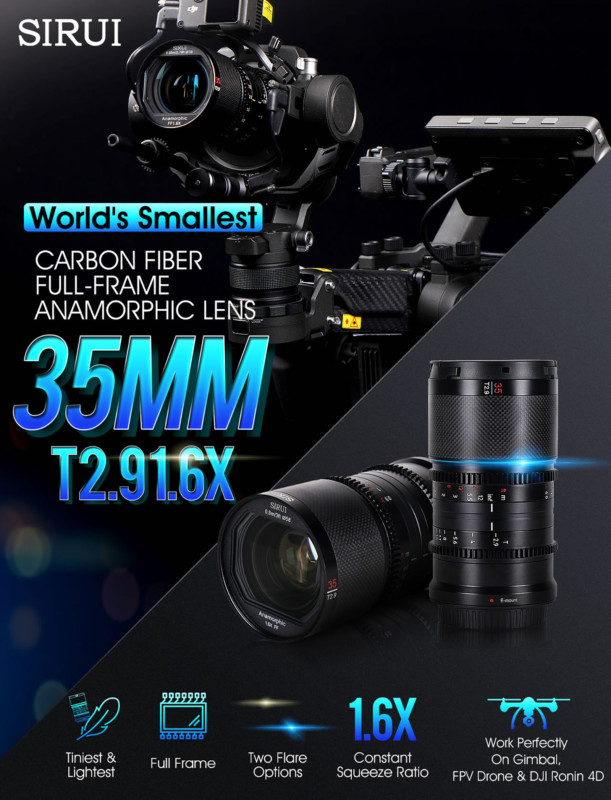 The Sirui Saturn 35mm lens offers the same anamorphic goodness as Sirui's other anamorphic lenses, including streak effects. Rather than the circular bokeh offered by traditional lenses, anamorphic lenses produce a "streak" light flare. However, it has a greater constant squeeze ratio (1.6x) than Sirui's anamorphic lenses for APS-C cameras.
Anamorphic lenses are sought-after by filmmakers due to their ability to capture a wider field of view given a specific image area height. Anamorphic lenses squeeze the frame from the sides, resulting in what appears to be a distorted image. However, it's possible to stretch the image area to a wider aspect ratio when de-squeezed during post-processing. In the case of the Saturn lens, even though it's designed for 3:2 aspect ratio full-frame image sensors, it can capture the field of view of a 2.4:1 or 2.8:1 aspect ratio while using the full height of the image sensor.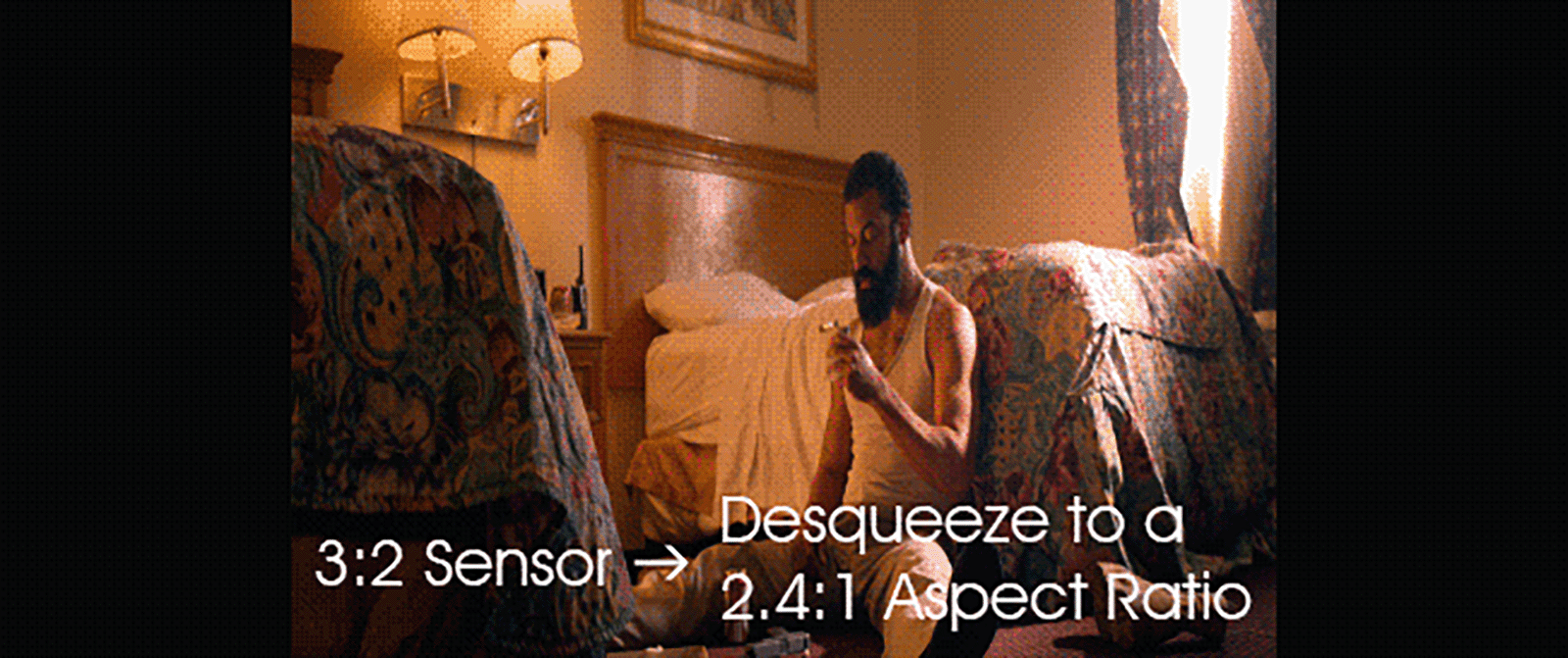 Some cameras, like recent Panasonic mirrorless cameras, can even offer a de-squeezed preview when shooting, which makes it easier to compose scenes. Without such a feature, it can be challenging when working with an anamorphic lens, given that everything looks squished in the viewfinder.
The Sirui Saturn 35mm lens incorporates a 10-bladed aperture iris. The lens includes 18 elements organized across 13 groups. Its minimum focusing distance is three feet (0.91 meters). The lens manual focus lens includes focus scales in feet and meters. The rotational angle of the focus ring is 120 degrees. The lens also has manual aperture control.
The lens' weight depends upon the selected lens mount. The weight ranges from 0.86 to 0.91 pounds (390 to 425 grams). The length also varies slightly but is around four inches (about 100 millimeters) for each version.
The lens is available in DL, E, L, RF, and X mounts. Customers can select between neutral and blue lens flare. The Sirui Saturn 35mm t/2.9 anamorphic lens is available now for $1,300 directly from Sirui.
---
Image credits: Sirui