The Teva x Polaroid 600 Camera is Built From Refurbished Parts
In what is the latest in a line of brand partnerships, Polaroid today announced a collaboration with sandal company Teva that features "nostalgic" design elements and a Polaroid 600 camera that puts a spotlight on sustainability by using professionally refurbished parts.
While Polaroid has also announced new standalone products like the Polaroid Go or brought back older products like Round Frame film, the company has also continued to expand to more partnerships and collaborations. Recently it launched a Mandalorian-themed camera in partnership with Disney, and it also dipped its toe into the fashion space in a major collab with Lacoste that put the famous clothing brand's logo onto a camera and Polaroid colors and imagery on Lacoste clothes.
Similar to its arrangement with Lacoste, the Polaroid and Teva partnership combines Polaroid's "rich nostalgic heritage" with Teva sandals and vice versa, while both brands prominently tout a message of sustainability. On Teva's side, its sandals use the classic Polaroid rainbow spectrum of color and combine them with Teva's "adventure-seeking DNA" and are made with recycled materials, specifically the Repreve recycled plastic yarn used on the straps. Called "the capsule collection," these Teva sandals are available in two formats: the Original Universal Polaroid in Grey and the Midform Universal Polaroid in Red.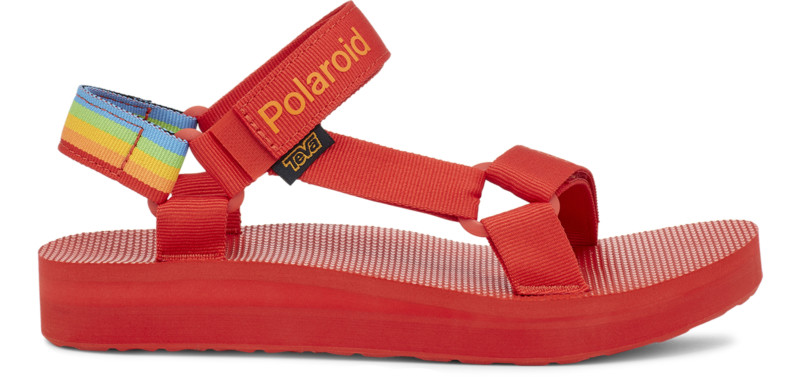 "The water-friendly styles feature the iconic, functional 4-point webbing upper silhouette, an EVA midsole, and a rubber outsole for all-day comfort and versatility," Teva writes. "The bold grey and red base colors pop with a custom Polaroid Color Spectrum webbing on the heel strap."
On Polaroid's side, the Teva x Polaroid 600 instant analog camera, as the company calls it, is made from "original Polaroid electronics that have been professionally refurbished and tested." The camera also has prominent co-branding with Teva as you can see below: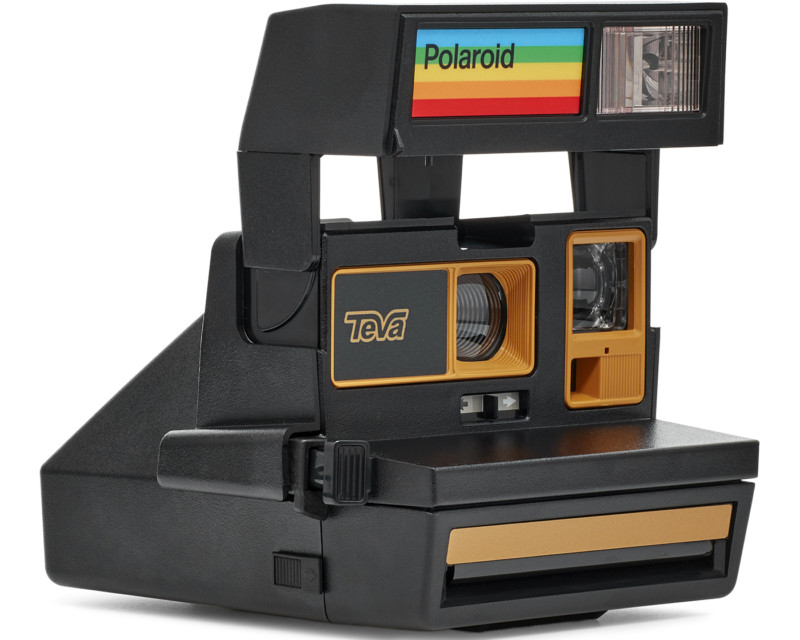 It features the classic Polaroid Color Spectrum and the strap is made with the same Repreve recycled yarn found on the Teva sandals and is included with the camera.
Just as with the Lacoste launch campaign, Teva appears to have photographed many of its sandals images with a Polaroid: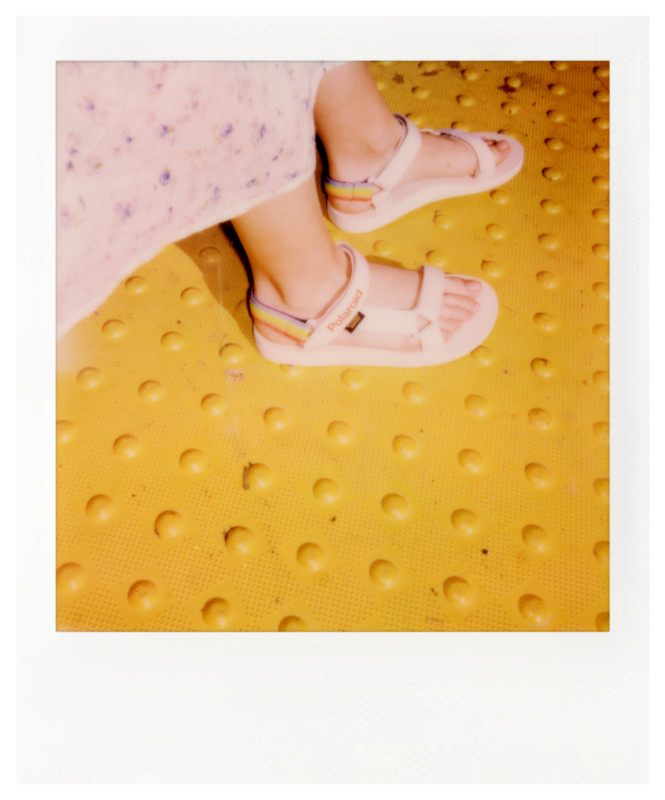 The Teva x Polaroid camera uses Polaroid 600 film in color or classic black and white. The sandals will retail for $70 and $80 depending on sizing and the Teva x Polaroid 600 camera will cost $160 and is only available on Teva.com or in select specialty retail stores internationally.