Nikon Z7 II Review: Not Just An Upgrade, But A Remarkable Camera
The original Nikon Z6 and Z7 were personal favorites of mine, but there were a few things "missing" from that mirrorless system that I was hoping would be addressed in the next generation. Thankfully I was not disappointed with the launch of the Z7 II as Nikon pretty much addressed every issue I had with the first generation.
Due to significant supply shortages of the Z7 II globally, PetaPixel partnered with LensRentals to obtain a sample for this review. You can view and rent the Z7 II from LensRentals here.
What has Nikon significantly changed? Physically, Nikon added the much-requested second memory card slot, additional "small-RAW" modes, increased the shooting speed to 10 frames-per-second (FPS) thanks to a dual Expeed 6 Processor system, improved the video features, enhanced in-body-image-stabilization (IBIS), gave it faster and more accurate autofocus (AF), and finally added an optional vertical grip with control capabilities, (not just an extra battery holder).
On top of all that, the image quality is still great, and Nikon effectively improved the system so much that DxOMark issued it a score of 100 putting it in a joint-first-place and making it Nikon's highest-rated mirrorless system to date.
The new camera also costs just shy of $3,000, which is a bit more expensive than the original Z7 at full price but around $700 more expensive at the time of publication.
But it's worth it.
Overall Performance
Compared to the previous generation, the biggest difference in the Z7 II is simply the feeling of speed and accuracy the system provides thanks to the dual Expeed 6 processors and enhanced autofocus. The image quality continues to be great when using either native Z mount or adapting F mount lenses with the FTZ adapter.
On that note, I would argue that it is one of the best cameras currently on the market for landscape photography. Since the Z7 II has impressive weather sealing, a 14.6 exposure value (EV) dynamic range with a base ISO of 64, and if you pair it with the Z mount wide-angle lenses, you will get flawlessly sharp images from edge to edge. It really is hard to beat.
The Z7 II has an improved battery life over the original Z7, but it can also be powered using a USB-C battery pack, which makes long timelapse and video projects more approachable. The IBIS, especially when paired with Z mount lenses, to me felt like it worked incredibly well. I shot the system in a variety of settings, lighting, location, and modes and while I captured several "bad" shots compositionally speaking, that was always my fault as the photographer and not something I could blame on a camera issue.
A very minor negative is that the tilt screen does not fully articulate like some other systems on the market. It's not a big issue, but I can't imagine the cost would be increased by much if they added the ability to not only tilt but pivot the screen for use in tighter spaces.
Autofocus
No matter the genre, this 45-megapixel system is more than capable of cover your needs. The autofocus and tracking are accurate and fast, even when shooting using F-mount lenses and the FTZ adapter. The 39-frame gif below was shot in fast burst RAW + JPG using the Nikon 24-200mm lens at 200mm and it nailed the focus the entire time.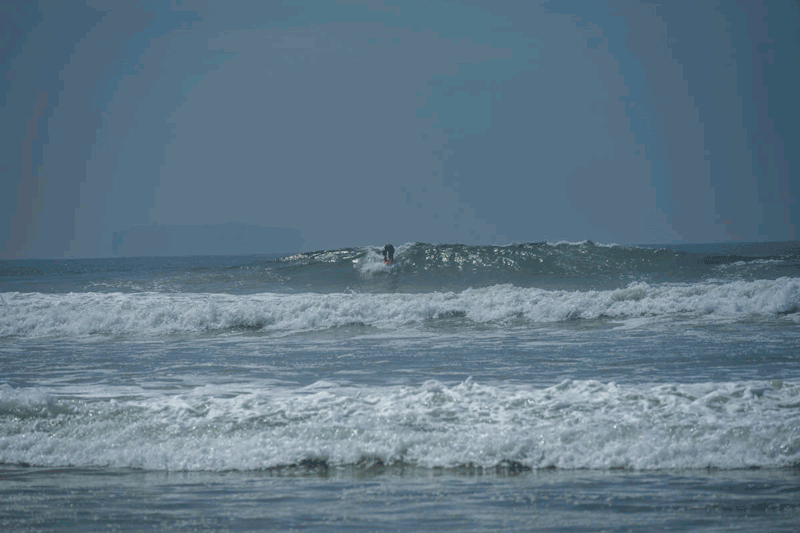 This just proves that even though it is a high MP system, it is still incredibly viable for shooting sports and action events like racing at 10FPS shooting in both electronic and mechanical shutter modes. It can hold up to 50 frames in the buffer as well, which isn't record-breaking but is generally sufficient. It can fit even more in that buffer if you shoot in compressed 12-bit RAW. Pair this with the improved face/eye detection for both humans and animals or subject tracking, and you've got an absolute win.
Just like its predecessor, the Z7 II is a beast when it comes to shooting portraits. Similar to the Sony Alpha 1, a test in a low light environment without modeling lamps showed that the camera is able to grab and focus properly on human or animal eyes without issue. This includes shooting incredibly shallow using f/1.4 and f/1.2 glass.
The only thing that I would consider a negative in the autofocus space for the Z7 II is that the human and animal face/eye detection system is separate from the camera's subject tracking system. This means you have to choose if you want face/eye detection, subject tracking, or autofocus areas by selecting the appropriate mode before you start shooting. Inconvenient, but not a deal-breakder.
Dynamic Range and Image Quality
The dynamic range available from the Z7ii is very impressive and only currently rivaled by the Sony Alpha 1, (but that system is twice the cost). You can recover a lot of lost detail and be comfortable knowing it will be free of shadow banding even while pushing both the Shadows and Blacks details in your images all the way to their limits.
Maybe it's been a while since I have paid attention to the RAW colors from my Nikon cameras, but the colors of the images I captured during my testing were vibrant and pleasing pretty much straight out of the camera. The images are very sharp edge-to-edge when using the Z mount lenses, and I only spotted vignetting and warping in the corners on images captured using my F-mount lenses and the FTZ adapter.
Portraiture Performance
Honestly, there are no surprises here with the Z7 II's performance shooting in both studio or environmental situations. The system nails focus consistently and provides a large amount of dynamic range to work with. This gave me the freedom to recover a lot of detail from highlights and shadows when I found myself in tricky lighting situations or allowed me to create some gorgeous silhouettes with the knowledge that my subjects, even in shadow, are in "focus" for the shot.
More Image Samples
Solid, Reliable, and Consistent
The Nikon Z7 II basically addresses every issue folks found with the original Z7 and even goes a step beyond. Like many large megapixel systems currently on the market, the camera provides you with RAW files that can rival some medium format systems in terms of clarity, color, and dynamic range for at least half the cost of those medium formats. The Z7 II is a flagship, fully capable, workhorse camera that can cover you in pretty much any shooting situation, especially for commercial, editorial, and landscape work.
With the Z series of mirrorless cameras, I strongly believe that Nikon has built a system that only needs minor updates to remain competitive in the current market.
Are There Alternatives?
There are several other full-frame mirrorless systems out there that match or are even higher megapixels than the $2,997 Nikon Z7 II. However, with Nikon's latest, you get the same or even leading performance at a much more affordable price. The thing to keep in mind with the Nikon Z7 II is it's similar to the Z6 II in almost every way except for the megapixel count. So if you don't see yourself needing the 45MP and native ISO 64 the Z7 II provides, saving a little money and choosing the 24.5MP Z6 II is perfectly reasonable.
If money is not an issue, the Sony Alpha 1 is an amazing option to also consider. I would also be remiss if I didn't mention the Canon EOS R5. Compared to the field though, I believe you get an incredible bang for your buck out of the Z7 II. It is a flagship system that will work hard for you for years to come.
Should You Buy It?
Yes. The Nikon Z7 II is truly one of the best full-frame mirrorless systems currently on the market. I firmly believe it is an excellent choice for a studio photographer who does nothing but portraits to an event shooter who spends most of their time in fast-paced and low-lit environments and everyone in between. Even if you already own a Z6 or Z7, the Z7 II is worth considering as a replacement or additional system for your kit because of the upgrades that it offers.
---
Editor's note: Special thanks to LensRentals for providing a sample of the Z7 II for the purposes of this review. You can view it and other cameras, lenses, and accessories here.