Fujifilm Announces the 'Versatile' XF 70-300mm f/4-5.6 Zoom Lens
Fujifilm has announced the XF 70-300mm f/4-5.6 R LM OIS WR lens, a relatively compact zoom lens for the X-system that covers a broad zoom range between 70mm and 300mm. While not particularly fast, it is a lens that is being positioned as "versatile."
The 70-300mm f/4-5.6 weighs 1.27 pounds (580g) with a length of 5.21 inches (132.5mm) when retracted with a diameter of 2.95 inches (75mm). It is comprised of 17 elements in 12 groups, including one aspherical element and two extra-low dispersion (ED) elements.
The lens is compatible with both the XF1.4X TC WR and XF2X TC WR teleconverters. When XF 70-300mm f/4-5.6 is paired with XF2X TC WR, it is possible to achieve a maximum 35mm equivalent focal length of up to 914mm with 2 stops of light loss. When using it with XF1.4X TC WR, XF 70-300mm f/4-5.6 will provide a maximum 35mm equivalent focal length of 630mm with just 1 stop of light loss.
Fujifilm assures that with either teleconverter in use combined with the lens, there should be no reduction in autofocus performance.
The 70-300mm lens offers up to 5.5 stops of optical image stabilization and can be combined with Fujifilm camera systems with 5-axis in-body image stabilization such as the X-T4 or X-S10. That added stabilization should be particularly helpful at the long end of the lens' focal lengths.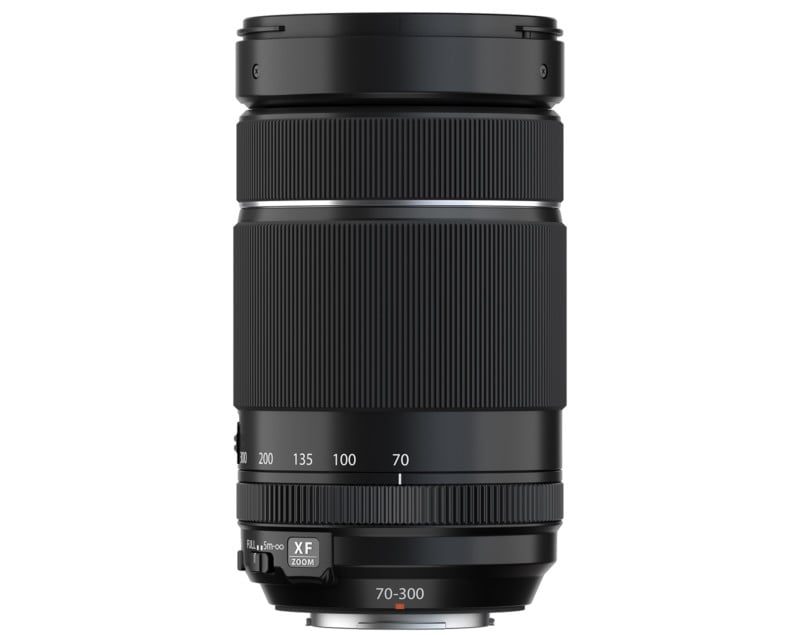 The lens uses a linear-motor drive system to enable fast and near-silent autofocus, which Fujifilm says allows it to fully leverage the autofocus systems in X-Series cameras.
While not a macro lens, the 70-300mm does allow for a rather close focusing distance of 32.6 inches with a maximum magnification of 0.33x. When attached to the 2x teleconverter, maximum magnification is expanded to 0.66x (the 35mm equivalent of 1:1 magnification) for even better close-up photo results.
As is the case with many of Fujifilm's lenses, the 70-30mm is weather-resistant, and seals have been applied at 10 locations along the lens barrel to protect it against dust and moisture, while also giving XF 70-300mm f/4-5.6 the ability to operate at temperatures of down to 14°F (-10°C).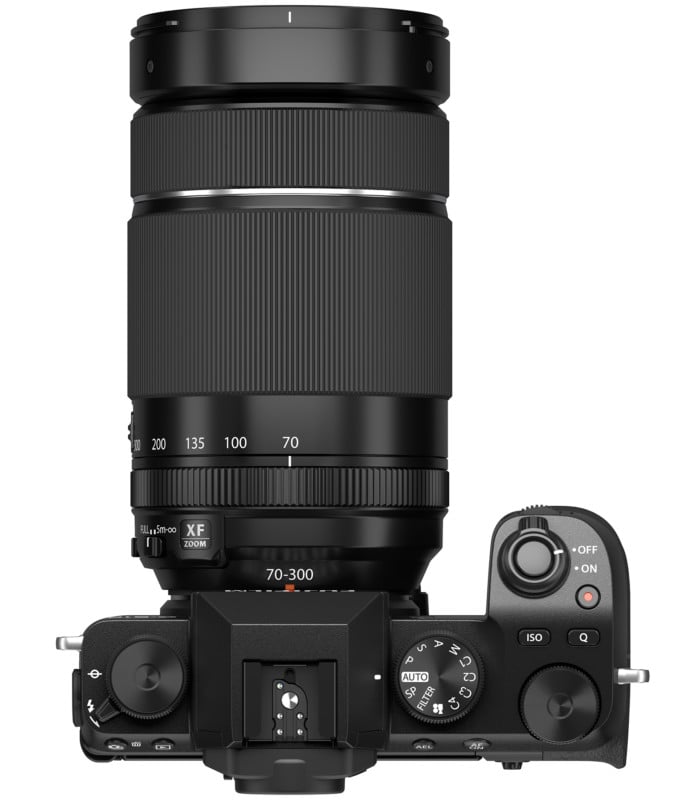 The Fujinon XF 70-300mm f/4-5.6 R LM OIS WR lens is expected to be available in March for $800.