Fujinon XF 100-400mm Versus XF 70-300mm Telephoto Lens Comparison
When I created my first impression video of the Fujinon XF 70-300mm f/4.0-5.6 R LM OIS WR lens, I received lots of questions regarding how it compared to the XF 100-400mm f/4.5-5.6 R LM OIS WR.
At the time, I was unable to answer those questions as I did not have access to the 100-400. But I can now.
The fine folks at Fujifilm USA loaned me an XF 100-400mm f/4.5-5.6 R LM OIS lens to use for about thirty days. This is not a sponsored review, and Fujifilm has not had any input or seen this review until publication. Additionally, the XF 70-300mm was purchased by myself.
The first thing you notice about the XF 100-400mm is the size: It's large. Very large. And heavy. Very heavy. To all those folks on the various Fujifilm Facebook Groups complaining about the size and weight of the XF 18-55mm f/2.8-4.0, spend about two minutes with this lens and enjoy anew the compact size and light weight of the XF 18-55mm.
While the XF 100-400mm is "only" three inches longer (8.3 versus 5.2) and 1.7 pounds (3.0 versus 1.3) than the XF 70-300mm, those dimensional differences have several practical implications for using the lens.
First, transporting this lens requires a large camera bag. It won't fit in most smaller bags, such as slings or messenger style bags unless the XF 100-400mm is the only item you put in it. Second, using a tripod with the XF 100-400mm requires a tripod capable of dealing with the weight and distribution of that weight across a relatively large lens. In my experience, I noticed quite a bit of drift on the ball head after locking it down when the lens was pointed at any angle but level. This same tripod — a Benro TSL08AN00 — had no drift when supporting the XF 70-300mm at all angles. Finally, handholding this lens is quite a workout. On the relatively small Fujifilm X-Series bodies, this lens is very front-heavy and is best used with an L-plate or battery grip that provides more gripping area for stability and control.
An important factor to consider with both the XF 100-400mm and XF 70-300mm at their longest telephoto reach is the camera-holding technique. At 300mm and 400mm, every detail is magnified, and any camera movement will be as well. While both lenses have excellent optical image stabilization systems and I was able create sharp photos at 1/125 second while handheld with both lenses, I also realized I need more practice at creating photos at those focal lengths.
Both lenses have excellent autofocus speed and image quality. It feels like the XF 70-300mm is slightly faster to focus than the XF 100-400mm, which makes sense as it does not have as much weight in lens elements to move. At their highest focal lengths, both lenses can struggle a bit with relatively small subjects that are seven to 10 feet away.
Image quality for both lenses was excellent to my eye and for my use cases. Both lenses have slight blue fringing around high contrast areas on light backgrounds, which is easily corrected with software. Both lenses have background blur with a bit of "personality" — in other words, the bokeh is not super smooth and can have a slight appearance of motion to it.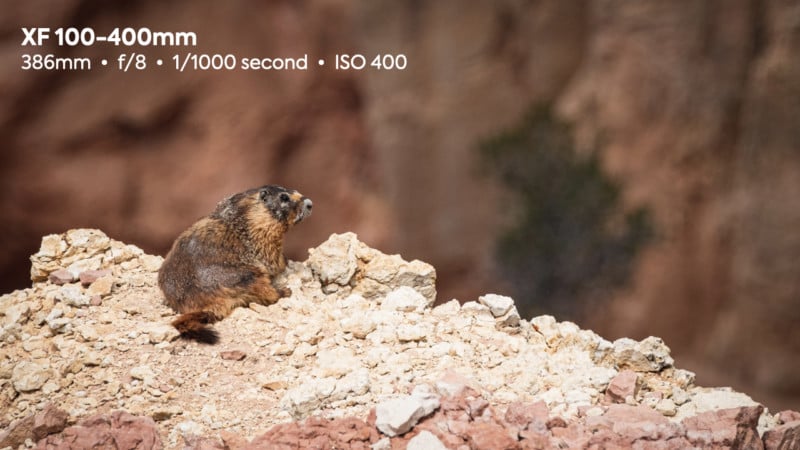 One quirk I noticed with my loaner copy of the XF 100-400mm was that the EXIF data displayed in Lightroom Classic for focal length showed 386mm when set to the 400mm marking on the lens.
I also used both lenses with the Fujinon XF 2X TC WR Teleconverter. When using focal lengths approaching 600 and 800mm, there is little room for technical error of focus, camera movement and subject framing. I was overwhelmed with my results, but I think that's a result more my lack of experience with the techniques of creating photos at those extreme focal lengths than an issue with the quality of the 2X TC. I've included some sample photos below showing how each lens performs with the 2X TC. These sample photos were all taken using a tripod, with OIS turned off on the XF 100-400mm.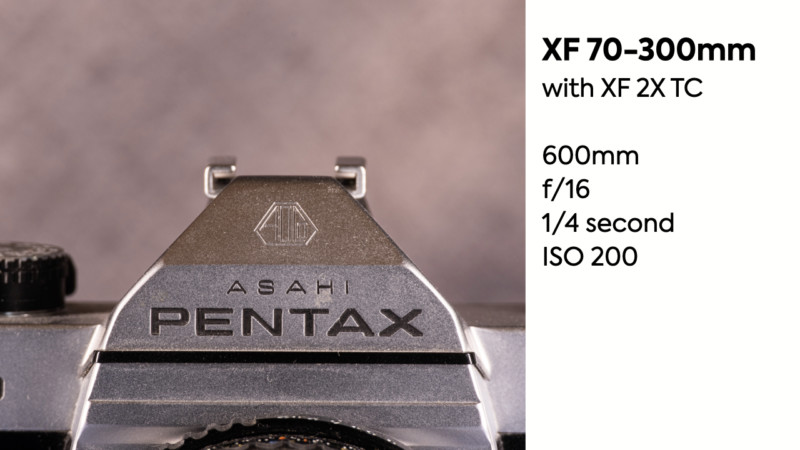 Which lens wins? Lens choice is always highly personal and depends so much on each photographer's preferences. I don't photograph much wildlife or sports. I do photograph some landscapes, but the majority of my photography is of subjects that are relatively close, or at least don't often call for extreme telephoto reach.
So, for me, the winner is the Fujinon XF 70-300mm f/4-5.6 R LM OIS WR. It covers the majority of the telephoto range of the XF 100-400mm with amazing image quality and autofocus performance without the weight and size. Also, at less than half the price, the XF 70-300mm is a wonderful value. Add in the relatively close minimum focusing distance with high image magnification and my love of minimal closeup photos, and it's a combination that's hard to beat for me. In the three months that I have had this lens, it has quickly become a part of my go-to gear choice in most photography situations.
I've uploaded some more sample images from both lenses here.
---
About the author: Michael Sladek teaches digital photography at Highline College near Seattle, Washington. He enjoys dad jokes, doughnuts, and helping others discover the fun of creating photos they love. Stay connected with Michael on his website, YouTube channel, and Instagram.