Pentax's New APS-C DSLR Can Hit ISO 1.6 Million, Will Cost Around $2,500
Ricoh has released a new video all about the upcoming Pentax flagship APS-C DSLR that has been slowly revealed over the past year. The camera will be called the Pentax K-3 Mark III (imagine that), and we are finally getting some information about specs and price point beyond just the fact that it has a nice optical viewfinder.
To be clear, this is not the official announcement; it is yet another "development update." However, the President of Ricoh Imaging shared several key specs, and the company subsequently published a more-or-less full spec list on its website.
The first 4 minutes of the video simply recycle the "Pentax Commitment to SLR Photography" spiel from a previous promotions, reiterating the company's devotion to the optical viewfinder and restating the 5 principles of Pentax revealed in the recent "Brand Vision" announcement. After this, President Takahashi comes on screen to share an update and talk through a few key specs about the K-3 Mark III.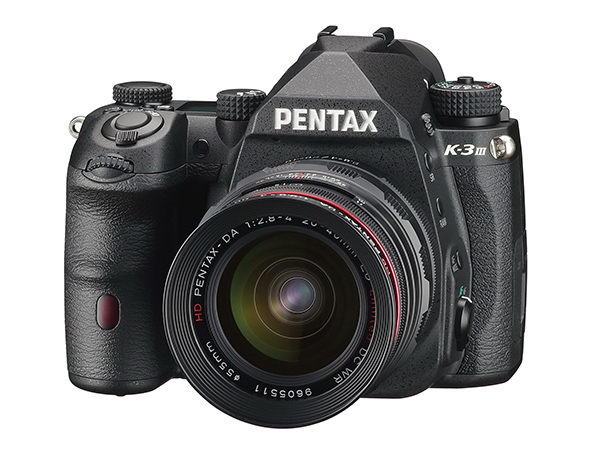 The main features and specs covered in the video (with timestamps) are:
The new optical viewfinder, featuring 1.05x magnification and a pentaprism made of "brand new glass material." – 5:57
Outstanding operability, featuring a new shutter control mechanism, touchscreen LCD, and improved grip, and a "thorough review of the user interface." – 7:10
A "dramatic" improvement in image quality, powered by a redesigned image sensor, image processor, and "imaging accelerator" that enable a maximum ISO of 1.6 million. – 8:09
Continuous shooting and tracking performance has been upgraded. Max continuous shooting speed is now 12fps, and the AF system has been updated with wider coverage and improved subject tracking. – 8:53
Pricing is still TBD, but is expected to land around "the upper 200,000 Yen range," which puts the camera between $2,400 and $2,900. – 9:43
Not mentioned in the video is the resolution of the image sensor (25.73-megapixels), the fact that the camera has in-body image stabilization (IBIS), and the fact that the camera features dual card slots: one UHS-II and one UHS-I. For those who are interested in diving deeper on the spec sheet, you can find a full breakdown on the Ricoh Imaging website.
According to Takahashi-san, the camera will be officially launched "around the CP+ time period," putting the announcement date sometime around February 25th, 2021. To hear all of these updates for yourself, check out the full video up top.
(via Photo Rumors)