Canon's Market Share Spikes in Japan, Threatens to Overtake Sony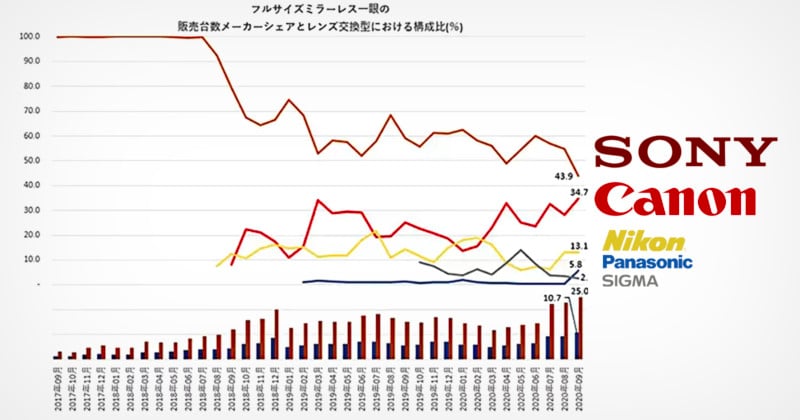 According to a report by BCN, despite a rough start to the year due to the proliferation of the COVID-19 Coronavirus, the camera has begun to recover in Japan, with Canon most notably growing in full-frame market share and closing in on Sony.
According to a translated version of the BCN report, as of April "the decline in mirrorless interchangeable-lens cameras was greater than that of the interchangeable lens type as a whole, and the number of units sold was 19.7% year-on-year, a decrease of more than 80%. However, it recovered rapidly after July."
By September, sales had recovered to 97.8% of the total volume in units and a total value of 90.3% in sales from the same time last year. Considering how badly hit the market was in early 2020, that level of recovery is heartening.
"As a reaction to the last-minute purchase before the tax increase that occurred in September last year, the number of interchangeable lenses as a whole temporarily increased to 52.1% and the amount of money was 56.3%. In such an environment, full-size mirrorless cameras are doing very well," the report reads.
Specifically, with regard to full-frame mirrorless, BCN says Sony started the segment in 2018 with a 100% market share but since then, the other manufacturers have whittled away at it. While Sony still amounts to more than half of all mirrorless cameras in the market, the company's percentage of annual sales has dipped significantly since then, with a notable dip this year.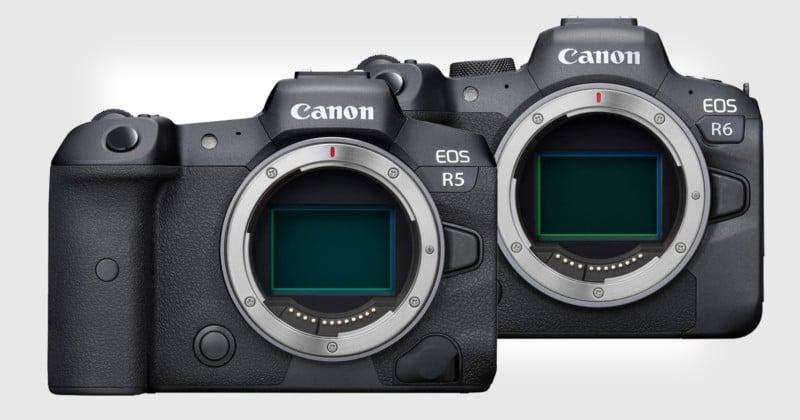 Because Canon introduced two new full-frame mirrorless cameras in 2020, its sales volume has increased in kind to 34.7% of total. Sony's share fell to 43.9%. While still quite a ways behind, Panasonic has also seen an increase thanks to the more affordable S5, with 5.8% sales share.
Nikon's two new cameras have not yet hit the market and as a result, the company's sales momentum remains largely unchanged. But if we are to look at Canon's significant jump this year thanks to its R5 and R6 cameras, Nikon is likely to see its sales increase as we come to the end of 2020.
If you look at the chart of sales over time, to this point no single company has come close to challenging Sony's numbers until now. Canon, Nikon, Panasonic, and Sigma all combined to take a large bite out of Sony's sales share, but only as a group. Canon has changed that in 2020, jumping up and looking to meet Sony as it falls in kind.
For the company that BCN cites as the inventor the format, seeing its sales dip while a competitor rises is likely going to be publicly shrugged off as just a small part of the bigger sales picture. Still, if Sony wishes to stem the tide of oncoming competitors, it will only be able to do so by announcing new and exciting cameras. The a7C may move the needle for Sony when it becomes available, if the S5's reception is to be any indication. If it is enough to notably distance itself from Canon's momentum, though, is the real question.
(Via BCN via Mirrorless Rumors)