Infrared Ghouls and Goblins: A Fresh Take on Halloween Photography
A couple of years ago I was shooting Halloween yard scenes in a street photography kind of way when I realized that I wasn't really satisfied with what I was getting. Over the last two decades, Halloween has been transformed into a major U.S. holiday focused on lavish front yard displays that often look boringly the same down street after street.
I was trying to find a different approach—and I did, with an Olympus OM-D EM10 II fitted with an internal LifePixel Standard IR filter. Viewing Halloween displays as black & white infrared images is really different.
Most of these ghouls and goblins and the faux hideous tableaus in which they appear are heavily black — the clothes, the hats, the trappings, the accoutrements. But when shot in infrared, the black cloth shifts to bright white, the skies go black, and the grass and other foliage light up in ways that create an otherworldly vision that seems particularly resonant with the ghastly creatures Halloween celebrates.
Two years ago, this house in Audubon, NJ, put out a couple of six-foot wide, custom-made spiders. The bodies are big blobs of insulation foam with a skull face glued to the front. The legs are PVC piping. This year, there's a whole platoon of these things that looks like the Attack of the Skull Head Spiders.
The color shifts and increased contrast of infrared enhances their ominous look.
These monster babies are store-bought and essentially haphazardly plopped down in the front lawn as part of a tacky jumble of severed rubber arms and legs and plastic skeletal parts of humans, dogs, and other animals. But they can be isolated and photographed in their own rite in whitened grass and foliage.
They are starker and creepier as infrared images.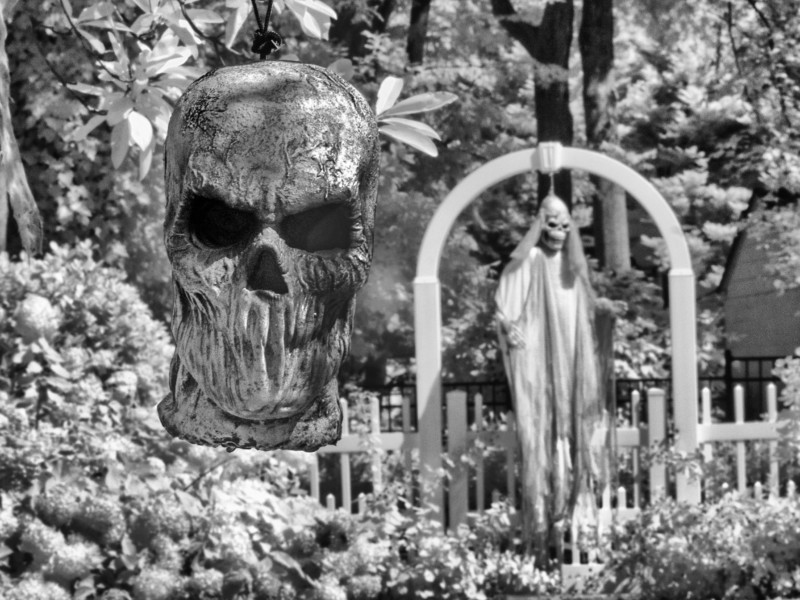 This venue is actually the carefully manicured lawn and elegant gardens of a richly landscaped house in Haddonfield, NJ. The owners hung a home-made ghost creature in one of their garden gates and a skull in a distant tree.
Using a medium telephoto to bring these items together resulted in this somewhat eerie looking scene that does not look like suburbia.
This was another one that initially looked like a clutter of store-bought graveyard items, but careful framing, a patient wait for the sun to poke just right through the tree limbs above, and the infrared inversions gave this scene an almost cinematic look.
A totally custom-made Halloween artwork, this fashionable life-sized zombie woman was hung in a drab yard corner on an urban street of row homes against a muddle of poorly trimmed bushes and ferns in front and trees limbs behind. But turning it all white with infrared created a photo that you can't seem to look away from.
And I guess that's the point: there are all these millions of somewhat tacky Halloween displays going up across every city in America every October that can be turned into something else through well-composed infrared photography.
I think it's clear that these sorts of images have commercial potential as stock photos and for ads and other editorial uses. I am thinking of next year working with a local newspaper editor (I spent a lot of years as a newspaper reporter) to do a photo and text story about the region's best and most creative Halloween display artists. Each of them would be photographed amid their macabre creations — in black & white infrared, of course.
To see more infrared halloween photos click here.
---
About the author: Hoag Levins is an editorial multimedia producer at the University of Pennsylvania and a former staff reporter and photographer at newspapers and mainstream web news sites in Philadelphia, Manhattan and Washington, D.C. You can find more of his work on his website