Stop Upscaling and Colorizing Photos and Videos, Historians Say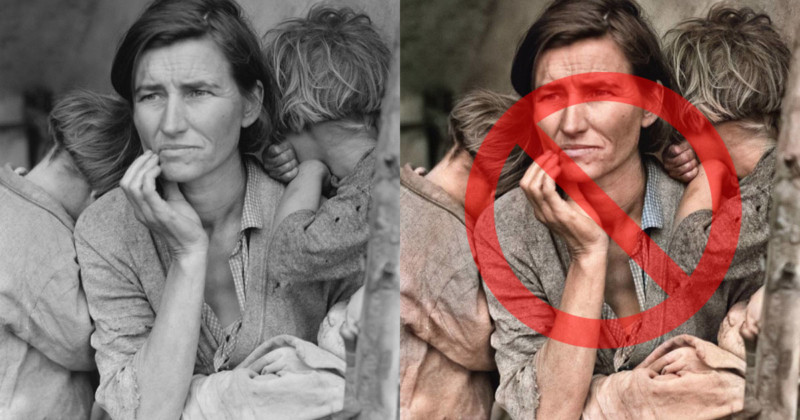 Colorizing and updating photos and footage from the past is becoming more common and much easier thanks to the advancements of AI. We've shared stories and images of colorized images and videos many times over the past decade, and colorists say it is designed to bring the past forward for a modern audience. However, there are some historians who believe the process is doing more harm than good.

Wired reports that some prominent historians are speaking out against colorization and calling for it to stop.
"It is a nonsense," Luke McKernan, the lead curator of news and moving images at the British Library, tells Wired. "Colourisation does not bring us closer to the past; it increases the gap between now and then. It does not enable immediacy; it creates difference."
In this particular instance, McKernan was speaking about Peter Jackson's popular 2018 World War One documentary They Shall Not Grow Old, but the sentiment is meant to address the practice from any creator.
One popular YouTube channel that is at the center of the controversy is Deniz Shiryaev's Neural Love. Known for not only upscaling historical footage to 4K, Neural Love also uses an AI algorithm to add frames and color to decades-old footage.
Because the processes of colorization or upscaling are done by adding color, movement, or frames to historical footage, historians like McKernan Emily Mark-Fitzgerald, the Associate Professor at University College Dublin's School of Art History and Cultural Policy, take issue with the process. The footage never had those additions, so adding it takes away from the original intent of the capture.
"The problem with colourisation is it leads people to just think about photographs as a kind of uncomplicated window onto the past, and that's not what photographs are," Mark-Fitzgerald tells Wired. Removing dust, scratches, and imperfections while adding assumed color, they argue, obscures the past instead of highlighting it.
On the other side, Neural Love and other creators believe their work makes historic footage easier for a modern generation to appreciate. Their argument is that while they do remove the signs of age from images and video, the end result is worth it as long as people today appreciate the work of the past. Without their post-processing, many people would never have taken an interest in the old footage.
It is a complicated argument with compelling points from both parties and is likely to be a discussion that will continue for some time.