Air Force One Nearly Hits Small Drone, US Air Force is Investigating: Report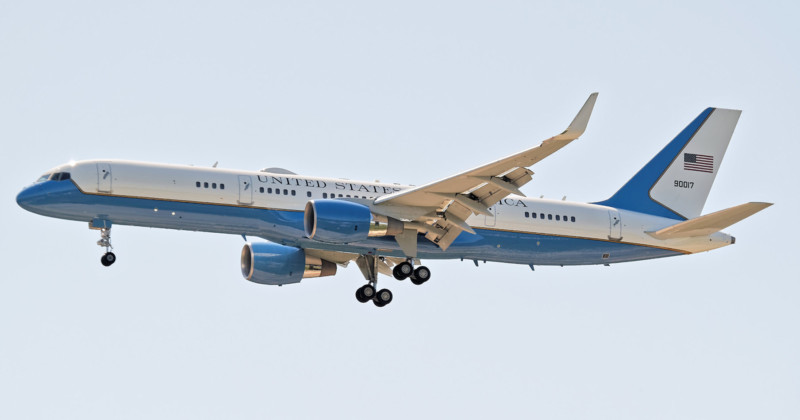 A US Air Force C-32—one of the modified Boeing 757 jetliners known as "Air Force One" or AF1 whenever the president is present—had a near miss with a drone this past weekend while the President, First Lady, and their son were all on board. The US Air Force is investigating the incident.
According to Bloomberg, the incident took place on Sunday evening as the jet was approaching Joint Base Andrews in Maryland. Shortly after landing, AFP White House correspondent Sebastian Smith tweeted that "we flew right over a small object, remarkably close to the president's plane," which he says "resembled a drone."
@realDonaldTrump just landed at Andrews on AF1. Shortly before, while descending,we flew right over a small object, remarkably close to the president's plane. Resembled a drone though I'm no expert. pic.twitter.com/roDFgpp4XH

— Sebastian Smith (@SebastianAFP) August 16, 2020
Bloomberg cites "several people on board Air Force One" who confirmed this account, saying that a black and yellow "device" that was "shaped like a cross" came dangerously close to the right side of the plane as it was preparing to land. And while it's unlikely a small consumer drone—if that is, in fact, what this was—could do any significant damage to AF1, the incident has raised a lot of red flags.
Typically, such incidents are reported to and investigated by the FAA, but given the circumstances the US Air Force is taking the lead, confirming that they are "aware of the report" and that the matter is "under review."
Previous incidents involving drones colliding or nearly colliding with aircraft include the drone that damaged an Army helicopter in 2017, the first to cause a crash in 2018, and the infamous incident that shut down London Gatwick airport later that same year. With each incident—and each idiotic bit of illegally captured footage—it gets more likely that the FAA will be forced to crack down hard on responsible drone pilots everywhere.
(via DPReview)
---
Image credits: Header photo by Dylan Agbagni, CC0