Photographer Shoots Emotional 'Stay Home' Portrait of His Wife, a Nurse
Photographer Ray Briggs of Okushi Photography recently shot an emotionally charged, powerful portrait that implores people to stay home so that we can protect our health care workers. His wife Mary, the subject, is a nurse on the front lines of the COVID pandemic.
The hero portrait of his wife hugging one of their sons was a full family affair. The "studio" was set up in their garage, and their other son helped with lighting.
The setup was simple. A key light camera center and above, providing butterfly lighting, with a rim light behind the subject and camera left. Finally, a reflector on the right hand side of the frame served to light up the child in Mary's embrace.
Of course, the technical details are secondary in a portrait like this. Their purpose is to get out of the way—to become invisible—so that you can focus on the subject of the shot. The message of the portrait is both implicit in Mary's expression, and explicit in the caption: "Stay home… so I can come home…"
"Let's applaud our nurses, our doctors and all our medical field for working in the trenches and being the front line in this war against the virus," writes Briggs on Instagram. "Praying we all get thru this soon, please do your part, stay home, practice social distancing and enjoy the time with family while you can…"
Here's the hero portrait: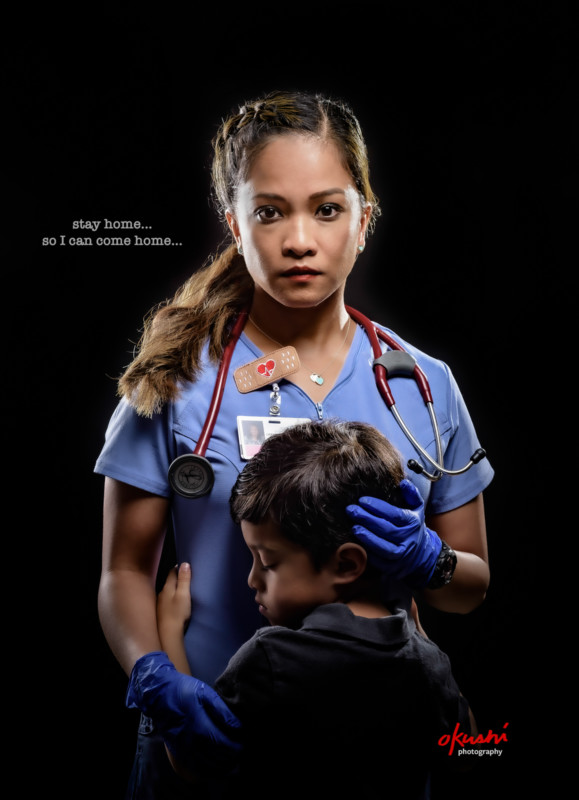 And a few more that Briggs was kind enough to share with us: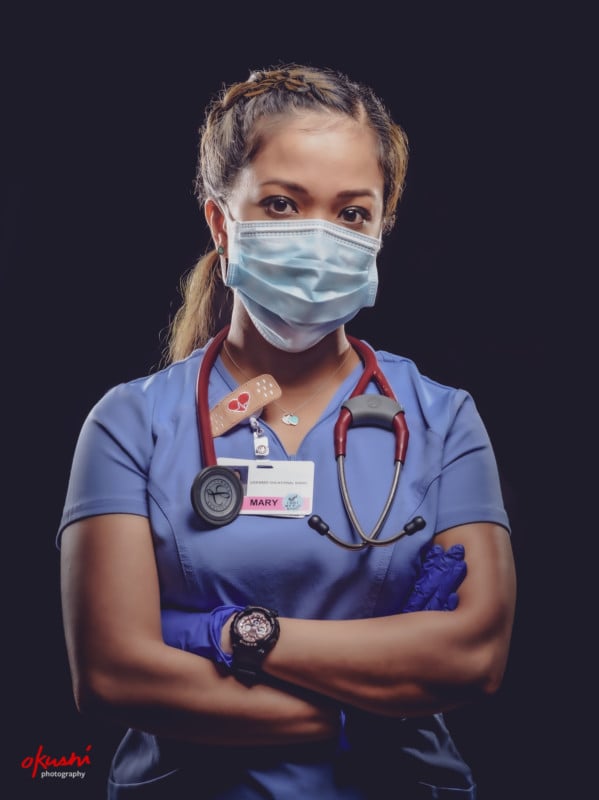 Isolation has been incredibly difficult for most, and impossible for some, but Briggs' portrait is a powerful visual reminder to stay home and do our part to keep health care workers, like Mary, safe.
To see more of Ray's work, head over to his website or give him a follow on Instagram.
(via DIY Photography)
---
Image credits: All photos by Ray Briggs and used with permission.