How I Left My Banking Job to Become a Photographer for Good Causes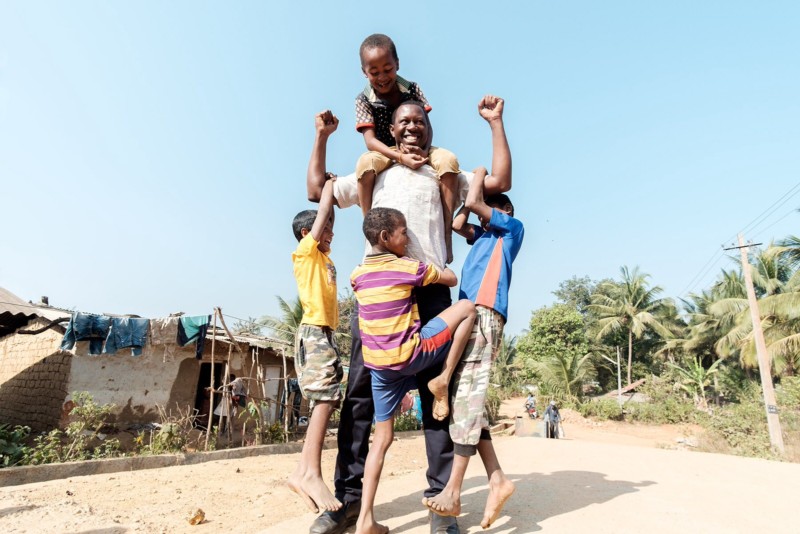 In the summer of 2017, I received an invitation from my CEO at Barclays India, Uma Krishnan, who was interested in collecting some of my award-winning photography work. In order to avoid giving away my photographs for free, I asked her to contribute some amount towards her favorite social cause, and this is how the idea for Create4Cause was born.

I bought a DSLR camera with my first paycheck and I was soon bitten by the photography bug. I soon cut off TV and other sources of entertainment to learn photography on YouTube and through Google. Bloomberg got replaced by Phlearn and The Economist subscription by National Geographic Magazine.
The Art of Photography by Ted Forbes became my daily go-to YouTube channel while I slowly started getting familiar with some master photographers such as Steve McCurry, Jimmy Nelson, Martin Schoeller, and Ami Vitale. I have learned composition by studying their breathtaking work, and I've been glued to their Instagrams as well as some brilliant street photography tutorials by Eric Kim.
I previously wrote about why I am NOT a self-taught photographer.
Soon my photography work started getting recognized by the likes of Nat Geo and Lonely Planet. I also started getting international awards, which kept me in the game of photography. Although I used to spend time behind my camera as a side hustle, my thoughts would often be on taking it up professionally. And, as an artist, I did not want to draw boundaries or limit myself, and I definitely did not want to take that jump for the sake of just chasing more money.
Honestly, I was a happy banker due to my love for numbers, and I enjoyed my time at Barclays. I think I was just looking for a greater purpose in life to make that switch. I started looking for internal options to take a break from my routine nine-to-five and listen to my calling.
In August 2017, I took a year-long sabbatical from my banking career and went on a journey of my life to travel the world on an innovative social experiment.
The idea was simply to get involved in a photography project if the brand/collaborator was willing to donate my fees towards their favorite social cause.
Throughout the year, I curated photography workshops to support girls' education in a remote Himalayan village, collected plastic bottles from a dump-yard to create a life-size art installation as an environmental awareness project against plastic, and worked to protect human rights of elderly widows by partnering with a local NGO in Vrindavan.
To date, I have collaborated with multiple organizations to raise more than $9,400 (700,000 Rupees) and to document unique communities across India and Europe.
The out-of-office experience was so fulfilling that I decided to leave my banking career behind and officially resigned from Barclays in August 2018 to work as a full-time photographer. I founded the Create4Cause community for likeminded individuals and brands who are interested in projects that are about more than just making money — there's a strong emphasis on meaningful and satisfying work.
Here's how Create4Cause works now:
1. Social Creator: Any creative professional who is ready to contribute his project fee towards a social cause. E.g. A professional photographer who would work on a product shoot for a brand and is happy to donate his project fee towards a cause s/he wants to support.
2. Social Collaborator: A brand or individual seeking creative work and is ready to match the fund. E.g. A big brand looking for a creative ad or a bride looking for a wedding photographer. You can choose anyone from a list of our social creators who will deliver your project professionally as you agree to match our professional fees towards the social cause.
3. Social Cause: Creator and Brand mutually discuss the social cause for full transparency. E.g. It could be supporting the education of your housemaid's daughter, feeding the poor or funding a business idea of an underprivileged person(s).
Today, we're a happy tribe of 13 social creators who have professional expertise in handling global creative projects.
---
P.S. If you're a brand looking to collaborate for this worthy program then write to us at [email protected] and become a social collaborator today!
---
About the author: Saurabh Narang is an independent portrait and travel photographer based in Sikkim, India. The opinions expressed in this article are solely those of the author. Narang is the founder of Create4Cause. You can find more of Narang's work on his website and Instagram. This article was also published here.