'American Chopper' Star Owes Photog $250,000+ for Stealing Photos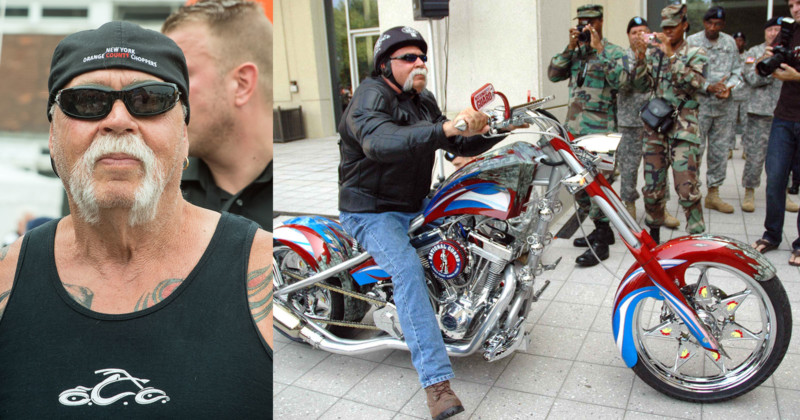 "American Chopper" star Paul Teutul has lost a copyright infringement lawsuit and is being ordered by a judge to pay the photographer over a quarter of a million dollars for using photos without permission.

Pennsylvania-based photographer Scott Gunnells sued the 70-year-old Teutul, his son Michael ("Mikey"), and Orange County Choppers last year, claiming that the Teutuls had used Gunnells' photos of Mikey without permission for marketing and merchandise sales.
Gunnells had shot at least two photos of Mikey (one of them in 2013) and registered them with the US Copyright Office. He later found that the Teutuls and their famous custom motorcycle building business were using one shot without his consent on their TV show, Facebook pages, and websites to sell apparel (reportedly T-shirts and hoodies priced at $19.95 and $39.99, respectively) and to promote events.
Another photo was being used to promote one of Mikey's art exhibitions, and the photographer's logo had been removed from the image.
The photographer responded by filing a copyright infringement lawsuit that demanded unspecified damages and that the Teutuls stop using the photos to profit.
Page Six reports that the United States District Court for the Southern District of New York handed down a ruling against the Teutuls on February 18th, ordering them to fork over $258,484.45 for their misuse of Gunnells' work.
This judgment is only the latest legal blow for Paul, who was sued by a former business partner for fraud in 2017 and is in the midst of an ongoing bankruptcy case.
(via Page Six via Photo Stealers)
---
Image credits: Header photos by Frank Schwichtenberg and The U.S. Army and licensed under CC BY 3.0 and CC BY 2.0, respectively