Gary Fong: Beware These Counterfeit Lightspheres Sold on Amazon
Photographer Gary Fong, best known for creating the Gary Fong Lightsphere, released this 8-minute video warning about Amazon selling counterfeit copies of his popular collapsible flash diffuser.

Fong says he purchased several Lightspheres from Amazon and managed to get a counterfeit that looks strikingly similar to authentic Lightspheres in both packaging and product design, except it's of extremely poor quality in every way.
On the outside, the packaging has example photos that look like they were badly exposed — not exactly the type of shot that's normally used to sell a product's strengths. In fact, all of the printed material looks like it was copied (something you often see when you receive counterfeit products).
The fake "Lightsphere" itself doesn't hold its shape — it should be round, but it's deformed right out of the box. Without the proper shape and sizings, the dome easily falls out of the diffuser while the genuine dome will stay in place.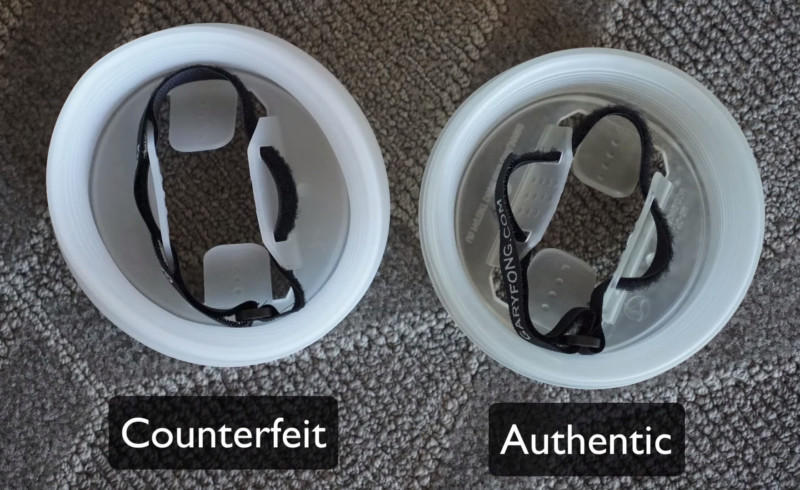 Fong also carefully formulated the material to result in a relatively clear diffuser. The fake is quite different.
"They did exactly the thing we knew not to do, which is put a white dye — the white dye will cut power to the source," Fong says.
"If you bought this, you would've returned it," Fong says. "This is just a horrible product.
"I don't blame you if you returned [the counterfeit product]. I would've returned it too. And I would have sent it a bad mark."
It's often recommended that you purchase products on Amazon that are labeled "ships from and sold by Amazon.com," but even doing this may not guarantee that you receive a genuine product.
"Third-party sellers sign up to shill stuff through Amazon's order-fulfillment services," the Consumerist writes. "All those products often get pooled together by bar code, regardless of whether they come from the brands themselves or other distributors. That way, Amazon can grab whichever product that's ordered at the nearest warehouse to the customer.
"That means even if you buy something that is technically sold by Amazon under the brand's name, you might end up with a product supplied by a third-party merchant, which may or may not be the real thing. And that doesn't make brands happy, because it makes them look bad to consumers who receive counterfeit goods."
Fong is frustrated with the fact that counterfeits are shipping out with genuine products and that what his customers receive are out of his control.
"It's impossible for you to know which one is the counterfeit because Amazon does not distinguish it," he says. "Please, if you know of anybody who has purchased a counterfeit, remember to use Amazon's A-Z guarantee and file a claim."