Photographer's Photo Goes Viral After He Sends Prints to Pro Athletes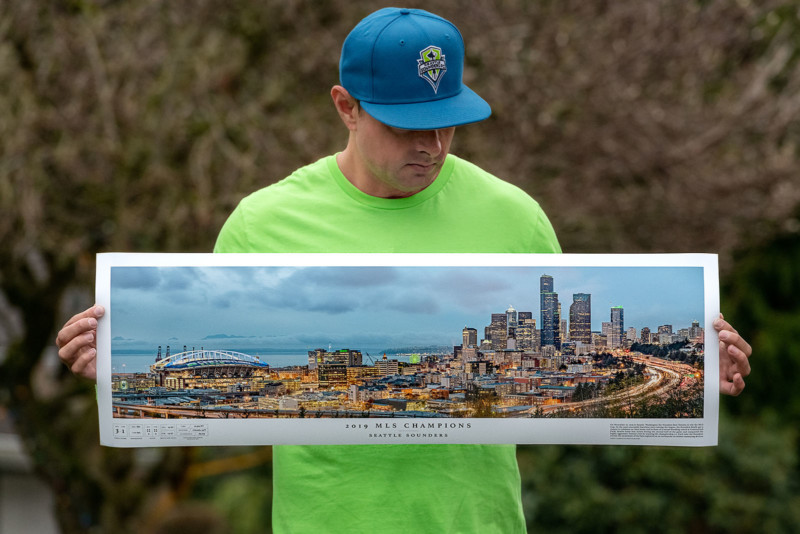 After the Seattle Sounders professional soccer team won the 2019 MLS Cup on November 10th, local photographer Chris Fabregas shot a photo of downtown Seattle as the city was celebrating. He then had a brilliant idea: he would send prints to Sounders players as a gift.

The Bellevue, Washington-based Fabregas works full-time in a construction job, but he taught himself photography by watching hours upon hours of instructional videos online. As he grew in his skills, fine-art photography turned into a "side hustle" for him.
On the evening of the MLS Cup this year, Fabregas found the perfect spot on nearby Beacon Hill for a panoramic view of downtown and CenturyLink Field, where the championship match was held. After editing the shot, he added information about the match to turn it into a commemorative print for Sonders fans and collectors.
Fabregas sent a few of the prints to players on the Seattle Sounders. Three of the players (starting midfielder and USA national team member Cristian Roldan, Daniel Leyva, and Justin Dhillon) responded to the gift by posting photos of themselves with it on Instagram:
"It helped a lot with sales," Fabregas tells PetaPixel. "When people see a sports celebrity they admire holding the print it sits better than pushing ads in their face. From there people bought the posters and a lot of people purchased them as gifts for the holidays."
The bump from the publicity was so big — the photo has attracted over 50,000 likes across social media — that Fabregas had to hire two people to process and fill orders in time for the holidays.
"I feel this is a great story about following your passion," Fabregas says. "I have a full-time construction job but my true passion in photography. When you love something and are passionate about it it's easy to do, especially after working all day. You just have to keep yourself motivated and uplifted."