Ex-NFL Player Now a 6'5″, 300-Pound Sports Photographer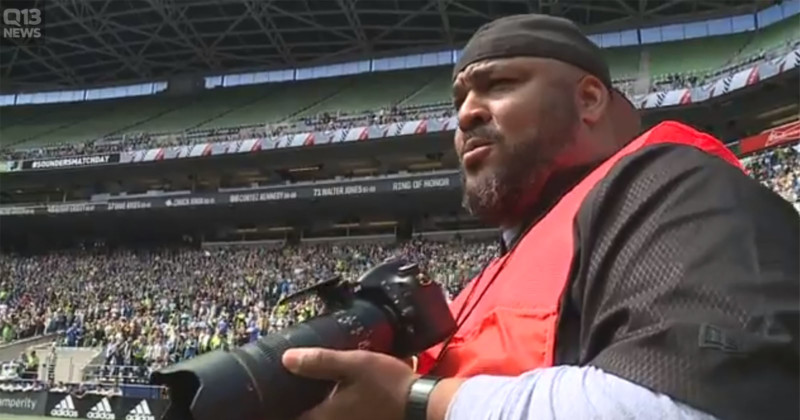 Walter Jones is a former NFL player for the Seattle Seahawks who was voted into the Hall of Fame in 2014, his first year of eligibility. After years of dominating other athletes, Jones now has a new passion: documenting them: he's now one of the largest sports photographers you'll ever see on a sideline.

Q13 FOX News just featured Jones in this 3-minute segment about the 6-foot-5, 300-pound Jones' love for photography:
"I want people to take me seriously," Jones tells Q13 News. "This is something I really want to do. This is something I really want to craft. I'm putting in the work. Hopefully, in the end, it will turn out to be something special."
The 44-year-old initially caught the photography bug through snapping family photos of his twin children growing up. Now he can be found on the field during pro sporting events, including at his familiar CenturyLink Field for the Seattle Sounders MLS soccer team.
Jones' Instagram account, @bigwalt71, currently has around 40,000 followers and a sampling of his sports photography.
You can find a selection of Jones' photography in this online gallery.
Jones joins a number of other notable current and former athletes who have big passions for photography, including Hall of Fame baseball players Ken Griffey Jr. and Randy Johnson, as well as current NFL player (and future Hall-of-Famer) Larry Fitzgerald.
---
Image credits: Video and still frame by Q13 FOX