Recreating a 108-Year-Old Landscape Photograph
The Brisbane Water National Park on the Central Coast of Australia is such a beautiful place to be, and Somersby Falls is one of the most popular destinations. It's not hard to see why. So when I stumbled across a 108-year-old picture of one of my favorite waterfalls in the park, I and decided to try and recreate it to see what had changed, and what had stayed the same.
I've visited the Brisbane Water National Park a number of times over the years and fallen in love with the lush green landscape and powerful water. Whenever there's rain around Gosford my first thought is how and when can I get to the valley to see the falls.
A hike into the valley takes you to a waterfall which I've been obsessed with ever since I realized it was there. The water cascades over the rock shelf and forms a sheet of water. You can walk behind it and capture from every angle.
Out of curiosity, I occasionally look into old record and picture archives from the Central Coast area to see what everything looked like way back when, and just recently, I came across this little picture of the waterfall. Even crazier, this picture was taken 108 years ago, in 1911! It's amazing to think of what an absolute trek it would have been to get down to those falls—bush bashing and abseiling their way through. Now, we have stairs, suspended platforms and paths amongst the trees to help us along.
I decided to go back to this waterfall after a downpour and try and capture a picture from the same angle of the same place to see what's changed over the last 100 years and what they look like side by side.
Capturing the Image
After hiking down to the waterfall, I found a bank of sand that looked like a vantage point very similar to where the image would have been taken. It got me thinking about how easy it was to get there with wooden steps, platforms and a pre-formed path through the bush. Compare that to what I imagine was an absolute trek back in 1911, using ropes—and probably a great deal of ingenuity—to get down the cliff and into the valley.
Back to the image: I setup the shot and did the best I could to frame and replicate the shutter speed in the original image. I managed to mostly match up the composition, though because of the recent rainfalls the conditions were a little wetter then they were in the original photo.
ISO 50, 27mm, f/16, 1/3sec and snap!
The Question is what's changed in the last 108 years?
After capturing the shot I was able to clearly see what has changed since 1911 and, to my surprise, there were a few things.
The trees had grown, of course:
The log at the bottom of the waterfall was exactly the same! Yep that big old hunk of wood hadn't moved all that time.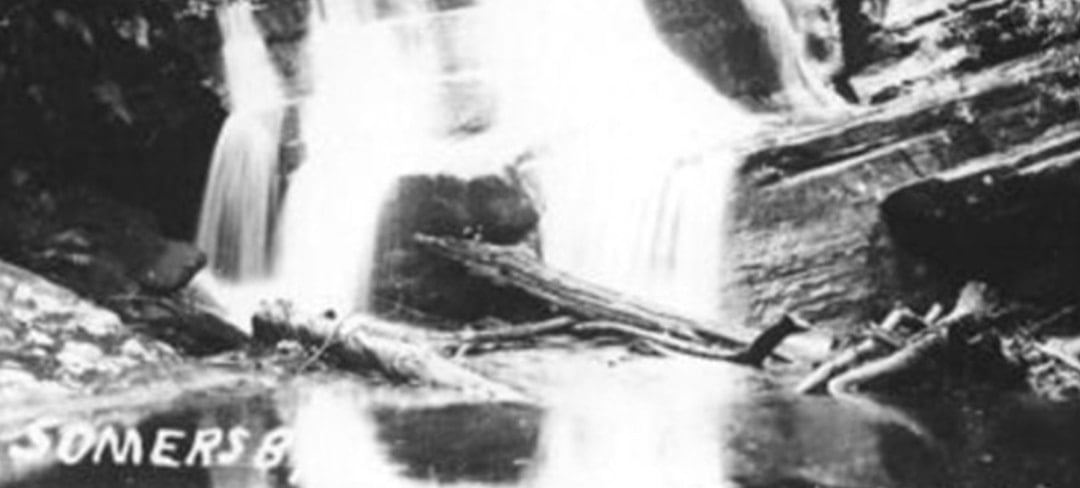 But the biggest impact of all was from humans, and not in a good way.
People have etched their initials onto trees, sprayed graffiti on rocks, snapped branches for fun, and left crap all around the falls, like beer bottles, tins of food, even nappies!
As the popularity of a place increases, so will the number of people doing stupid things. Once beautiful locations like the Figure 8 pools in Sydney, Helensburgh Glowworm tunnel and wedding cake rock, have been overrun and damaged. The latter two have even closed down in recent years—now everyone misses out. These are only places local to me in Australia, but the issue is global.
Personally, I follow leave no trace principles and I think it's helpful to promote and educate people about this philosophy. We should leave these beautiful places better (or at least the same) as we found them, but I'm not sure how we prevent these places getting trashed and reduce the amount of litter just left around.
I set out to take a photo and compare it to the natural landscape 100 years apart, but in the end, I asked myself a different question: What will the falls look like after another 100 years?
---
About the author: Dale Gribble is a landscape photographer from the Central Coast of Australia. You can find more of his work on his website, or by following him on Instagram. This post was also published here, and is being republished with permission.