Creating a Photo of a Person Stealing Stars from the Night Sky
For his latest piece, titled "Stellantis," surreal photography artist Erik Johansson set out to create a photo of someone stealing stars from the night sky.

"I thought it would be nice if [it were] done with the help of an everyday object that we all can relate to," Johansson writes. He eventually settled on the idea of the model holding a giant pair of tweezers.
Here's the concept sketch Johansson came up with:
The photographer then set out to try and find tweezers fit for a giant, but he came up empty-handed.
"I realized they don't make them particularly big," Johansson says. "I decided that the best way to make it come to life would be to build one."
He eventually found a blacksmith in Prague that could create the oversized tweezers. What Johansson ended up getting was a ginormous 4.9-foot (150cm) pair of fully-functional tweezers made from a solid aluminum piece.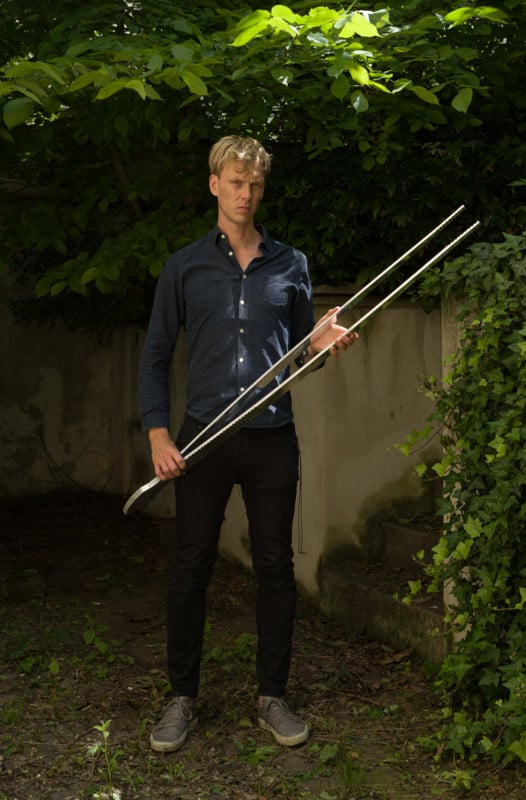 Johansson and his model, Stella, then went out and shot photos of Stella reaching to the sky with the tweezers, a suitcase of tools on the ground, and glowing spots on the ground where already-picked stars were placed.
Finally, Johansson combined all the pieces into a single frame, and the photo was done.
Here's a 5-minute behind-the-scenes video showing how this project was done:
The giant pair of tweezers is currently on display at the Seoul Art Center through September 2019.