Yes, Apple WILL Pay Photographers for Its 'Shot on iPhone' Contest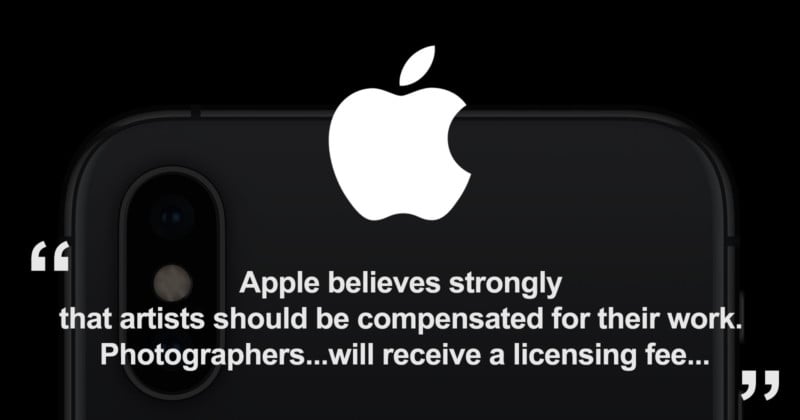 On Tuesday, Apple launched a new Shot on iPhone Challenge that asks photographers to submit iPhone photos for a chance to be featured in a worldwide marketing campaign. The announcement sparked concern and controversy over whether Apple was asking for photos in exchange for purely "exposure." Apple clarified things today and yes, photographers will be paid.

"Apple is kicking off 2019 by celebrating the most stunning photographs captured on iPhone, the world's most popular camera, by inviting iPhone users to submit their best shots," the company wrote in its announcement for the challenge. "From January 22 to February 7, Apple is looking for outstanding photographs for a Shot on iPhone Challenge.
"A panel of judges will review worldwide submissions and select 10 winning photos, to be announced in February. The winning photos will be featured on billboards in select cities, Apple retail stores and online."
Apple as put together a solid panel of judges that includes former White House photographer Pete Souza, Luisa Dorr, Austin Mann, and even Apple Marketing VP Phil Schiller.
But its the terms and conditions in the fine print that instantly had many photographers up in arms. Here's what it stated:
While the wording contains standard terminology for giving Apple permission to use your photo in the worldwide ad campaign for one year, there was no mention of any licensing fee that would be paid for use of the photo.
What's more, the official rules stated that the prize of being featured in worldwide marketing "has no cash value" and that there are "No substitutions or cash redemptions." In other words, winners can't choose to receive cash instead of having their photos featured.
But people understandably understood this to mean that Apple was seeking commercial usage of high-quality photos in exchange for nothing but "exposure" and a credit line while benefiting from using the photos across billboards, its stores, and the Internet.
"Apple wants your best iPhone shots, but it won't pay you if it ends up using them," Mashable wrote before receiving confirmation from Apple. "Obviously getting this type of exposure is nice, but it's also been a frequent complaint among photographers and artists, who are often offered exposure instead of getting paid. If Apple is planning to use the photos for commercial purposes, why not compensate the authors with cash?"
"Huge numbers of professional photographers use Apple gear, but even when they don't, why would they let Apple or any company use their images for free?" AppleInsider wrote. "Apple's new ad campaign will rob the very creatives Apple claims to champion."
Creatives also took to the Web and social media to share their opposition to the contest.
"By submitting your photo, you grant Apple a royalty-free, world-wide, irrevocable, non-exclusive license to use, modify, publish, display, distribute, create derivative works from and reproduce the photo (everywhere) Apple."

Tim Cook net worth $625M
Apple market cap $730B https://t.co/Esyd1MBXf1

— Timothy J. Reynolds (@turnislefthome) January 23, 2019
And Apple is one of the most valuable companies in the world.

Dear @tim_cook, if you want to use photos for an entire year in an ad campaign to sell more iPhones, you should be offering prize $ to the 10 winners, not photo credit in exchange for exclusive commercial ownership. https://t.co/KCd3QuSCFs

— 📸Trevor Mahlmann (@TrevorMahlmann) January 23, 2019
Over the last year, Apple has earned an average of $163,013,698.63 per *day.*https://t.co/kN5RHC8rPl

— David Hobby (@strobist) January 23, 2019
Apple today clarified its position and is putting all the grumbling to rest. The company has updated its announcement and the official contest rules to make it clear that in addition to being featured in marketing, willing photographers will also be receiving a licensing fee on the side for the rights to use the photos.
Rules updated. Winners will receive licensing fee for usage. https://t.co/k16F29LdkQ

— Pete Souza (@PeteSouza) January 25, 2019
Those who publicly voiced opposition against the contest (and its original wording) are now celebrating this update as a win.
Kinda amazing to hear Apple has decided to pay the 10 photographers chosen. I'd say we won one.

I doubt I'll personally ever have a chance of working for Apple again (lol) but I'm glad they're listening.

— Timothy J. Reynolds (@turnislefthome) January 25, 2019
Hard to believe that, thorough a series of tweets, you can change the mind of a trillion dollar company. What a world we live in. https://t.co/hnYVjHIbI3

— 📸Trevor Mahlmann (@TrevorMahlmann) January 25, 2019
While it appears that Apple "changed its mind," the company does have a good track record of paying photographers for photos it uses. Apple pays for the photos used in its default iPhone and iPad wallpapers, and we're hearing from sources that photographers previously featured in "Shot on iPhone" campaigns have been paid as well.
I received $1000 a couple years ago when my photo was selected

— Matt (@mattfebo) January 25, 2019
If you're interested in having one of your iPhone photos featured worldwide (with credit and a licensing fee), you have until February 7th to hashtag the photo with #ShotOniPhone on Instagram or Twitter.