I've Never Flown a Drone. Here's My Review of the DJI Mavic 2 Pro
Since the 2010 launch of the Parrot AR.Drone, consumer interest in drones has skyrocketed. DJI's ubiquitous Phantom, originally released in 2013, has spawned multiple iterations and the company has further developed product lines like the Spark and Mavic to fill various niches and price points.

The drone has become another tool in the storytelling arsenal with its ability to capture incredibly high quality stills and video from a perspective that was once reserved for helicopters or expensive commercial units.
I've been tempted to join the drone game for years, but I've resisted the urge to dip my toe into the waters because the earliest units were too complicated, large, and expensive. I deferred my dream to other photographers and videographers who had more patience, skill, and need than me.
But over the years, my Instagram feed has been infiltrated with incredible aerial images, and after attending the launch of the DJI Mavic 2 Pro earlier this year, I decided it was time to take one out for a spin. I made my way to the DJI Offices in Soho to pick up a loaner unit, and was promptly asked, "Have you ever flown a drone before?"
"Nope."
A brief in-person tutorial ensued, followed a few hours later by an email strongly suggesting that I also borrow a smaller, cheaper Spark to practice with. A perfectly reasonable request, which I quickly ignored!
If you're accustomed to seeing those flying white rectangles (those are Phantoms), you might be surprised by the size and compactness of the Mavic 2. The propeller arms swing and fold into a unit the size of a brick, but significantly lighter. The radio frequency (RF) controller plugs into your smartphone giving you a pretty solid video feed. Omni-directional sensors help the drone avoid obstacles (at least in some flight modes), and the unit is pretty darn easy to fly, even for a neophyte.
But let me pause here for a PSA.
The proliferation of drones has led the FAA to require a remote pilot certificate for commercial use. Although recreational use is exempt from this requirement, I spent a few hours familiarizing myself with the rules (e.g. no flying within 5 miles of an airport) and reviewing the airspace maps to get a clear understanding of my potential flight areas. Even little drones can cause devastating damage to aircraft wings, so all drone operators need to exercise caution.
I felt exhilarated the first time (and second and third) time I flew. The experience reminded me of learning to drive a car as a teen and getting on the highway for the first time – what a rush! Controlling the drone and seeing the live birdseye view is almost an ineffable feeling, and reviewing the images and video later on a large screen is incredibly satisfying.
Prepping the Unit
There are a plethora of YouTube videos on how to set-up your drone if you're not inclined to read directions, and this was the route I took. In truth, set up is simple. In my mind, attaching the propellers was going to be a daunting task, but the design makes assembly nearly impossible to screw up.
Like other drones, the Mavic 2 connects to your smartphone (Android or iPhone) via the DJI Go app (your phone is used as the live monitor), while the controller provides the RF connection to the drone. I had to update the firmware on both devices and update the geofencing database – a mechanism on most consumer drones to avoid flying in restricted areas.
The "Fly More" kit (USD$139) gives you additional batteries and a charging hub that holds up to 4 batteries. But beware! The hub doesn't charge batteries simultaneously – it charges them in sequence with priority given to the battery with the most charge.
Maiden Voyage
Orienting yourself in 3D space takes a while. It's not hard to fly the drone at all, and by most accounts, the Mavic 2 is significantly quieter than most drones. The left joystick controls altitude and nose direction, and the right joystick controls forward, backward, left and right movement. But maintaining visual line-of-sight of the drone is challenging because it wasn't intuitive to match what I saw on the screen with the position of the drone. The drone was often lower on the horizon that I anticipated, but still higher on the altimeter than I thought.
The approximately 30 minute battery flight time went by in a flash during my maiden flight. There was so much to see, and soon the controller's low battery warning (which kicks in at 25% by default) was incessantly beeping. You're definitely going to need multiple batteries for any serious use.
Stills
In 2015, DJI bought a minority stake in Hasselblad. In early 2017, the minority stake became a majority stake, and the Mavic 2 Pro's camera is company's first collaboratively designed drone camera featuring a 20MP 1" sensor – a pretty significant update from the Mavic Pro's 1 / 2.3" sensor – and akin in size to the Sony RX100. The camera has a variable aperture (f/2.8 – f/11), an ISO range up to 12,800 and a field-of-view roughly equivalent to an iPhone (28mm on full-frame).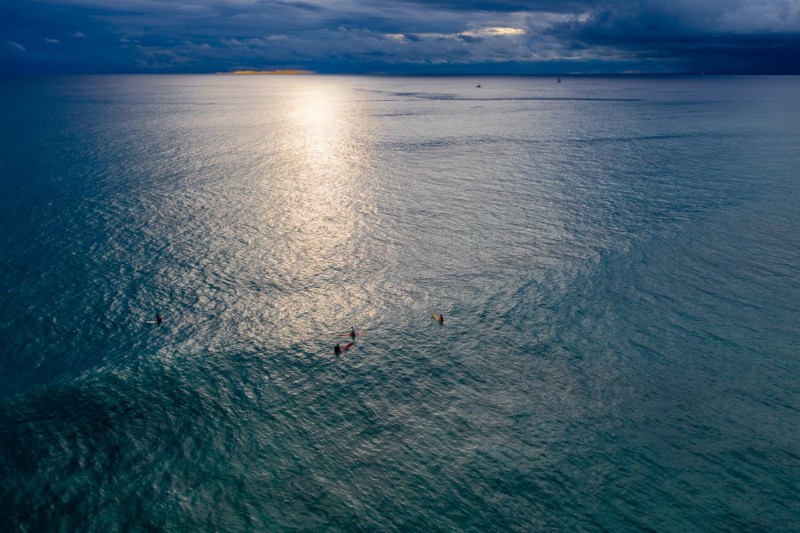 DJI also brags about integrating Hasselblad Natural Colour Solution, an optimized color profile that "delivers the best possible natural colors from the selected chip without having to select from multiple presets." I did find the JPGs to be punchy with some images appearing with boosted saturation and contrast similar to something out of an iPhone or Pixel.
You can also shoot in RAW which yields a DNG file (not a Hasselblad 3FR file), which can be processed in your favorite image editing program, or you can download Hasselblad Phocus for free.
The UI allows you to toggle between still and video modes. You can't do both simultaneously, although you can obviously use a video grab if there is sufficient light. Taking a picture is accomplished by pressing the virtual shutter button, which momentarily freezes the display. There is a burst mode, but I opted to use the single shot mode. Timing became pretty essential.
Still photography has been my main interest, and I found taking pictures to be an intuitive process that yielded great results. It took a few days of shooting to find which angles I thought worked best from a birdseye view, but the results were worth it.
The camera's light meter had a tendency to blow highlights. This was particularly noticeable when shooting video in high dynamic range situations. But you can dial in some exposure compensation, or set the camera in a completely manual mode.
Video
In the basic video mode, controlling camera and drone movement is completely manual. Although I had some complex camera movements in mind (e.g. circling a subject at a constant distance), my flying skills weren't good enough to do it convincingly. Add in the ability to tilt the camera up and down, and you suddenly realize why DJI created pre-programmed modes.
For example, the drone can auto-track a subject, which also has the added benefit of enabling all of the omnidirectional collision avoidance sensors. And I have to tell you, seeing the drone track something or someone while avoiding things around it is pretty incredible. Tracking isn't flawless with fast-moving subjects or when the camera loses contrast detection, but it's good enough for many applications.
The camera supports DJI's 10-bit Dlog-M Color Profile. For video amateurs like myself, this means that the tonally flatter output is easier to color grade in post. Because I've had very little experience grading footage, and don't own any plug-in LUTs, I decided to stick with the out-of-camera H.264 4k video, and still came away impressed.
It's also a testament to the gimbal. Even in situations where I was getting high wind speed warnings, the video was often incredibly stable. Clearly the state of consumer gimbal technology has improved to near professional quality levels – and DJI has leveraged their experience in their Ronin line of camera stabilizers.
But the gimbal can only do so much. In high wind areas, excessive movement will cause the jelly-like appearance of the rolling shutter.
Other Considerations
As a part of the drone's start-up sequence, it calibrates an IMU, or inertial measurement unit. This bit of electronics is responsible for making sure the drone is where it thinks it is and is moving in the direction that it should be. As such, it's somewhat sensitive to magnetic interference, and I was surprised to find things like metal fences and rebar in concrete sometimes caused the unit to throw an error.
Also, the unit that DJI lent me for this review started acting up after a couple of days. The process of connecting to the controller to the drone degraded and it became continually more difficult to pair until it stopped altogether.
I tried using the somewhat abysmally designed desktop software DJI Assistant 2 to try downgrading the firmware. But the software wouldn't connect the Mavic 2 to my MacBook Pro.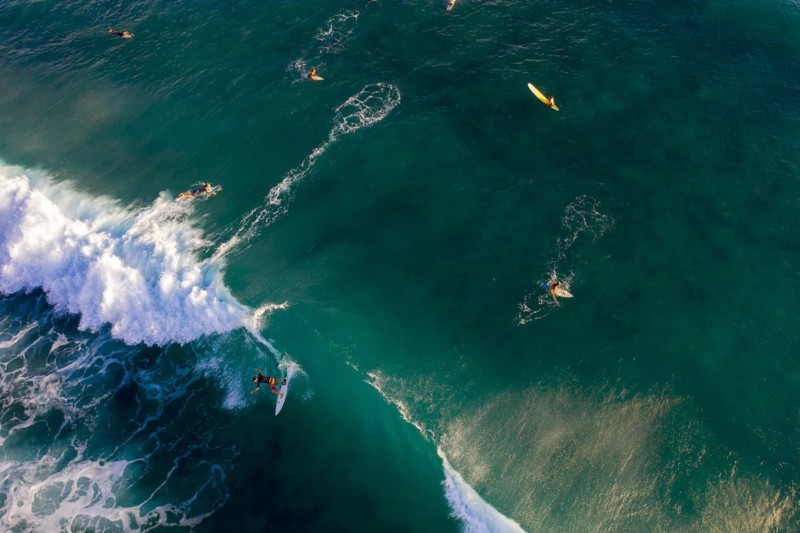 I was so frustrated after spending hours trying to debug the unit, that I ended up buying my own Mavic 2 Pro at a local Best Buy, and that's perhaps the best endorsement I can make of the unit. I had so much fun in the first few days of using the drone, that the thought of not having it for another week while visiting my parents in Hawai'i was unfathomable.
My unit performed flawlessly for the rest of the trip.
Conclusion
I ended up flying the Mavic 2 Pro every day. I even woke up before sunrise one morning to go flying, which is frankly unheard of for this night owl. Using a drone in a big city like New York is impractical (and mostly illegal), but in less densely populated areas of Hawai'i, it's a dream.
Like a new lens, the drone is simply a tool that allows you to capture the world in a different way. And right now, I'm in the honeymoon phase. But with its ability to get you into positions you physically cannot occupy, drones seemingly offer more unusually creative perspectives – fueling my creatives juices and motivation.
Given that this was my first experience with a drone, I don't really have any basis for comparison. But I can say even first time flyers will have no problem piloting the drone and capturing compelling content. It's a compact, incredibly well-designed piece of hardware with stellar image quality. All of this to say that the Mavic 2 Pro is a pretty damn good piece of gear, and I can't wait to "Go Fly" again.
---
About the author: Allen Murabayashi is the Chairman and co-founder of PhotoShelter, which regularly publishes resources for photographers. The opinions expressed in this article are solely those of the author. Allen is a graduate of Yale University, and flosses daily. This article was also published here.