DJI Mavic 3 Review: The Hype is Justified
Drones are fun. It doesn't matter if we're flying them or looking at drone photos and videos, there's still that sense of wonder and awe as earthbound humans. That excitement carries over to watching not only any new drone, but in this case a high-end one that promises so much. There's always inherent hype when a company like DJI announces a drone, and in the case of the Mavic 3, it may be justified.
Build Quality and Design
When I unboxed the Mavic 3, the first thing that came out of my mouth was "that's a big boy." The new drone weighs 1.97 pounds (895 grams) and measures in at 8.3 by 3.8 by 3.5 inches (212 by 96.3 by 90.3 millimeters) while conveniently folded into itself. It can still be stored in your typical photo backpack, but like a telephoto zoom lens, it will probably need to lay flat and therefore consume a lot more space rather than if it were able to stand up between the pack's dividers.
It uses the same hard plastic material that I've seen on any other recent DJI drone. From experience, the material can take a bit of a beating if you happen to need to shake a drone loose from a tree and have it fall a couple of stories onto the forest floor. It's certainly stronger than it looks.
The updated 5,000 mAh battery used by the Mavic 3 steps up maximum flight time to 46 minutes according to DJI, which is 15 more minutes than the Mavic 2 Pro. Certainly flight times are going to vary greatly depending on environmental conditions, the course and speed of the flight, and the stills or video recording, so there is no one set answer on what to expect in the air. I will say that in any other drone I've flown, owning more than one battery is mandatory. Yet with the Mavic 3, I really do think a lot of pilots will have no problem with a single battery where they may have once needed a few.
In the air, the Mavic 3 is protected by a number of safety features if you are not flying in Sport mode which disables them. There are obstacle sensors on the front, back, both sides, top, and bottom to create a 3D map of its positioning. With APAS 5.0, the Mavic 3 was able to seamlessly move around objects without direct manual control. Don't tell anyone, but I think this is my first drone where I didn't end up crashing it under any circumstance.
The controller that ships with the standard Mavic 3 is the same controller that is seen paired with the Air 2S and Mini 2. It's a great controller design that in my opinion was not in need of any kind of design overhaul. It fits great in the hand and uses the same material as the drone exterior. It's compact thanks to the nifty way it stores away the thumbsticks and smartphone cable. I wouldn't have minded more physical buttons to lessen the need for menu diving in the DJI Fly app, but it's not something worth fussing over.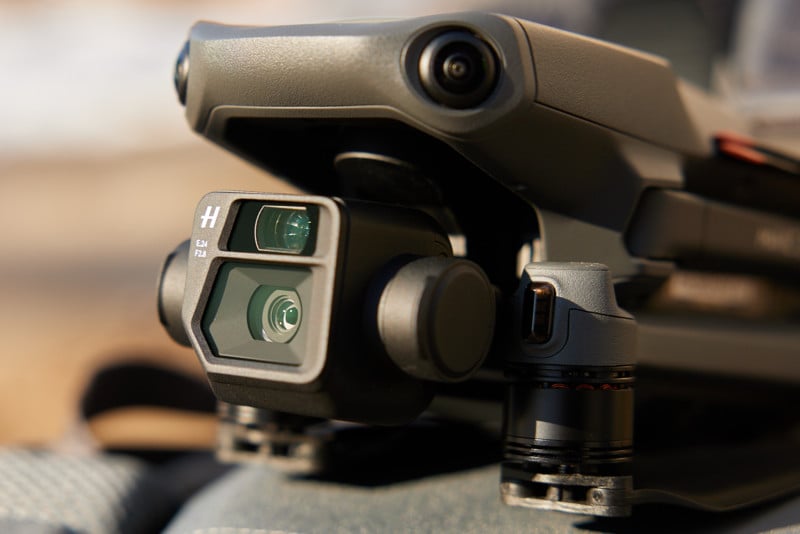 Image Quality
The standout feature of the Mavic 3 is its camera system. The first Mavic Pro used a 1/2.3-inch sensor, the Mavic 2 Pro used a 1-inch sensor, and now, the Mavic 3 introduces a 4/3-inch sensor with 20 megapixels of resolution. This new sensor is employed as the Mavic 3's main camera and is behind a 24mm f/2.8 lens, but in addition there is now a secondary "Explore" camera with a 1/2-inch sensor and 162mm f/4.4 lens.
In this case, "Explore" is synonymous with a waste of resources as it's severely limited in capability and quality. With the telephoto lens active in Explore mode, the camera only shoots JPEG with no RAW or 4K 30p with no option for D-log. Any extra photo and video modes and functions other than that are made inactive. To summarize, it's a major disappointment.
Fortunately, the 4/3-inch sensor of the main camera on the Mavic 3 gives a giant leap in noise performance. Examining the ISO range of 100 through 6,400, I found that images hold together really well for much of it. Even at its highest sensitivity of 6,400, finer details remain even though some color loss and shifting occur. It's a noisier image to be sure, but normally I would expect the top ISO to be unusable whereas here I'm not so sure I would count it out in all situations.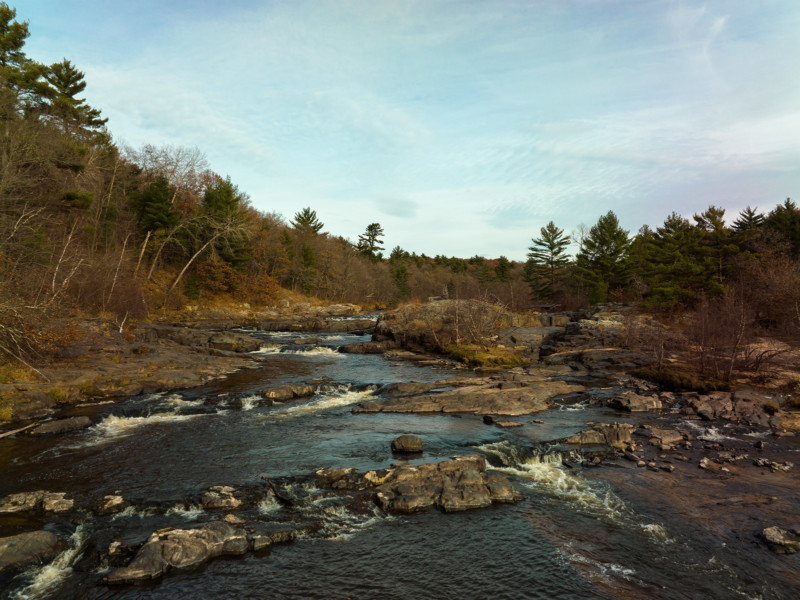 DJI claims that the Mavic 3 has 12.8 stops of dynamic range. This can be compared to the Mavic Air 2S's 12.6 stops and the Mavic 2 Pro's alleged 14 stops. Testing its shadow and highlight recovery from a RAW file, I found that it is still able to pull a lot of information out of these areas despite these numbers.
Video Quality
Using the main 4/3-inch camera of the Mavic 3 for video is an absolute treat. It can record up to 5K at 50 frames per second. In 4K and 4K DCI, the camera will go up to 120 frames per second in Slow Motion mode or 60 frames per second standard. Using D-log, this flat color profile offers 10-bit 4:2:2 with bitrates of up to 200 Mbps in H.264 or 140 Mbps in H.265.
The video clip below was recorded in 5K at 24p (be sure to click the gear icon and choose 5K to see the best quality). The amount of fine detail and depth in the image is wonderful, but adding in the fact that this was a moderately windy day and recorded in real-time makes it stunning. I could visually see the drone attempting to cope with the wind by making vertical wave patterns, yet none of that shows up in the video.
Below are more clips shot in 5K 50p and 4K 60p and then finished in 4K 24p with the higher resolution clips downsampled. The higher frame rates look just as compelling and I enjoyed being able to shoot high-quality slow motion 5K footage to later downsample or crop into a 4K project.
Finally, the last video below is a sample of using Slow Motion mode to record 4K DCI 120p footage. Unlike 4K 60p which outputs a video file with a 60p frame rate, in Slow Motion mode, these frame rates such as 120p are automatically conformed to a 30p file. I see a drop in image quality using this mode compared to regular shooting, but it's not enough for me to stop using it. It seems like Slow Motion with the Mavic 3 is akin to the regular video quality of my Mavic Air 2.
A Spectacle in the Sky
Overall, the DJI Mavic 3's image and video quality surpass anything I've seen before in a fixed-lens consumer drone. Its leap into a 4/3-inch sensor for its main camera is a success and those that can pay the expense should be quite happy with the results. While the telephoto lens is effectively an insignificant and disappointing addition, the rest of the hype behind this new drone is warranted and fully redeemed by the main camera.
Are There Alternatives?
Before the release of the Mavic 3, it's been the DJI Air 2S that was the drone to buy for most people who were balancing price with image quality. In PetaPixel's review of the Air 2S, I mentioned that the 1-inch sensor gave great detail in photos so long as the ISO wasn't pushed, and its 5K video and the ability to record 10-bit in D-log were both excellent.
While the Mavic 3 is more than double the price of the Air 2S, I think it does earn it through vastly improved high ISO performance and image clarity thanks to the 4/3-inch sensor along with better battery life and safety features. The Air 2S may have blurred the lines between whether the Mavic 2 Pro was worth it anymore, but the Mavic 3 has firmly shown it is a step above.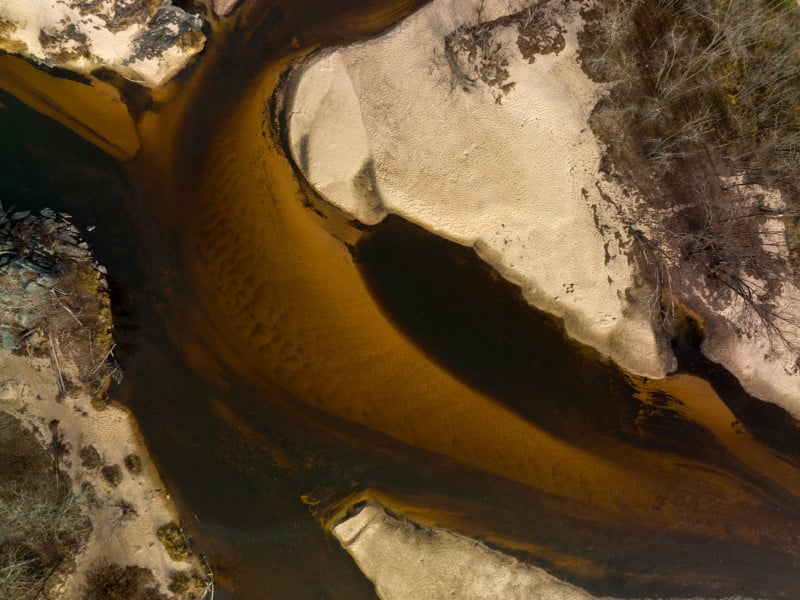 Should You Buy It?
Yes. The Mavic 3 proves that although DJI is already the premier brand in drones, the company shows no signs of slowing down.