Leica, Panasonic, Sigma Announce L-Mount Alliance in Mirrorless Wars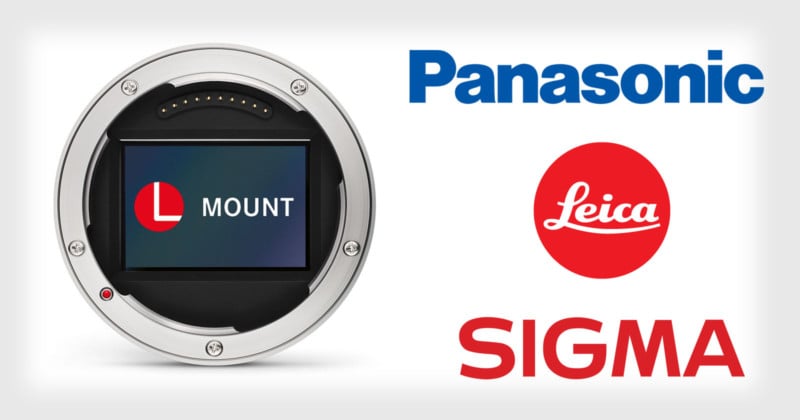 Leica, Panasonic, and Sigma have just announced the new L-Mount Alliance, a new collaborative effort based around the Leica L-Mount. The three companies will develop new L-mount full-frame and APS-C mirrorless cameras and lenses.

"The 'L-Mount Alliance' is a previously unparalleled form of collaboration that will particularly benefit the customers of all three partners," the companies state in their announcement. "As a joint effort of all three partners, this alliance will increase the importance of the L-Mount technology to the world of photography even further."
While previously the Leica L-mount was limited to Leica's cameras and lenses, moving forward it will be much more like the Micro Four Thirds standard that saw several camera companies collaborate on earlier mirrorless cameras based around the Four Thirds sensor size and the Micro Four Thirds lens mount.
Panasonic and Olympus were two of the companies most committed to Micro Four Thirds cameras, and Sigma also produces Micro Four Thirds lenses. Leica and Panasonic also have an existing relationship, as Leica has a history of rebadging Panasonic consumer and prosumer cameras as pricier Leica versions.
Through the L-Mount Alliance, all three camera brands will share the L-Mount and create a wide selection of cameras and lenses for it.
The stainless steel L-Mount uses a 51.6mm (2.03in) diameter that's suitable for both full-frame and APS-C sensors, and the short register of 20mm (0.79in) allows for a short lens to sensor distance and compact camera kits.
Current cameras featuring the L-Mount include the Leica SL full-frame mirrorless camera and the Leica CL, TL2 and TL APS-C mirrorless cameras.
"For photographers, the ability to choose from a wide range of lenses for their system of preference is extremely important," says Leica Chairman Dr. Andreas Kaufmann. "Especially in the strongly growing market for mirrorless system cameras, users seek increasingly greater product diversity to fulfill a wide range of different photographic needs. We have therefore decided to work together with prominent partners in the photographic segment as an immediate response to these needs."
"This is an alliance of growing players, which will make a fundamental difference to the future of the imaging industry," says Panasonic Senior Managing Executive Officer Tetsuro Homma. "We have always been a challenger, bringing innovation to the industry under the slogan of 'Changing Photography' to meet the high expectations of professionals. Our partnership with Leica and Sigma will create additional business opportunities for our businesses, but more importantly will advance our customers' joy of photography."
Here's a 3-minute video introducing the new alliance:
"Sigma is joining this alliance to develop mirrorless cameras benefiting from a short flange back," says Sigma CEO Kazuto Yamaki. "As SIGMA strives to develop high performance, high quality and innovative products, this alliance will strengthen the level of completion and the extensibility of our camera system and provide greater user benefits."
Panasonic's first L-mount cameras, the upcoming S1R and S1, were also announced today. Sigma has yet to reveal its first L-mount camera.
---
Update on 9/26/18: Sigma says it will be launching a full-frame Foveon L-mount mirrorless camera in 2019.