Sony Tough SD Cards are the Toughest and Fastest Ever Made
Sony has announced its new Tough line of SD memory cards, which it claims are the toughest and fastest SD cards ever made.

The new UHS-II SD cards carry Sony's new SF-G series TOUGH specification and are designed for photographers who want to ensure that digital photos remain safe on SD cards that have been removed from their camera.
Design-wise, the cards are the first SD cards to feature a rib-less design and no write protection switch. Sony says common SD card damage involves broken casing, data protection locks, and connector ribs.
The structure does away completely with these easy-to-break parts and makes the cards more resistant to bending.
While traditional cards use a 3-part build, Sony's Tough cards have a monolithic structure featuring a single piece of molding with zero empty space inside the card. Sony says the design makes the new cards a whopping 18 times stronger than traditional SD cards (bend-proof to 180N).
The completely sealed cards are also drop-proof to 5 meters (~16.4ft), X-ray proof, magnet proof, anti-static, temperature proof, UV protected, dustproof (IP6X), and waterproof (IPX8).
IPX8 indicates that a product is waterproof in over 1 meter of water — you should be able to take the cards for a swim without a drop of water getting inside.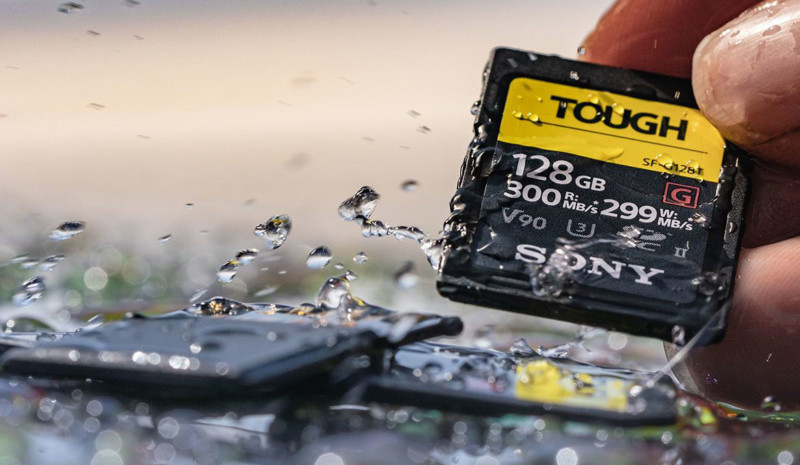 In addition to extreme toughness, Sony has also built extreme speed into the cards. They feature the world's fastest write speed of up to 299MB/s and a read speed of up to 300MB/s.
To give photographers additional peace of mind, Sony is releasing two software utilities alongside the cards: an SD Scan Utility to help check the health of a card and a File Rescue Software for recovering data that was accidentally deleted from cards.
The new Sony SF-G TOUGH memory cards will be available starting in October 2018 in 32GB, 64GB, and 128GB capacities for $73, $132, and $276, respectively.
(via Sony via sonyalpharumors)
---
Update on 8/29/18: This article has been updated with the availability and prices of the three memory cards.