This Guy Made a Real 'Potato Camera'
When low-quality photos or videos are posted online, people often say that they were shot with a "potato camera." But if you actually want to shoot photos with a literal potato camera, how would you go about doing so?

The production studio Corridor Crew's creative director Niko recently decided he would try his hand at creating a real, working potato camera. His journey in making this unusual custom device can be seen in the 14.5-minute video above.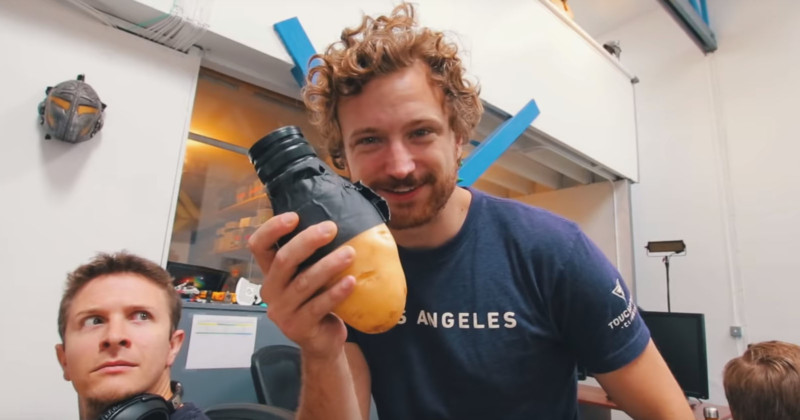 After finding that potatoes aren't particularly good at keeping light out, Niko spent time creating a light-sealed chamber (using 3D modeling and printing) to insert into the potato.
Once he carved out openings and a chamber in his potato, Niko's next challenge was figuring out how to expose the potato camera's photos properly. He set the lens to f/11 and then used a DSLR to figure out how long the shutter speed should be at ISO 100 (the speed of the film he chose).
The film was then loaded into the inner potato chamber in pitch blackness. Advancing the film after each exposure also required retreating into the darkroom.
When the developed film was returned, the crew was surprised and delighted to see that blurry "potato quality" photos had successfully been captured by the camera. You can see some of the best resulting photos starting at 12:47 in the video above.
"Our potato camera does exactly what we thought it would do, which is take crappy but still visible pictures," Niko says. "It kinda worked. We got these weird ghostly figures, which was exactly what I was hoping for."
Watch the video above for the full walkthrough of how Niko's camera was built. You can also find more of Corridor Crew's content on YouTube, Facebook, Twitter, and Instagram.
(via Corridor Crew via DPReview)
---
Image credits: Video and still frames by Corridor Crew