Nissin's New MG10 Flash Comes with a Versatile Hand Grip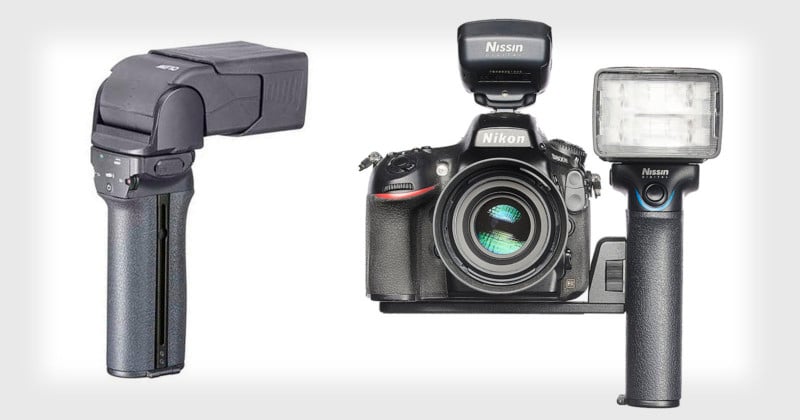 Nissin has just announced the MG10, a new versatile 2.4GHz wireless TTL flash that comes with a hand grip you can mount to it.

The flash is part of the company's Nissin Air System (NAS) and is designed for on-camera and off-camera, studio and outdoor.
"Designed as a multi-purpose flash, the Nissin MG10 can take you from the fast pace of a model runway shoot, to an outdoor scene where high power for HSS shooting is a must," Nissin says. "Whether you are working quickly with the flash on camera or creating stunning lighting effects with off camera flash or in a studio setting, the Nissin MG10 has you covered."
In addition to being used to handhold the flash or handle it while it's mounted to a tripod, the hand grip also allows the flash to be mounted on the left or right side of your camera. In this type of use, the height of the flash can be adjusted while the grip is mounted.
A built-in shutter release button on the hand grip further adds to its versatility.
The MG10 has a guide number of 262 feet (80m) and 165-watt-seconds. Recycling time is 1.5 seconds with full power while using L-ion batteries and 3.5 seconds when using 8 AA batteries. You get about 500 flashes with 2 Li-ion 5000mAh batteries and 200 with 8 AA batteries.
"The Nissin Digital patented removable external motorized zoom head allows the MG10 to zoom from 24~200mm, to 18mm with diffuser," Nissin says. "With the Air 10s Commander, the zoom head can be controlled manually or set to synchronize with the lens focal length even when the strobe is used off camera."
Other features of the MG10 include a standard ¼"-20 tripod adapter, a swiveling head (-7° to 90° vertical, +/-180° horizontal), a color temperature of 5600K, 8W high-power LED modeling lights, a magnesium quick release mounting L bracket, a AA battery magazine, a Li-Ion battery magazine, an external power pack socket, a ball head, a filter holder, a wide-angle diffuser, independent control of 8 groups of strobes, a flash tube rated for 100,000 full flashes, compatibility with Air 10s and Air1 wireless commanders, a weight of 34.4oz/975g, and a microSD card slot for firmware updates (a feature that will appear in all future Nissin strobes and commanders).
The Nissin MG10 will be available in July 2018 for Nikon, Canon, and Sony cameras with a price tag of $600 (and $700 when paired with an Air10s). Fujifilm and Micro Four Thirds versions will be released later in 2018.