Sony's 'Star Eater' Problem Has Been Defeated in the a7 III
Over the last year or so, firmware updates from Sony introduced a much-publicized penchant for Sony Alphas to "eat" stars even in RAW files, apparently due to an internal noise reduction or anti-aliasing routine users could not turn off. Stars were smoothed away along with the noise in exposures longer than 3.2 seconds in some Sony cameras (and longer than 30 seconds in others). I feel that in the a7 III, the Star Eater has now been largely vanquished.

As the images below show, there
is
a very slight one-pixel-level softening that kicks in at 4 seconds and longer but it did not eat or wipe out stars. Stars are visible to the same limiting magnitude and close double stars are just as well resolved across all exposures. Indeed, at lower ISOs and longer exposures,
more
stars are visible.
I saw none of the extreme effects reported by others with other Sonys, where masses of faint stars disappeared or turned into multi-colored blotches.
I did not see any significant "star eating" in any long exposures even up to the 4 minutes I used for some deep-sky shots. In images taken at the same time with other cameras not accused of star eating, the Sony showed just as many faint stars as the competitors. Long exposures showed just as many stars as did short exposures.
This was true whether I was shooting compressed or uncompressed RAW photos, with or without Long Exposure Noise Reduction. Neither compression nor LENR invoked "star eating."
Star Eater Series at 200%
This series of tracked images (shown here blown up 200%) goes from 2 seconds to 2 minutes, with decreasing ISO speed to equalize the exposure value across the series. Between 3.2s and 4s a very slight one-pixel-level softening does kick in, reducing noise and very slightly blurring stars. Yet, just as many stars are recorded and are resolved, and at the lower ISOs/longer exposures more stars are visible because faint stars are not lost in the noise.
Star Eater Series at 400%
This is the same series as above but now blown up 400% to better reveal the very subtle change in pixel-level sharpness as exposure lengthened from 3.2 to 4 seconds. Noise (most noticeable in the trees) is reduced and stars are very slightly softened. But none are "eaten" or wiped out. And star colors are not affected, though very small stars are sometimes green, an effect seen in other cameras due to de-Bayering artifacts.
Star Eater Deep-Sky #1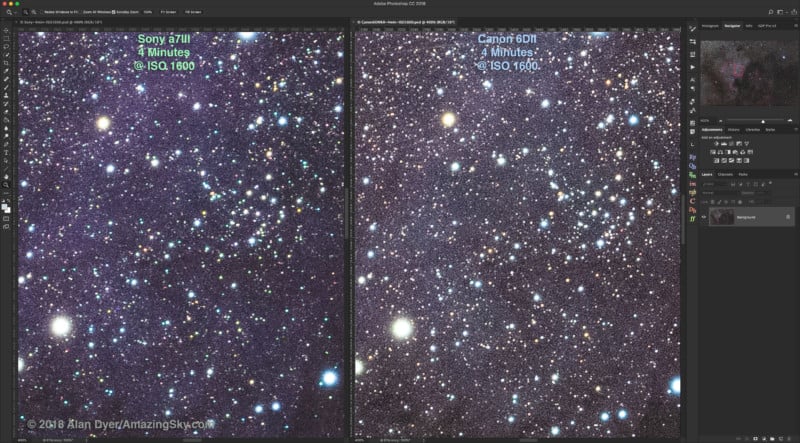 Tracked deep-sky images through a telescope using 4-minute exposures show the Sony a7III recording an equal number of faint stars as the Canon 6D MkII. No luminance noise reduction was applied to these images in processing.
Star Eater Deep-Sky #2
Another example with 4-minute exposures again demonstrates no problems recording faint stars. The Canon does show more noise than the Sony. No noise reduction was applied in processing.
Sony and Nikon Compared
For yet more evidence, this is a comparison of the Sony a7III vs. the Nikon D750 in tracked 90-second exposures with 14mm lenses. Again, the Sony records just as many stars as the Nikon.
---
P.S. You can find my full review of the a7 III here. These results and comments have also been published in the latest edition of my eBook, How to Photograph and Process Nightscapes and Time-Lapses, available on the Apple Books Store.
---
About the author: Alan Dyer is an astronomy photography and author. You can find more of his work and writing at his website, The Amazing Sky. This article was also published here.