The Nik Collection is No Longer Free, But It's Alive
The Nik Collection is finally getting its long-awaited update. DxO has just announced Nik Collection 2018, the first major new version of the popular software suite under the ownership of DxO.

The Nik Collection (along with Snapseed) was
acquired by Google back in 2012
before
being abandoned in 2017
. DxO then came to the rescue,
agreeing to acquire the collection
just months later. DxO
filed for bankruptcy protection
in April 2018, but the company promised that it was for reorganization purposes and that it was still moving forward with its plans, which included updating the Nik Collection.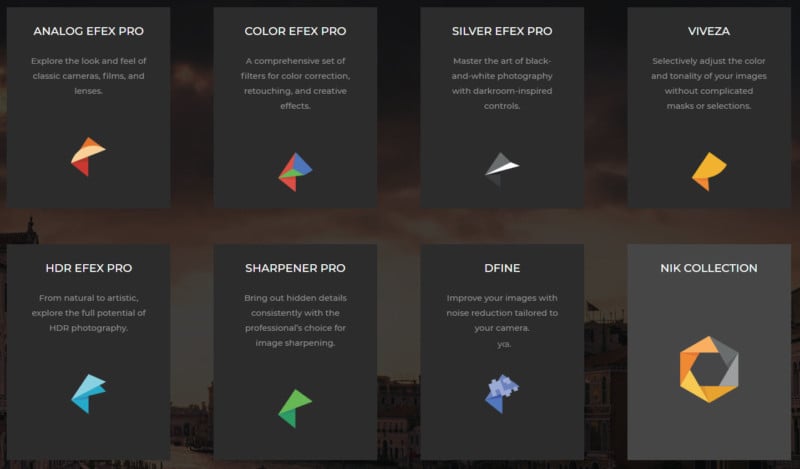 The Nik Collection 2018 suite of Lightroom and Photoshop plugins brings better user experience and stability. It's now "fully functional" and compatible with both 64-bit Windows/Mac as well as the latest versions of Lightroom Classic, Photoshop CC, and Photoshop Elements.
DxO says its developers spent months analyzing and optimizing the source code of the 7 plugins.
"The process was long and complex," says DxO Product Owner Bruno Sayakhom. "It was necessary to recover and recompile source code that had not been maintained for a long time in order to make it compatible with the latest versions of Adobe products and the latest Apple OS updates. This is a first step that allows us to start afresh."
The collection's new website will provide users with support and tutorials in four different languages, and the plugins themselves are now available in 13 languages and come with a 30-day free trial.
Now here's the rub: the Nik Collection is no longer free. Google started offering the suite for free back in 2016 after years of charging $150 for it. DxO is bringing back the price tag: the Nik Collection 2018 costs $50 for the rest of the month and will be priced at $69 starting on July 1st.
If your main concern was the continued existence of the Nik Collection, though, the fact that it's now paid software again bodes well for its long-term survival.