Nik 6.3 Adds Improves Sharpener, HDR Efex, and 1,500+ New Optics Modules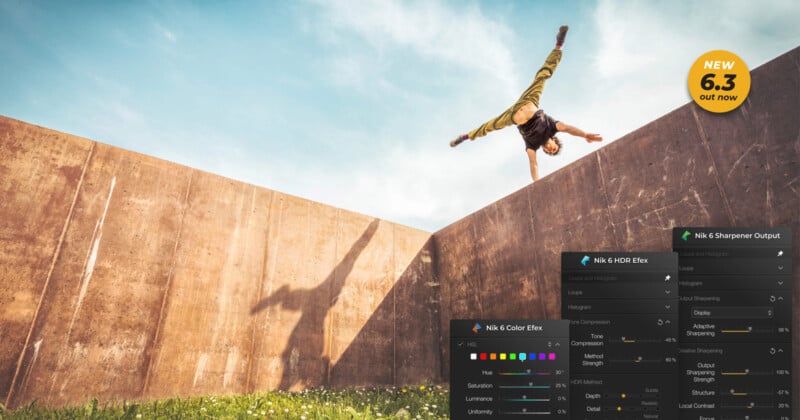 DxO has announced version 6.3 of the Nik Collection photo editing suite of plug-ins for Adobe Photoshop and Lightroom Classic which brings a completely redesigned user interface (UI) that is meant to bring greater stability, speed, and a more refined editing experience for its users.
According to the company, since acquiring Nik Collection from Google, the team has taken the task of completely re-authoring the code so that it is up-to-date to match the latest technology. With this update, the plug-in suite is fully compatible with Windows, MacOS, and Apple Silicon devices which will "work harmoniously" within Adobe Photoshop, Photoshop Elements, Lightroom Classic, DxO PhotoLab, and Affinity Photo, and is faster and more reliable than ever before.
"We are hugely proud of this achievement. With this work complete, we can now focus solely on adding exciting new features and technology. Our talented engineers are committed to making Nik Collection the indispensable creative companion to every passionate photographer's workflow." said Jérôme Ménière,CEO of DxO Labs.
In addition to an overall UI update, version 6.3 significantly updates Nik Sharpener and Nik HDR Efex to make them more powerful and easier to use. Both applications have received an entirely new interface which features a cleaner and clearer look to match the other Nik Collection plugins. Users will now be able to choose where local adjustment sliders appear on their screens with controls being kept either in a sidebar for a cleaner look, or in the overlaid traditional style.
Within the U-Point technology, Nik HDR Efex and Nik Sharpener promise to give users much greater control over their edits. These include new Control Lines to make broader adjustments, Control Point diffusion to regulate the strength and style of the adjustments, the ability to invert these control points and lines, the ability to tie control points and control lines to specific colors and tones within an image, as well as the ability to re-name local adjustments to make it easier to "stay on top of" complex edits.
They even have the ability to be saved as presets so users can have quick acecss to frequently used sharpening and HDR recipies.
Version 6.3 of the Nik Collection also brings an improved workflow experience for its users with the ability to turn edits into a Smart Object at any stage of the edit from within the plugin, giving users a fully non-destructive editing option within Adobe Photoshop.
In addition to this, the workflow improvements include the ability to call on any of the last 15 Nik Collection edits to be applied with a single click, the ability to search for presets by name, Hi-DPI and Multiscreen support, and Affinity Photo is automatically detected as part of the installation.
Finally, with this new update comes the addition of 1,574 new Optics Modules for the brand new Canon EOS R100, Sony ZV-1 II, and several other new lens and camera combinations.
Nik Collection 6.3 is available now as a free upgrade for existing version 6 users. New and upgrading customers can get the suite of plugins for $149 and $79 respectively. A 30-day free trial is also available.
---
Image credits: DxO