Leica Announces the SF C1 Remote and SF 60 Flash
After providing a sneak peek back at 2018 WPPI in Las Vegas in February, Leica today officially announced its new SF C1 wireless remote and SF 60 flash unit for on and off camera flash photography.

The two new products are designed for the Leica S, SL, and M camera systems, and they're also compatible with the Q, and CL.
Leica SF C1 Remote Control Unit
The new Leica SF C1 remote mounts to the hot shoe of a Leica camera and can control the new SF 60 flash wirelessly using the 2.4GHz frequency band.
Flashes can be organized in 7 channels with 3 groups each. They can be controlled together or separately, and with same or differing settings.
All of the functions of the flash unit can be controlled using the color LCD panel on the back of the remote, allowing you to work as if the flash itself were mounted directly in the hot shoe.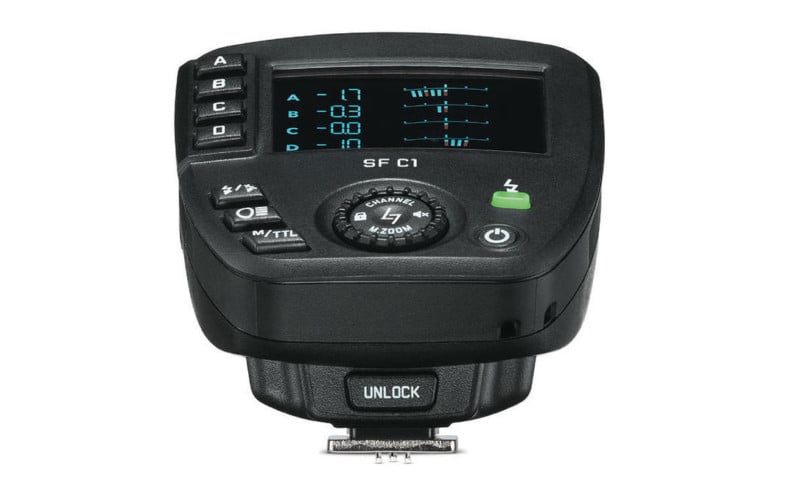 The SF C1 has a battery life of around 3,000 exposures while powered by two AAA batteries.
Finally, there's a microSD card slot in the remote that allows the firmware to be updated "to keep the unit at the cutting edge of technology," Leica says.
Leica SF 60 Flash Unit
The new Leica SF 60 features a guide number of 60 meters (~197ft) at ISO 100. It weighs 10.8oz (~306g) and measures just 3.85in (9.8cm) tall, and has a tilting and swiveling head.
"The Leica SF 60 is an extremely powerful and versatile mobile solution for all photographers who appreciate the advantages of excellent light-management in any situation," Leica says.
The back of the SF 60 features two dials and a color LCD panel for adjusting settings.
Other features and specs include TTL-flash, HSS (High-Speed Sync) to 1/8000s, a continuous LED light with 9 steps of adjustment, a zoom reflector, an integrated diffuser, a reflector card, 4xAA battery power, the ability to be powered by an external power supply for longer shoots, and master-slave compatibility.
Pricing and Availability
The Leica SF C1 and SF 60 will be available for $350 and $595, respectively, and will hit store shelves later his month (June 2018).