These Modded Cameras Have Sensors Extracted for Extreme Cooling
Ordinary cameras can be modified for astrophotography by introducing additional cooling for the sensor. CentralDS has one extreme way of keeping sensors chilly: it extracts sensors from cameras and moves them into their own external cooling module.

"We took out the image sensor and moved it towards the lens and made a cooling module," CentralDS writes. Heat sinks on the module provide passive cooling to ambient air and a fan on the rear of the module provides active cooling.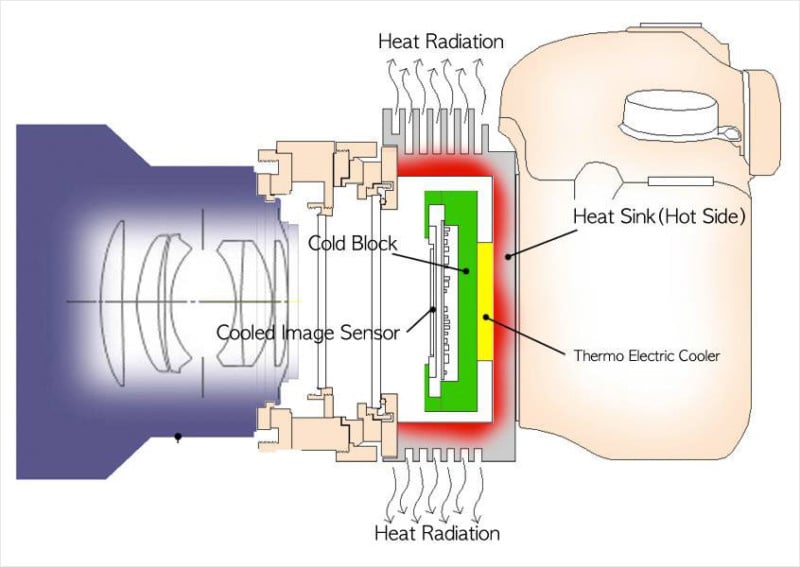 Back in 2016, we shared an astrophotography cooling mod that placed a giant cooling module directly behind the camera sensor, but this sensor-extraction mod takes things to a new level.
The resulting camera bodies have quite an unusual appearance:
There's enough extra space between the lens mount ring and the extracted CMOS sensor for drop-in filters to be used.
Since the CMOS sensor is no longer hidden behind the mechanical shutters, those shutters are rendered useless and the modded cameras rely on electronic shutter systems to shoot photos.
Here are some comparison photo showing the noise that shows up in uncooled cameras versus the clean dark frames that can be captured with this extreme sensor cooling:
Here's what the noise difference looks like in a real-world scene:
CentralDS is currently selling a modded Nikon D850 for $4,950, Nikon D810 for $3,680+, Canon 80D for $1,950, Canon 5D Mark IV for $4,750, and Canon 200D for $1,450.
(via CentralDS via Nikon Rumors)