DJI Unveils Version 2 of the Phantom 4 Pro: OcuSync and Quieter Flight
DJI has announced the second version of its Phantom 4 Pro, which brings a number of new features and improvements to the popular camera drone that was first announced in November 2016.

DJI OcuSync Transmission
While the original Phantom 4 Pro uses DJI's Lightbridge video transmission system, the Phantom 4 Pro V2.0 features the latest OcuSync HD transmission for high-resolution and low-latency digital video transmission. It connects to DJI Goggles RE wirelessly and supports automatic dual-frequency band switching. Owners can use their Goggles for an immersive first-person view flying experience.
Quieter Flight
The new P4P flies quieter than its predecessor, as propeller noise has been reduced by a whopping 60%.
The Same Core
Aside from the new improvements, the core features and specs of the P4P V2 are the same as the original P4P. There's 30-minutes of flight time, a 7 km transmission range, 5-direction obstacle sensing, a 1-inch 20MP CMOS sensor, 4K/60p video recording, 14fps burst mode for stills, and the same white frame.
Phantom 4 Pro+ V2.0
There's also an upgraded Phantom 4 Pro+ V2.0 version of the drone that comes with a 5.5-inch, 1080p resolution screen built-into the remote, designed for owners who fly outdoors in direct sunlight.
Here's a comparison chart: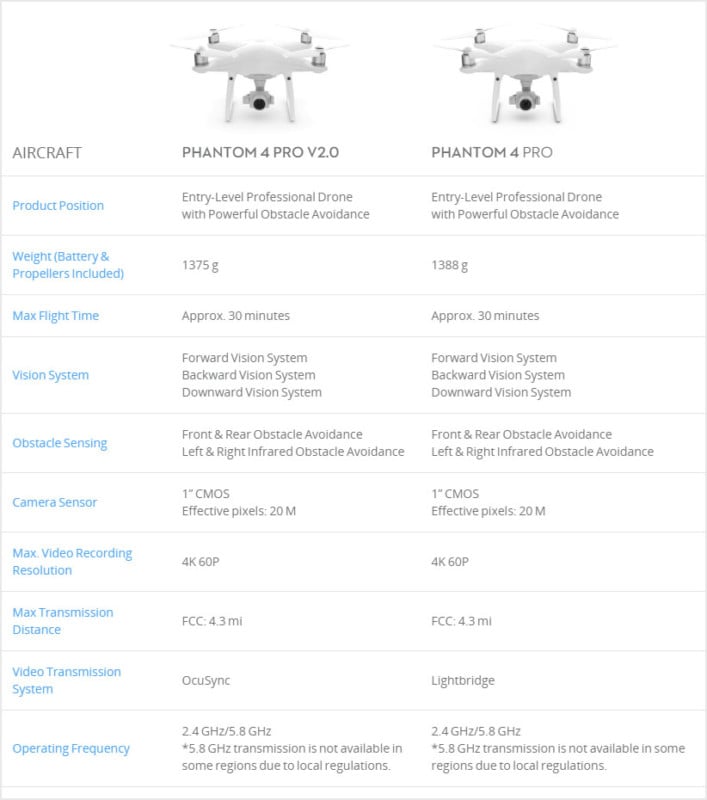 The new Phantom 4 Pro V2.0 is available now for $1,499 from the DJI store and from retailers around the world. It comes with the aircraft, battery, remote controller, four pairs of propellers, battery charger, power cable, gimbal clamp, Micro USB cable, Micro SD Card and a carrying case. The Phantom 4 Pro+ V2.0 costs $1,799.