Photographer Finds His Stolen Camera Lens on eBay — It Sells for $65,100
Photographer Daniel Zvereff lost his precious custom-modified Canon 50mm f/0.95 "dream lens" last month, and this week he came across that very lens for sale through an eBay auction. He then watched as the auction ended yesterday with a ridiculous winning bid of $65,100.

The Phoblographer broke the story of Zvereff's lens yesterday, reporting that the lens on eBay is 100% the stolen lens because serial number is the same.
Daniel originally purchased the unusual modified Leica M-mount lens for about $2,300 from eBay back in 2013, and he spent about $800 having the lens coded (to allow Leica cameras to recognize it automatically), serviced, and cleaned up.
On February 19th, Zvereff woke up in his hotel room in Guadalajara, Mexico, and was shocked to find that someone had entered the room in the middle of the night and had stolen his camera bag containing the Canon 50mm f/0.95 and a Mamiya 75mm f/3.5 lens.
"I had to either miss my flight and stay in Guadalajara to report this to the police, or continue my journey," Zvereff tells PetaPixel. "I knew that reporting to police in Mexico about a stolen item was pretty useless. And I also stopped using equipment insurance, so at that point, I decided to suck up my losses and move on."
While riding a cab to the airport, Zvereff shared the following post on Instagram, mourning the loss of his beloved lens:
Fast forward to this week, and Zvereff was messaged by a friend who had somehow stumbled upon Zvereff's stolen lens while browsing eBay.
"Funny thing is, even he was able to recognize it as mine, and he borrowed it maybe 3 times," Zvereff says. "Just based on how it looked, the conversion is unique. It has a leatherette backing on the part that is facing the camera when mounted. It's a strange design feature. I haven't seen any other lens like that."
What's more, the seller's custom photos of the lens even included the serial number on the front and the red filter that the lens was stolen with.
"I was just utterly dumbfounded that they would be so brazen as to include the serial number and even my red filter," Zvereff says.
Here are photos of the lens posted by the Mexico-based eBay seller, salmanleitz047 (it seems you can see a reflected silhouette of the seller in the front view):
Here's a photo of the lens Zvereff has on his iPhone's Camera Roll from July 2016 — you can see that the serial number matches exactly: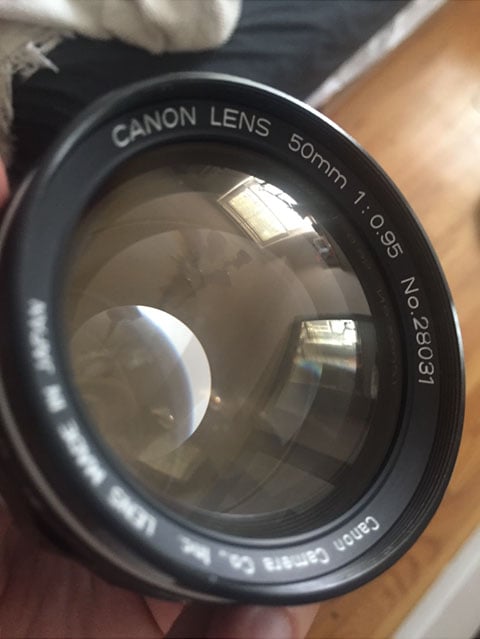 "I called eBay immediately, but they were pretty unhelpful," Zvereff says. "The person told me I had to go to the police and file a report. Then when the police contacted eBay, they would take it down. But the listing was ending in 15 hours. So I told them it would be literally impossible to get the NYPD to act within that time frame."
As he was giving up hope, Zvereff's friend Chris Gampat wrote about the strange story on The Phoblographer.
When Ken Wheeler (AKA The Angry Photographer) caught wind of the tale, he spent hours going back and forth with eBay trying to freeze the auction.
Despite receiving a tremendous amount of support from the photography community (and plenty of offers to help), the eBay auction ended yesterday… with a staggering final price of $65,100.
"As far as the listing going extremely high in cost, I'm not sure whats going on," Zvereff says. "If it sold at $3,000, that wouldn't surprise me, but it's not mint or in collectible condition."
Zvereff thinks it's "absolutely possible" that the absurd price is the result of photographers doing whatever they can to prevent the auction from completing successfully, even if it means putting a price that they have no intention of paying.
At least two supporters have even won other auctions (or perhaps this one) by the seller for the sole purpose of leaving negative feedback:
"I really hope someone doesn't get in trouble and is stuck with paying an exorbitant amount," Zvereff says.
Other supporters have launched their own investigations, and Zvereff says photographers in Mexico are telling him that the seller is a man named Salomarte who's known for selling stolen goods with his brother. The photographers noticed the lens for sale on Facebook for $2,300 and feigned interest to learn more.
For now, Zvereff still doesn't know if he'll ever get his lens back, but he's encouraged by what has transpired over the past couple of days.
"I think one takeaway from this to me is that it's been incredible to see the photo community's response," he says. "I think theft is something that we all experience and as photographers we tend to spend more on our equipment and treasure the value of these items we painfully sought after to create within our medium.
"I don't expect to get the lens back. And I'm totally OK with it."