Extremely Rare Nikon 6mm f/2.8 Fisheye Appears on eBay for $146,000
An extremely rare Nikkor 6mm f/2.8 Fisheye lens with a massive 220-degree field of view has appeared on eBay for 130,000 euros, or about $146,152. It is the exact same lens that failed to sell at the 2022 Leitz Photographica Auction.
The Nikon 6mm f/2.8 Fisheye-Nikkkor Auto 220° is described as "one of the most famous and remarkable lenses ever made" and it is estimated that fewer than 200 were manufactured in total as they were special, made-to-order optics. This particular lens is described as in mint condition and with "perfect" optics and comes complete with a specially-made leather front cap, a rear cap, the original metal carrying case, a multi-language instruction manual, and a "rare" repair manual.
This particular lens, which was manufactured in 1981, has been seeking a buyer for some time now, as the serial number of the eBay listing matches an unsold lens from last year's 20th Anniversary Leitz Photographica Auction catalog. Below is a photo of the pages from that catalog that feature the lens:
That auction was filled with some extremely rare cameras — including a rare Leica 0-Series that was originally owned by Oskar Barnack — which might have overshadowed the Nikkor lens. Valued somewhere between 80,000 and 100,000 euros at the auction, the lens had an opening price of 40,000 euros but did not sell.
The Nikkor 6mm f/2.8 is rare but fluctuates wildly in price depending on a host of factors. For one, there appears to be at least three versions of the lens: the Nikkor Auto (the one in this listing) appears to be the oldest and was first introduced in 1972, but there are also AI and AI-S versions of it that were made starting in 1977 and 1982, respectively. They all appear to be the same basic optical product and the difference appears to be how the aperture ring is moved by the camera. It's difficult to say if this distinction is the cause for such a wide range of prices, since the ones that have appeared over the years may also differ dramatically in condition.
PetaPixel has reported on this unusual lens appearing for sale as far back as 2012 when it appeared on eBay for $34,020. That same year, another iteration of the lens sold on eBay for about $160,000.
In 2014, another was listed on eBay that was accompanied by a video of the lens in action, which was and still is highly unusual. This time, the seller was seeking $70,000.
Another one popped up in 2015, this time on Craigslist in the United Kingdom for an unspecified amount, as the seller was "awaiting offers."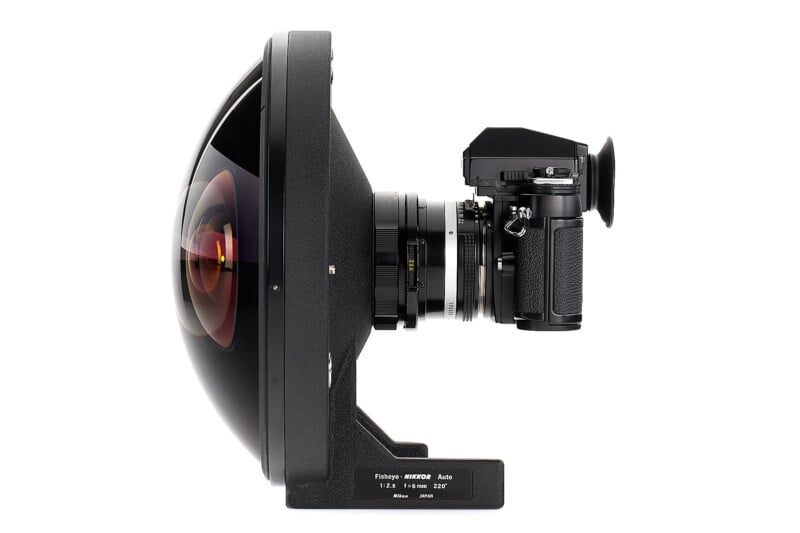 Given the huge range of prices that this lens has commanded over the years, from as low as $34,000 to as high as over $160,000, it's not clear why this particular lens hasn't found an interested buyer, especially given its "mint" condition and especially after being featured in one of the most high-profile camera auctions in the world. Since it hasn't moved, those interested in the lens might have some room to negotiate on price and pick up what is one of the most unusual lenses that has ever been made.
---
Image credits: Leitz Photographica Auction, unless otherwise noted