I Shot Tilt-Shift Photos of San Francisco
My name is James D. Lee, and I'm a photographer based in Oakland. I recently got around to posting four years worth of selected photos shot in and around the San Francisco Bay area strictly on tilt-shift lenses. I completed this project while working full-time marketing/photography positions.


How and why did I start this project? As cliche as it sounds, I needed an outlet.
I started shooting real estate photography in 2006 as a source of additional income to supplement my full-time real estate marketing jobs. As I progressed at my daytime career so did the clients that I picked up along the way for freelance photo gigs. I have and continue to freelance on the weekends, at my lunch hour, and a lot in the evenings after work (the reason I shoot a lot of twilight/sunset photos).
From $50,000 bank owned dilapidated properties at the beginning, to multi-million dollar estates, with everything in between, and I would still take on any type of property as a freelance gig today.
My typical client wants wide and bright photos, with an emphasis on quick turn around time. So in order to maximize my return and also meet my clients', sometimes same day, marketing schedules', I focused on minimizing my workflow, getting my shots done in camera as much as possible, and "quick and dirty editing".
There's a point to all this: expediting workflow also gave me a solid reason to pick up a couple of tilt-shift (TS-E) lenses. The shift function of a TS-E lens gives me control of camera perspective during a real estate shoot which just can't be done during post-processing in certain situations, and I use the shift function of the TS-E lenses to some degree on 90% of my interior/exterior shots.
For example, I can set up a camera on a tripod at eye level in order to see over a countertop and then down "shift" the lens in order to still capture the flooring in the frame. Boom, one frame, no need to spend time stitching multiple photos in post-processing. These small reductions in workflow time add up to larger gains in aggregate.
I love the amount of flexibility the TS-E lenses give me, but I was not using the tilt function at all when I first started using these lenses. Using the "tilt" feature of the TS-E gives the photographer control over the plane of focus angle.
An easy way to visualize this can be achieved by holding a piece of paper out in front of you and imagining that it is the angle of the camera's sensor. Rotate or "tilt" the paper in any direction, and that, in concept, will be the plane in sharp focus in your photo, different from a standard camera lens which fixes the plane of focus or "piece of paper" always parallel to the photographer. For a more detailed explanation of the Scheimpflug principle, check out the Wikipedia article.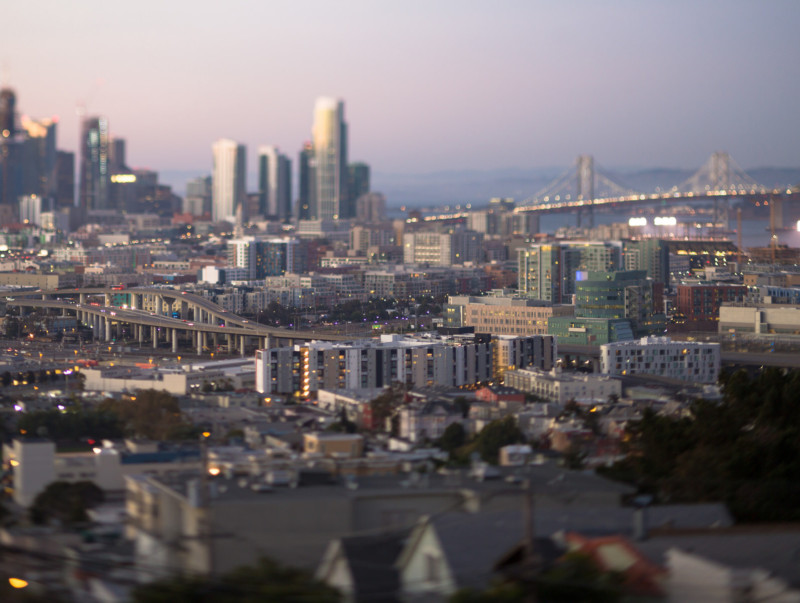 Several hundred properties per year, a need for a break in the monotony, and the realization that my lenses were only being half used, I began shooting at least one frame using the tilt function of the lenses at almost every property that I booked. Sometimes I would deliver the image to the client, most of the time I end up archiving, and on occasion I post something that catches my attention, some of which I have posted as a grouping here.
I started this project as a way to test the full capabilities of my lenses and it has become a personal four year chronicling of the Bay Area with its spirit in mind. Becoming more condensed by the day, I am fortunate to have access to some unique homes and locations in and around San Francisco. Iconic Queen Anne Victorians to minimalist/modern rebuilds, each property offers a unique perspective within its position in the Bay.
For those interested, all of the shots were shot on the following gear: Canon 5D Mark III, Canon 17mm f/4 TS-E, Canon 90mm f/2.8 TS-E, 1.4x Extender III, Gitzo 1514T tripod, Markins Q3T ballhead, Yongnuo 560EX II Speedlite/RF603 triggers.
My editing workflow consists of Lightroom and Photoshop.
You can find my complete project, titled "Toy City," here.
---
About the author: James D. Lee is an Oakland based photographer, photo studio retoucher and studio assistant, with a B.F.A. in photography, and a C-level marketing background. You can find more of his work on his website, Flickr, and Instagram.