Photos of the 4.1-Mile-Long Laser Pride Flag Exhibit in San Francisco
For three nights over the weekend of June 24, a 4.1-mile-long laser light installation depicting the Pride flag stretched down Market Street from the Ferry Building in San Francisco.
The massive art installation was the brainchild and collaboration of San Francisco-based arts non-profit Illuminate and Nu-Salt Laser International, underwritten by photography bag and accessory company Peak Design. The goal of the exhibit was to recall the city's early history as a gateway to the world while at the same time "redeclaring its modern aspirations of inclusivity, warmth, and openness."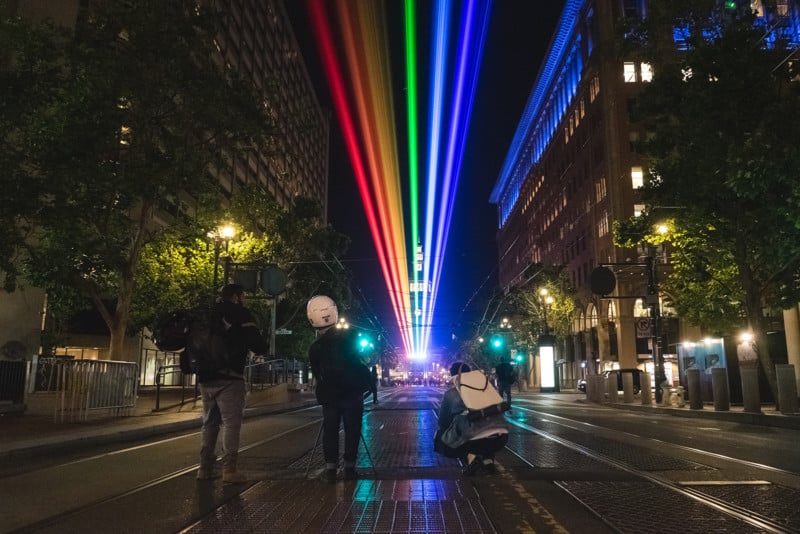 Called "Welcome," the 49-foot wide, 4.1-mile-long exhibit consisted of six colored laser beams that terminated from the San Francisco Ferry Building and shot horizontally above Market Street, rising at a subtle three-degree angle so that it would look like it was overtaking Twin Peaks in the distance as it gently rose into the sky.
"As our City rises from the ashes of COVID and invites us to return," Davis explains, "we are calling the six beams of light that will shine from the Ferry Building down the corridor of Market Street … quite simply, WELCOME," Ben Davis, the creative mind behind Illuminate, says.
Davis might be best known for his flagship project The Bay Lights, which is a 1.8-mile-long and 500-foot tall LED light sculpture that is visible at night on the side of the Bay Bridge between Treasure Island and the Embarcadero.
"Inspired by the Bay Bridge's 75th Anniversary, artist Leo Villareal created a never-repeating, dazzling display of 25,000 LED white lights through March 2015 across the western span of the Bay Bridge, renamed Willie L. Brown Jr. Bridge in February 2014," Illuminate explains.
The lights were originally intended to be temporary, but due to the popularity of the exhibit, the project was re-installed as a permanent feature and was re-lit on January 30, 2016.
In tandem with the three-night exhibit, Welcome project underwriter Peak Design invited Bay Area photographers to photograph the lights and share their photos and videos on Instagram, where the company will pick its favorites and award three prizes, which includes a total of $3,000 in Peak Design credit and a $10,000 donation to The Trevor Project.
"This installation is one of the coolest things we've ever supported," Peak Design's Founder, Peter Dering, says.
"San Francisco has always been our home, and we're proud to celebrate the LGBTQ community and remind the world what SF stands for: Love and inclusion."
---
Image credits: Peak Design