101-Megapixel B&W Photos of Pre-War Era Racing
Photographer Rick Wenner was recently sent to Wildwood, New Jersey, to shoot a peculiar event called "The Race of Gentlemen." It's a gathering of drag racers who speed across a beach on pre-war era hot rods and motorcycles — the "perfect event for black-and-white photography," Wenner says.

Wenner was equipped with a Phase One XF IQ3 100MP Achromatic camera system that captures a 101-megapixel black-and-white photo with each exposure. The $49,990 IQ3 100MP Achromatic is the world's only 101MP digital back dedicated to monochrome photos.
Lens-wise, Wenner used the Schneider Kreuznach 40-80mm LS f/4.0-5.6 and Schneider Kreuznach 75-150mm LS f/4.0-5.6 Blue Ring lenses.
Focusing solely on detail, motion, and style, Wenner shot both portraits of people at the event — racers, builders, and spectators alike — as well as action photos of the races themselves.
"Black and white photography is a great approach to focus completely on the detail and art of these beautiful machines," Wenner tells Phase One. "Color in these photographs would look great too, but I just think that stripping color away makes you focus on the textures, lines, and shapes.
"You aren't distracted by a bright blue sky or a yellow-green paint job on a hot rod. You are not distracted by the colorful tattoos or the rust and patina of an old delivery truck. Your eye is only looking at what I want the viewers to see in my photos – detail, texture, facial expressions, style, shapes, and action."
Wenner was blown away by how much detail 101-megapixel photos can capture.
"I had no idea what to expect of the 100MP files, other than the resolution would be double what I get from my IQ350 that I use all the time," the photographer tells PetaPixel. "When I got back to the hotel room and downloaded all the memory cards and was finally able to see 100% zoom, I was blown away by the detail that camera can capture. Absolutely stunning!
"Retouching was a fun time too because you're able to recover so much detail in the highlights and shadows."
You can browse some of the ultra-high-res photos in an interactive photo viewer on the Phase One website. Here's a photo and a crop that shows the detail you can achieve:
Here are some of the other photos Wenner captured at The Race of Gentlemen: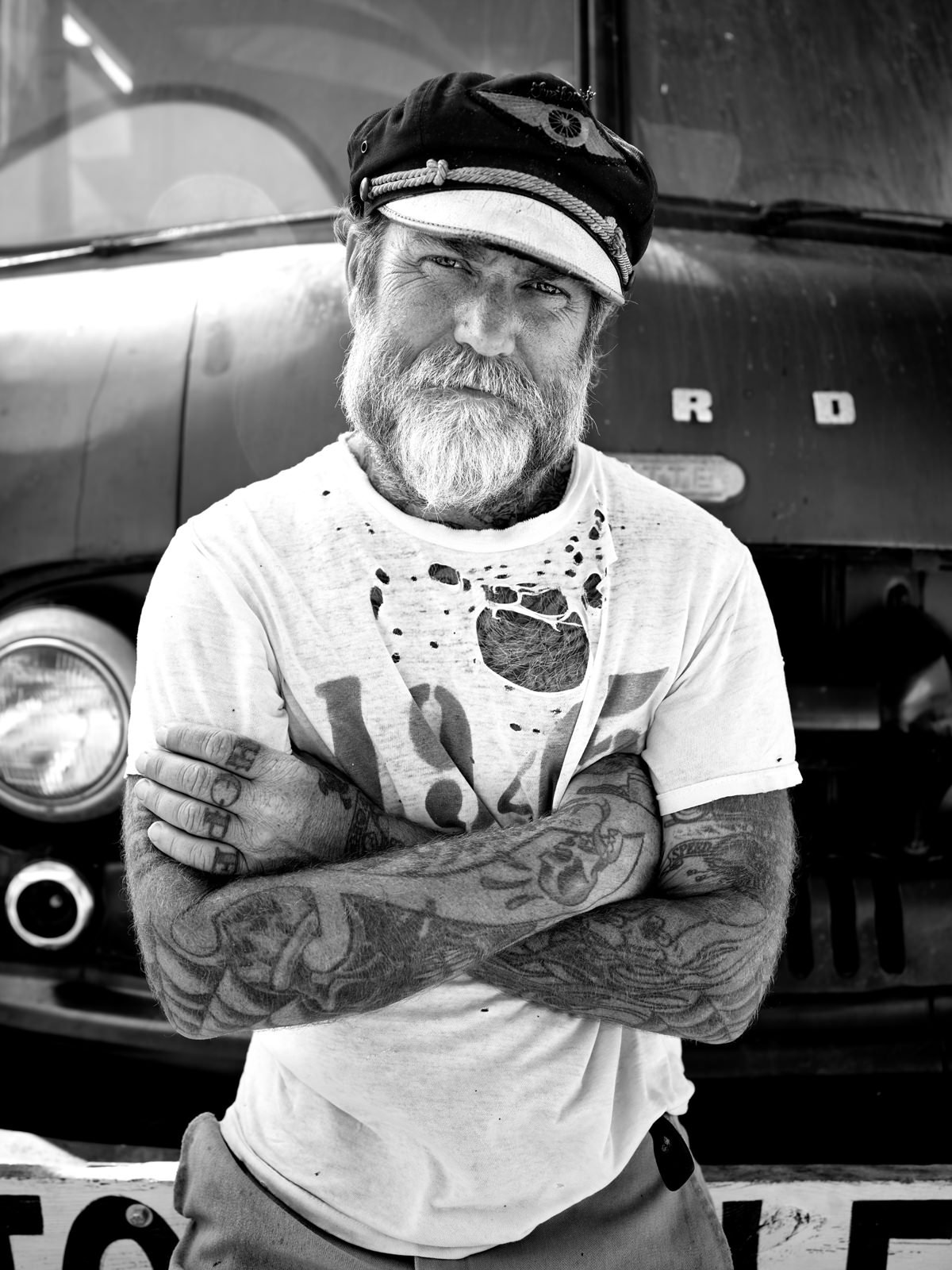 You can find the entire set of photos from this event on Wenner's website.