Amazon Sells This $28 AmazonBasics Flash for Canon and Nikon DSLRs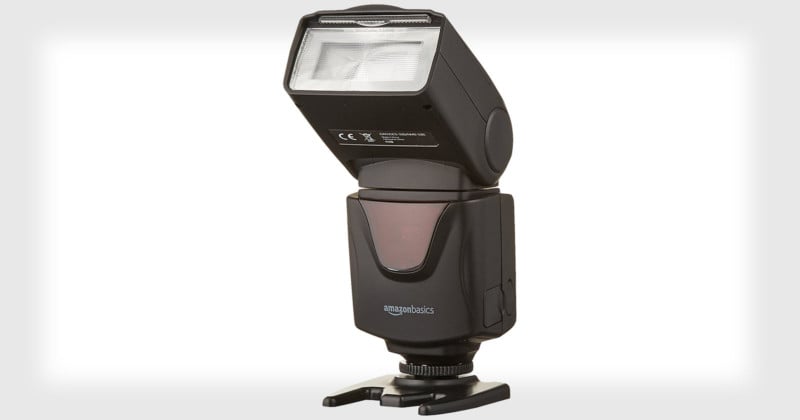 Did you know that Amazon sells a $28 flash for Canon and Nikon DSLRs under its in-house brand AmazonBasics? If you've wanted to try your hand at using a flash without investing too much money at first, this one is an option you may want to consider.

The "
AmazonBasics Electronic Flash for DSLR Cameras
" features three flash modes: M, S1, and S2 (which stand for Manual, Slave mode 1, and Slave mode 2). Manual lets you mount the flash to your camera's hot shoe and trigger it by pressing your camera shutter. S1 mode lets you place the flash off-camera and trigger it optically by firing a master flash unit. S2 mode is similar to S1, except the flash will be triggered by the master flash's second flash.
In addition to triggering the AmazonBasics flash with a hot shoe and with a master flash, there's also a standard PC synchronous port for connecting your flash off-camera using a cable.
The flash has a guide number of 33 (ISO 100/1M), and the power output has 8 levels of control — 1/128, 1/64, 1/32, 1/16, 1/8, 1/4, 1/2, and 1/1 — that are adjusted using "+" and "-" buttons on the back of the unit. Current flash settings are saved, so you won't need to reconfigure your flash every time you need to use it.
A power indicator light on the back of the flash is red when the flash is fully charged and ready to fire, and green while it's still charging up.
Physically, the flash head can be tilted from 0 to 90 degrees and rotated up to 270 degrees. It's powered by 4 standard AA batteries.
It seems that photographers who have purchased this AmazonBasics flash are quite pleased with the product, overall. At the time of writing, the product has an average rating of 3.9 out of 5 stars, with 84 reviews submitted so far.
"The only downside to this unit is its lack of TTL metering (meaning it has to be manually adjusted) and radio wireless control (meaning you have to fire your on-camera flash to trigger it remotely)," the top positive review states. "However no flash at this price point has those features. This is unbeatable for the money."
The top negative review says that the flash worked well while being tested at home but "quit working" after the photographer took it to a wedding.
Just based on the design and the specs, this Amazon flash appears to be a rebranded Godox TT560 flash that costs $65 from Godox. For $28, the AmazonBasics flash also comes with a hot shoe stand and a carrying case.