Nikon Patents 35mm f/2 Lens for Full Frame Camera with Curved Sensor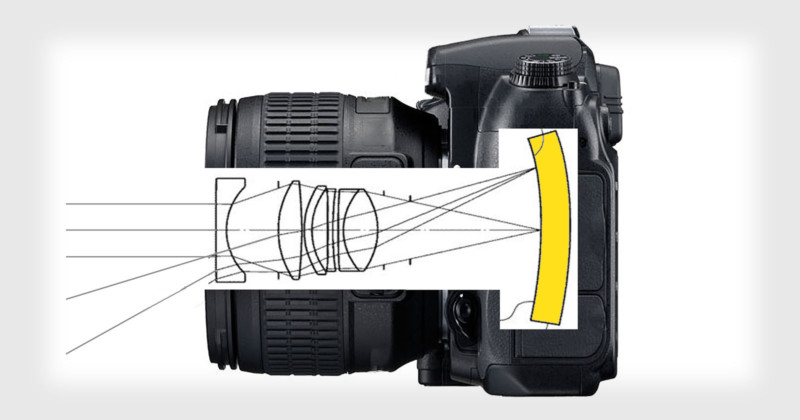 Nikon has patented a new 35mm f/2 lens… for a full frame curved sensor. The news has sparked speculation that Nikon could be planning to use a groundbreaking curved sensor in its upcoming mirrorless camera.

The patent, P2017-125904A, was spotted by the Japanese blog An Image on a Sensor. It shows and describes a new 35mm f/2.0 prime lens designed for a camera containing a full frame curved sensor.
"Because the sensor is curved, the angle of view is slightly wider than the plane sensor," An Image on a Sensor writes. Here's one of the illustrations from the patent showing the lens design focusing light onto the curved sensor:
"A curved sensor would allow to design more compact lenses (or faster at same size) compared to classic lenses designed for flat sensors," writes Mirrorless Rumors. "At the same time the images are equally sharp from center to the edge with no vignetting."
Nikon has been saying in recent days that it's working on a new mirrorless camera that's "superior to rivals in quality." Most recently, the company told DPReview that it's "developing new mirrorless products that build upon Nikon's strengths, and offer the performance prospective customers expect, including the ultimate optics performance, image-processing technologies, strength and durability, and operation."
Just based on this patent, however, it's unclear whether this curved sensor is related at all to the company's mirrorless camera plans.
"[T]he patent does not provide sufficient technical information to determine if this is a mirrorless or a DSLR lens," Nikon Rumors writes.
Nikon does seem to have slammed the brakes on its 1 Series line of mirrorless cameras, so it seems likely that Nikon would want to unveil a new mirrorless camera sooner rather than later to avoid falling too far behind in the race.