ProStorage Cases Protect Your Photo Archive Hard Drives From Dangers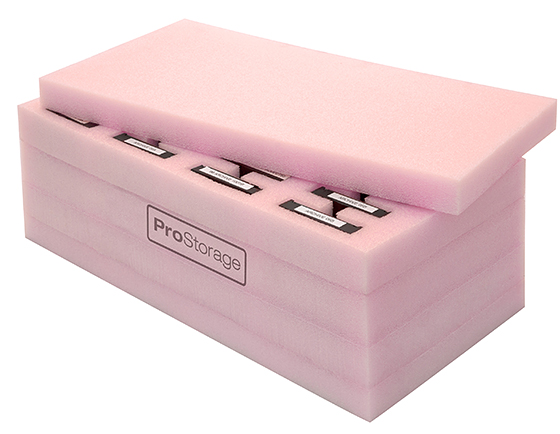 Storing your photos safely on hard drives is all well and good, but when you're looking at long-term storage then you need to look after the hard drives properly. Corrupted hard drives can be a disaster, and it can happen when they're exposed to shock, dust, and static over time. ProStorage is a line of cases for avoiding those dangers.

The brand was founded by celebrity photographer Michael Grecco, who has battled with the problem of large-scale hard drive archival systems during his career.
To avoid paying high costs of external drives that come in their own casings, which he believes don't always protect drives over long periods of time efficiently enough to justify the cost, Grecco buys bare drives and uses them in a reader.
He then stores them in the ProStorage cases, which protect against static, dust, shock, and more. Believe it or not, Grecco has been using the system himself for over 10 years before he decided he was ready to patent and bring the product to market.
"Since our launch, corporations, technology companies and major governments and institutions in the education and healthcare industries have used ProStorage," says Grecco.
"Our closed-cell, durable anti-static foam cases provide the highest degree of protection against static electricity and shock damage, dust, and other environmental contaminants."
They're made to fit into your desk draw or filing boxes, too. This means they easily slot away and can be forgotten about, knowing that they're better protected in the casing.
In this video, Grecco explains the idea behind ProStorage and why he felt it was necessary to found and create his own storage system.
The ProStorage cases can handle between 6 and 40 hard drives, and are available on the ProStorage website starting at $40 each.