Yelp Advertising Failed Me as a Small Business Photographer
My name is Jessica Rosa, and I've been a professional photographer for more than 20 years. I feel cheated by Yelp's advertising services, and I want to help other photographers not make the same mistake I did. This is about my experience in purchasing Yelp "full-service" advertising, and you need to know this before you enter a contract with them.

I owned a full-time portrait studio and boutique, Lamb Portrait Studio, from 1995 to 2012, and in those 17 years I purchased a great deal of advertising. I'm pretty thick-skinned when it comes to purchasing advertising. Just like most full-time portrait studio owners, I decided to close my studio to become a freelancer, or rather a solo-entrepreneur.
While editing my photos one day, I got a call from Yelp. The sales representative seemed like a very nice guy: well-spoken and informative about his company and services. I was intrigued, so I let him continue. He asked me to Google "Something to Yelp about", where he shared a favorable Bloomberg article about the owner of Yelp. Then he asked me to Google, "Yelp BCG" — again, favorable stuff. The last Google search, "Yelp photographer review," had me thinking: "Wow, I guess photographers are using Yelp."
Now, he had my full attention.
He went on to say that people using Yelp are actual shoppers, not browsers. When someone goes to Pinterest, most the time they are looking for ideas and not shopping. When someone uses Google, again, they are often browsing more than shopping. When someone is on Yelp, they are ready to buy — ready to hire someone for family portraits, wedding photos, etc, etc. And with a paid Yelp ad, you'll be the first person they see! They'll even put my ad at the top of my competitor's pages! (Shady, but I admit: it sounded appealing).
When I had questions, he had answers. He went on to say that they'll help me optimize my profile page and do some sort of video. I didn't want the video, and he was quick to remove it. At this point, he started talking numbers and terms. Looking back on my conversation and the others I have read, no one wants the video but it opens the door to start negotiating the terms.
He suggested a 12-month contract because their data shows that over time the ad performance increases. I wasn't comfortable with a 1 year commitment, but 6 months was doable since it would be during a peak and non-peak time. This way I could evaluate the performance more accurately because I am very familiar with industry trends (thanks to the PPA's benchmark survey).
He quoted a maximum click budget to be $350 per month — again too much — and we settled on $275. It's important to know that he pushed to keep this high. He even reminded me that I was only liable for the base rate of $30 per month and the rest would be based upon unknowable clicks. Since I have advertised on Google and Facebook, rarely have I ever seen a single click cost more than $6.00. At this point I had this false sense of security that I would not be maxing my budget, even though he made no promise of this.
In the beginning of my contract, everything was looking good and on the up and up. In September, which is usually a busy month for inquiries, I had 3,243 impressions, 38 clicks at $2.49 each, with a monthly total of $94.05. In October, again another good inquiry month, 3,630 impressions, 42 clicks at $5.25 each (a little high but not alarming), with a monthly total of $220.42.
Then something happened in November and the price per click jumped 400%. Yes, 400%. I immediately called Yelp. They told me that another advertiser in my area had signed up and that now we were in a bidding war. I asked who was doing this bidding, because I didn't want to pay $22.92 per click! Note that I never did see another local advertiser and I checked multiple times.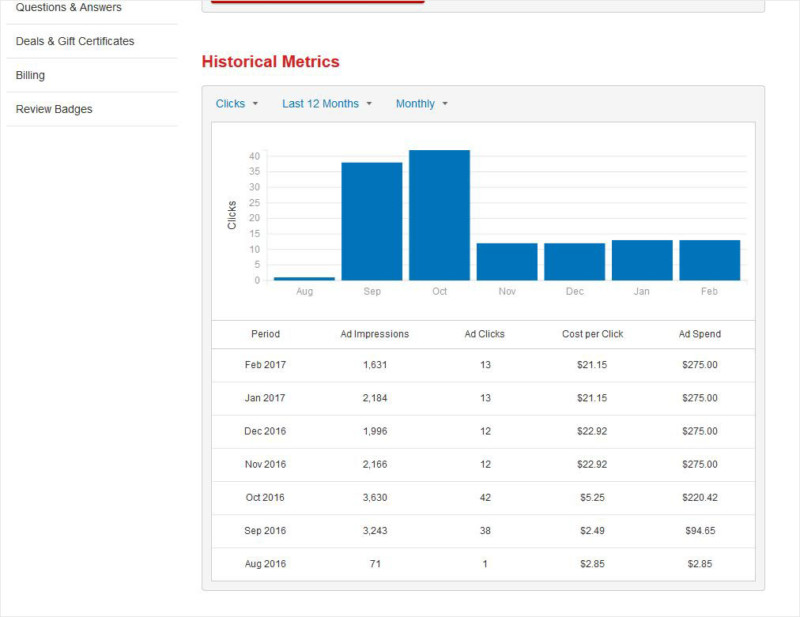 I then asked, "Can I pause or cancel the campaign?" No, because my type of account doesn't have the cancel anytime options.
"What can I do?" Sorry, there isn't much we can for you. We can put in a cancel notice that you do not wish to renew. I was informed of an early termination fee — a very expensive one. I knew that business declines in January and February, so I thought I would be better off to wait it out.
That, right there, proved to be a very costly decision and mistake. By the time I figured this out, however, it was too late and letting the campaign finish was my only option. Looking at my ad performance, I believe that since inquires declined, they raised the cost per click to exhaust my maximum budget. This is where I feel I was being overcharged.
When I called Yelp to complain about this, this is when the representative discloses that Yelp's cost per click practices have been questioned legally. He went on to say that even though other people, like myself, have felt overcharged (a lot of people by the way, just Google "#yelpripoff"), they were found to be innocent of wrong doing. He informs me that they have over 160,000 advertisers, and I get the feeling they don't care about and will not miss my business.
Furthermore, this whole conversation with this Yelp rep was bizarre. Not only did he keep talking on top of me, at one point he seemed out of breath like he was exercising. He kept saying, "You are entitled to your opinion," which in context, I found to be upsetting. I did my best to keep my cool. I even asked him if he was "ok" because he seemed out of breath. He assured me he was and we bantered back and forth a bit until I realized that this was going nowhere. He wasn't going to do anything for me — they got what they could out of me.
As a two-time Kodak Gallery and Fuji Masterpiece Awards recipient and member of the Professional Photographers America, my "opinion" or business may not matter to Yelp but it does mean something to other hard-working professionals like me. This was an expensive mistake — $1,517.32 to be exact — and I want to make sure other photographers do not get trapped the same way I did.
Who am I to say that Yelp isn't a good investment. It might actually be great for some markets; however, I can say that their "full-service advertising" was extremely expensive for me. Nor do I feel that I got a return on my investment: all my new clients told me they found me on Google. Mind you, I am not the only one who felt this way. There are several articles and complaints from other small businesses where their experiences practically mirror my own. Here is a link to Yelp's Better Business Bureau page and you can form your own opinion.
Just to be clear, you can set your own limits and cancel anytime if you purchase "self-serve" advertising. I will be tending to my wounds for some time before I give Yelp another chance. No one really wants to take a hit for the team, it just kind of happens. However, if I can steer another small business from making the same mistake as I did, then in a small way it stings a little less.
---
About the author: Jessica Rosa is a professional photographer based in Springfield, Missouri. The opinions expressed in this article are solely those of the author. You can find her work on her website, Instagram, Facebook, and Twitter.