Photojournalists Ask Camera Brands for Encrypted Cameras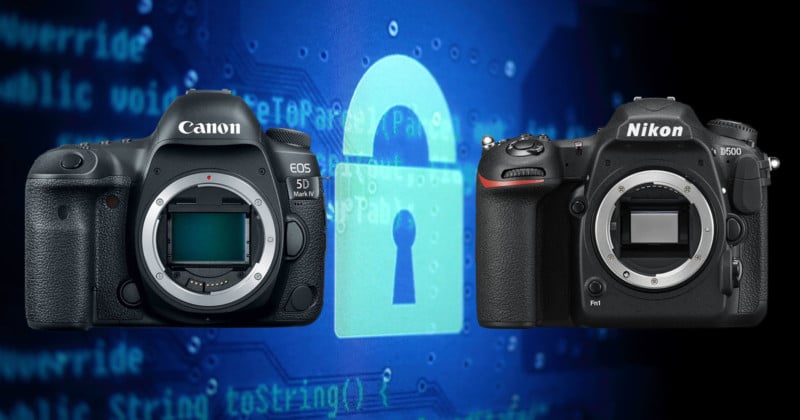 A new open letter signed by over 150 filmmakers and photojournalists is asking major camera companies to build encryption features into digital cameras and the photos they produce.

The letter
was published today
by the
Freedom of the Press Foundation
, which "protects and defends adversarial journalism in the 21st century." They were sent directly to Canon, Nikon, Sony, Fuji, and Olympus.
"We […] are writing to urge your company to build encryption features into your still photo and video camera products," the letter states. "These features, which are currently missing from all commercial cameras on the market, are needed to protect our safety and security, as well as that of our sources and subjects worldwide."
The letter points out that encryption technologies have become standard in many other tech sectors, from hard drives and laptops to smartphones, but it remains largely missing in the photography industry.
"Without encryption capabilities, photographs and footage that we take can be examined and searched by the police, military, and border agents in countries where we operate and travel, and the consequences can be dire," the letter states. "Because the contents of their cameras are not and cannot be encrypted, there is no way to protect any of the footage once it has been taken. This puts ourselves, our sources, and our work at risk."
This letter comes just two weeks after award-winning Canadian photojournalist Ed Ou was stopped at the US border while on his way to cover the Standing Rock protests. Ou also reportedly had his phone searched.
The open letter argues that the first major camera company to offer encryption will instantly hold "a significant competitive advantage" over its competitors that don't — at least among photojournalists doing sensitive work.
Here's the full letter:
Shortly after it was published, Nikon provided The Verge with a generic response stating that it's aware of the request.
"We are committed to innovation and offering products that exceed expectations for image quality, durability and usability," Nikon says. "We are constantly listening to the needs of an evolving market and considering photographer feedback, and we will continue to evaluate product features to best suit the needs of our users."
---
Image credits: Header illustration based on image by Yuri Samoilov