This Collapsible 24-inch Display Can Fit Inside Your Camera Bag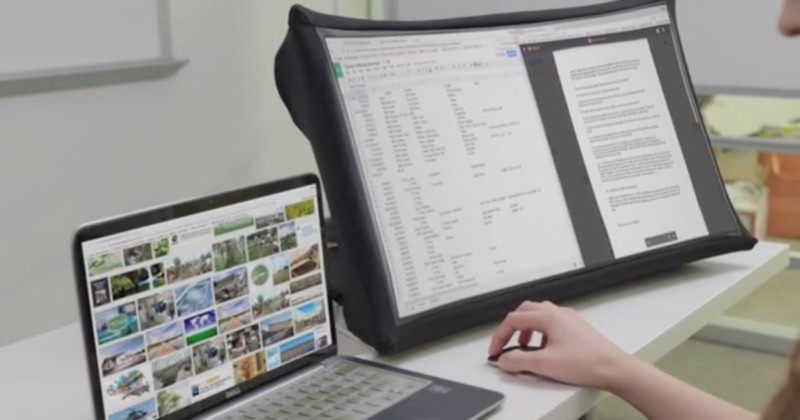 There's finally a convenient way to take your dual screen setup on-location, and no, we're not talking about a hard-shell case for your Apple Cinema Display. We're talking about the Spontaneous Pop-Up Display (SPUD) that's currently blowing up Kickstarter.
SPUD is basically a portable projector-and-screen built together into an umbrella-like device. Folded up, it's about the size of a hefty hard-cover book; wide open, it creates a sturdy 24-inch 1280×720 display that can be used through an HDMI port or even wirelessly.
The thing looks big when it's open, but it literally fits inside your camera bag when you pack it up. Here's a quick Kickstarter intro so you can see what we mean:
The display works by combining DLP projection technology with custom-designed optics an a special screen that doesn't hold on to wrinkles like most projection screens would if you scrunched them up between uses.
Will it replace the high-res, ultra-powerful display you have in your home studio? Absolutely not. But if you need or want a bigger screen to review images with on-location, or even just want to be able to cart a dual screen setup with you anywhere, we could see a lot of photographers giving SPUD a try.
They have a prototype ready and a team assembled, they just need the money to make the product a large-scale reality… which is where you and Kickstarter come in. If you like SPUD and think it might be worth a few hundred dollars, you can get one of your own for a $375 (early bird, almost gone) or $400 pledge.
Supporting a product on Kickstarter is always a crapshoot, but if it's any consolation the SPUD is already incredibly over-funded. In just a couple of days, they've already raised over 160K against a goal of just $33K, so this product is very likely going to come to market.
To learn more or pledge your support, head over to the Kickstarter page by clicking here.